{
Colby Jack
Crab and Crawfish Pasta
}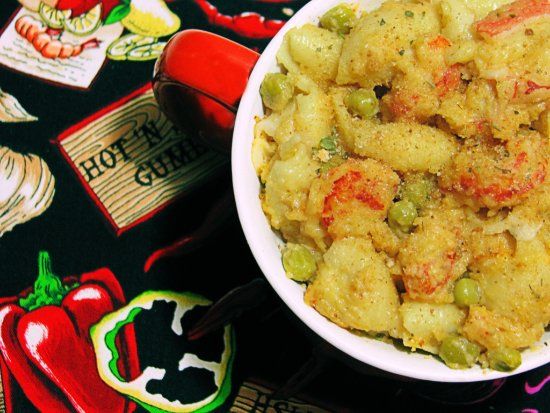 Do you remember when I went to Disney back in March and yapped about the
amazing reception that Disney
had for us at The Grand Floridian and Spa? That welcome reception even had a Macaroni and Cheese bar. Yes. And Mac and Cheese Bar. You pretty much got to pick any toppings that you wanted. Luckily for me,
Katie
was in front of me and she ordere
d
Mac & Cheese with lobster, panko bread crumbs, and green peas.
Without hesitating I said, "I'll have the same" and it was over from there. I'm pretty sure I thought about this lobster mac and cheese everyday for the past 2 weeks.
So last weekend while trying to figure out what we would be having for Easter dinner, I was throwing some ideas around and I again thought of the Lobster Mac and Cheese. I called BigBear and asked him to pick up some lobster meat on his way home from work. He called back about an hour later and said he couldn't find any. NO LOBSTER MEAT. It's like our city went on lobster strike!
Seriously
?!? None? Nope None.
I was
extremely
sad, until our lovely friends Corey and Jordan happened to call him at the same time (or he called them, whatever) and Jordan suggested the SeaFood Market.... wait...we have a seafood market? HAHA. So BigBear went there in search of lobster meat (such a good hubby) and in
realizing
that the lobster was there was a ton of money *mini freakout*, he opted for crawfish meat. Since it's a pasta dish where the meat is cut up anyways, it wasn't a huge deal.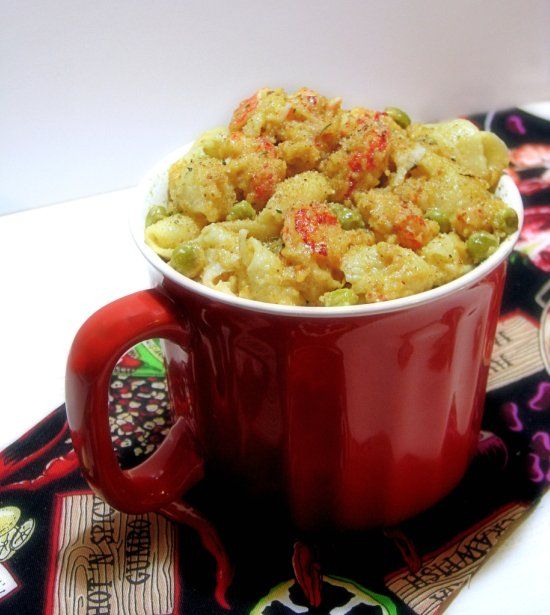 So I ended up with Crab and Crawfish meat, which in turn landed me with this Colby Jack Crab and Crawfish Pasta. A seafood packed, cheesy side dish. Or maindish....whichever.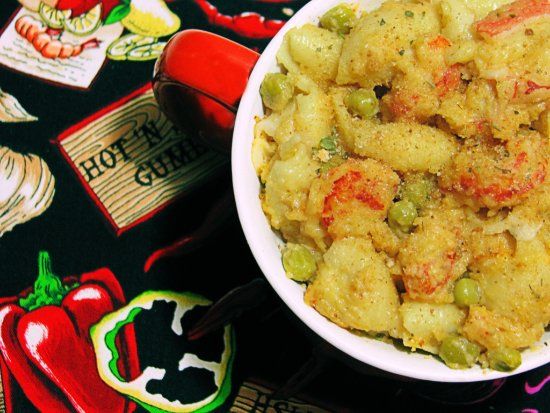 Colby Jack Crab and Crawfish Pasta
Ingredients
1 box

dry shell pasta

4 tablespoons

butter

1 pound

cooked crawfish tails

1/2 pound

crab meat

1 pint

heavy cream

8 oz

colby cheese, grated

8 oz

monterey jack cheese, grated

1/2 cup

Italian bread crumbs

1/2 cup

peas

salt and pepper
Instructions
Cook pasta according to box directions. *Boil for about 12 minutes in salted water* Drain. Set Aside.
In a sauce pan, melt 2 tablespoons of butter and cook crab until tender. Put crab into a bowl. Set aside.
Melt 2 more tablespoons of butter in saucepan and cook crawfish tails for about 6 minutes. Set aside.
In another medium saucepan, heat heavy cream on medium-high heat. Once hot, add in grated cheese. Stir until melted.
Once cheese is melted, stir in cooked pasta. Stir. Add in bread crumbs and peas. Stir well to combine. Add in crab and crawfish meat and stir well. Season with salt and pepper.
Details
Total time: 30 minutes
Yield:

6 servings
You may have noticed that the title of this Colby Jack Crab and Crawfish Pasta includes the hashtag #SundaySupper . Which means we're putting together a wonderful Easter #SundaySupper which includes my Colby Jack Crab and Crawfish Pasta! Below are some other great bloggers that are bringing food to the table! Check them out and be sure to follow #SundaySupper on twitter for more amazing recipes!
Renee from Magnolia Days will be sharing her Appetizer Recipe for Herbed Goat Cheese Dip.
Jen from Juanita's Cocina is sharing her special recipe for Coconut Infused Carrot Cake with a Coconut Frosting.