{

Mini Bow Ties with Browned Butter and Parmesan
}
Secret Recipe Club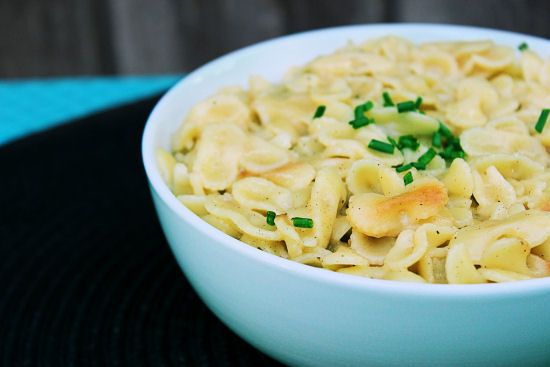 It's June!!! One of my favorite months! Mainly because my Birthday is in June and no matter how old I am, I will always love my birthday!! As an adult we don't normally do anything huge for my birthday anymore, but that day always seems so wonderful, even if I do same ol' everyday stuff.
This June though, seems to be extremely hectic.
My
god-daughters birthday
was last weekend, and then I've got magazine assignments due soon, Big Bear's
Grandma's 80th birthday parties
(both of which I am in charge of), my birthday, mom's pre-op stuff for surgery in July, a few events to attend, and we need to start packing for the move..........all this plus my normal 45 hour work week and daily "must do" lists. Ahhh I'm going to need a vacation.
This also explains that when I stared looking over my assignment for June's
Secret Recipe Club
, I was happy and sad all at the same time. Happy because I was assigned to Liz's blog
That Skinny Chick Can Bake
, she has a ton...and I mean a TON of amazing looking food on her blog. As in I want to start from the first blog post and bake my way through her entire blog. But I was also sad, because this month has been so busy for me that I didn't have time to make on of the 100 "favorites" I picked out! AHHH but have no fear I will be making a ton of them! ASAP! Let's see, here are a few of her recipes that are on my "MUST MAKE LIST":
Strawberry Pavlova
,
S'more Pie
,
Cinnamon Streusel Coffee Cake
,
Crème brûlée
,
Mini French Silk Pies
, and
Pastry Wrapped Caramel Apples
<---- these are... oooo I can't wait to make those!
As I was
drooling over
looking over all of the amazing things on
Liz's blog
, I spotted
Orzo with Brown Butter and Parmesan
.
Last month I fell in LOVE with Browned Butter when I made
Brown Butter Peanut Butter Cookies
so when I saw that Liz had matched that rich brown butter flavor with pasta, I knew I wanted to try that out. I mean come on! Butter and Pasta? That has my name written all over it. But because I'm
cursed
blessed to live in such a small town 3 of our grocery stores didn't have Orzo and the one that did, was sold out. oh Come on! Really? :(
But I went with what I could get my hands on, and while Mini Bow Tie pasta on the regular pasta aisle is neat, the super mini bow tie pasta on the "Mexican" aisle was even more perfect for this dish. I wanted to find the smallest pasta that I could so it would be the closest to the original recipe. Oh and another perk of grabbing this "Mexican" pasta, it only cost me .50 cents for the whole bag, compared to the $1.50 in the box on the regular pasta aisle. :)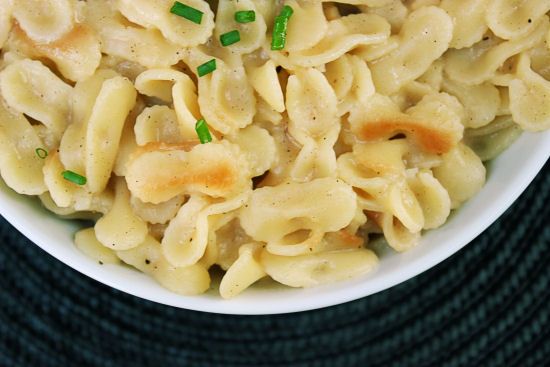 I loved it and so did Big Bear! He loved it so much that I only got one serving and he ate the rest :( I wanted some for lunch today! :( Guess I'll just have to make more. haha I'm sure he won't be complaining.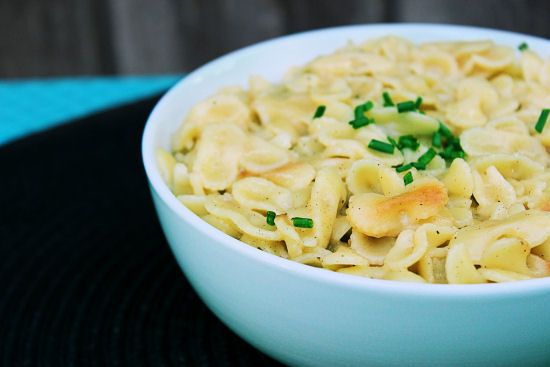 Mini Bow Ties with Browned Butter and Parmesan
Ingredients
4 cups chicken broth

4 tablespoons butter

2 cup Mini Bow Tie Pasta

1/2 cup dry white wine

Salt and Pepper

4 tablespoons freshly grated Parmesan

Thinly sliced chives, optional
Directions
In a saucepan heat chicken broth to a simmer.
In another saucepan, melt the butter over medium heat. Stir occasionally. The butter should start to boil just a little bit, then turn golden. (everytime I make brown butter it always turns green before it turns brown). Once the butter is brown and had a nutty aroma add the pasta. Stir and cook for about a minute some of the pasta browns.
Pour in the wine and stir till absorbed.
Add the hot broth, stir and cover. Reduce heat to low and cook about 12 minutes, till pasta is tender. There should be a little liquid in the pan, if there is to much, drain a little liquid out.
Once the pasta is drained with a little liquid left in the pan, add salt and pepper. Mix in Parmesan. Turn heat off, cover the pan and let sit 5 minutes.
Serve with chives if desired.
Details
Yield:

4 servings
Check out all the other awesome recipes from Group C below: