{
Two Layer Chocolate Cake with Buttercream Icing
}
Mickey Mouse Cake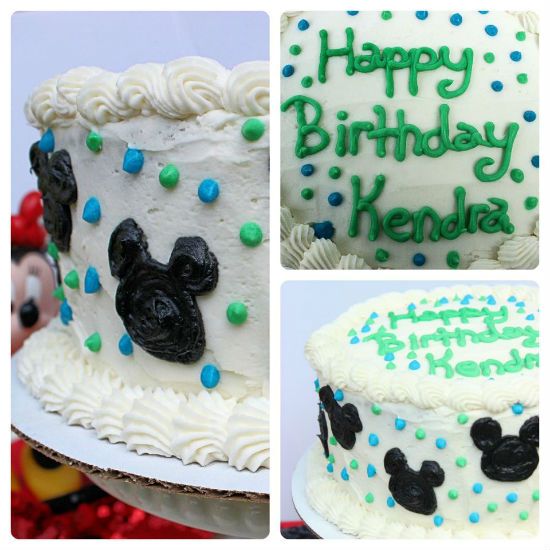 Yesterday was my God-Daughter Kendra's 4th birthday. Her request for her party? A Mickey Mouse cake. Oh and not just a Mickey Mouse cake...a blue and green Mickey Mouse cake. ok.. hummm.
Mickey Mouse colors are black, red, yellow and white. Not blue and green. How do I do that?!
As I always say, I am NOT a cake decorator. I am awful at decorating cakes, they freak me out and
usually
make me cry. But every year when my God-
Daughters
declare what kind of cake they want for their birthdays, I do everything I can to make it happen. Which is so worth it when I see the looks on their faces!
Since I have no intentions of serving anyone a huge black cake ever (black icing is so so gross), I had to come up with a
solution
. I did regular b
uttercream
with small black Mickey Mouse outlines and blue and green dots. She loved it.
I've never made two layer cakes for a party. I normally do cupcakes, but since I wasn't doing a full-blowout-
character
cake I wanted a little extra something. I used my go to cake batter for cupcakes, and changed it a bit so that it was chocolate instead of regular vanilla. (Kendra wanted chocolate).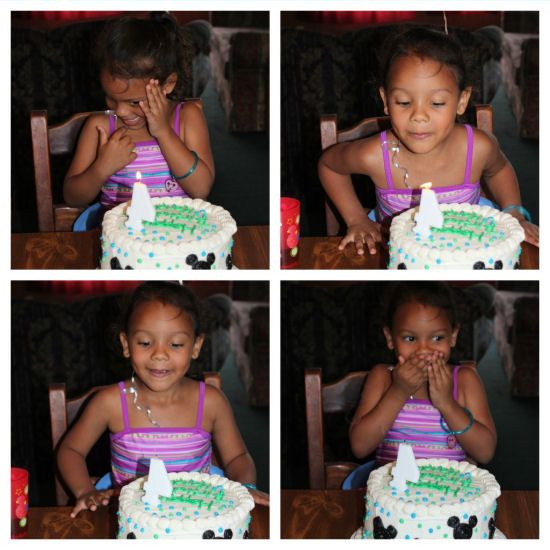 I must tell you this, I have tried two layer cakes with other batters and boxed cake mix alone and failed. But this cake batter made this cake a huge success. I will be using it for cakes from now on.
Two Layer Chocolate Cake with Buttercream Icing
Mickey Mouse Cake
Ingredients
1 box chocolate cake mix

1 cup all-purpose flour

1 cup granulated sugar

1/2 cup coco powder

1 teaspoon salt

4 egg whites

1 1/3 cup water

2 tablespoons vegetable oil

1 cup sour cream (8oz container)

1 teaspoon vanilla
For Cake Icing:
1 cup

butter

8 cups

powdered sugar

1 teapsoons

vanilla
(For Mickey Mouse Cake I used black, green and blue food coloring to color some of the icing and just piped the little mickey's and dots on)

Instructions


For Cake:
Pre-heat oven to 350F.
In a large bowl, mix together cake mix, flour, sugar, salt and coco powder.
In the bowl of a mixer, mix together the egg whites, water, and vanilla.
Mix on low for about 10 seconds. Slowly add the dry mix a little at a time. Mixing on low until everything is combined.
Add sour cream and mix well.
Spray cake tins with non-stick cooking spray.
Divide batter into two 8-inch cake pans.
Bake at 350F for 30 minutes. Remove from oven and cool.
For Cupcake Icing:
Cream butter in the bowl of a mixer.
Slowly add powdered sugar while mixing.
Add vanilla and milk and mix until combined.
Yield: Two 8-inch cakes
(stacked on top of each other for the two-layer cake)