{ BBQ & Cheese Chicken Quesadilla
}
#sundaysupper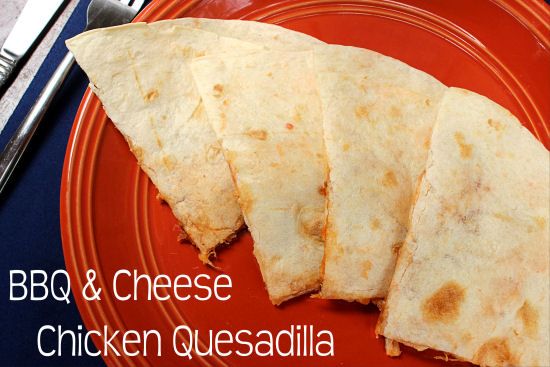 I'm kind of glad that I don't have to worry about back to school stuff yet. I'm not in school anymore and we don't have kids yet so the whole panic and hassle of back to school shopping and preparing hasn't hit our little family yet. And I'm ok with that. I'm also guessing that most of the parents in our city were not prepared for it either because when we went to the store on Friday, we stood in line to check out for almost 20 minutes, and every single line was backed up that far. Everyone's carts filled with clothes, book bags, notebooks, etc. Nothing like last minute shopping. haha.

This is also my niece's first year of school. She starts pre-school this year :) She's growing up way to fast. I remember my first day of school. Our school was in walking distance and my mom and I walked to school the very first day. I was super excited until I realized that my mom had left. I grabbed my back pack and walked right out of the school and started on my way home. I decided that school was not for me. About half way home I caught up to my mom and let's just say she had a mini freak out that I had managed to get out of the class room and halfway home without anyone noticing.

Speaking of back to school stuff, I know a lot of parents are getting there little ones (and big ones) ready to start the school year and not only does the school year bring days of getting up early, rushing, packing lunches and homework, it also included making dinner. And I can imagine that after getting the kids home from school and after getting homework done, the last thing a parent wants to do it spend hours in the kitchen.

Our #SundaySupper group has had the chance to check out Katie Workman's new cookbook and try some of her recipes and I must say that I love this cookbook. One of the recipes that I love in the "Back to School" section is the Quesadilla recipe! Even though I'm not a mom yet, I still love a good, quick recipe.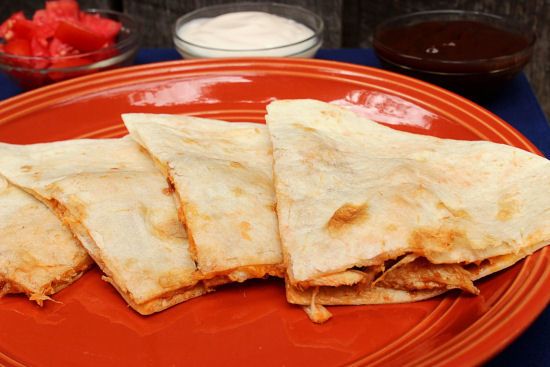 So for lunch today I made these BBQ & Cheese Chicken Quesadilla. Because they are so good and they don't take a lot of time, I didn't mind having them twice in one week. I love the way The Mom 100 Cookbook has everything set up for this cookbook. It's easy to find the recipes, and she gives great advice on changing some of the recipes up, and tip on cooking them differently... like on the stove, on the grill, or in the oven, etc.
It took about 10 minutes total to get everything out, put together and cooked. And if I can get dinner or lunch on the table in less than 15 minutes, that makes me a happy, ooo so happy person :)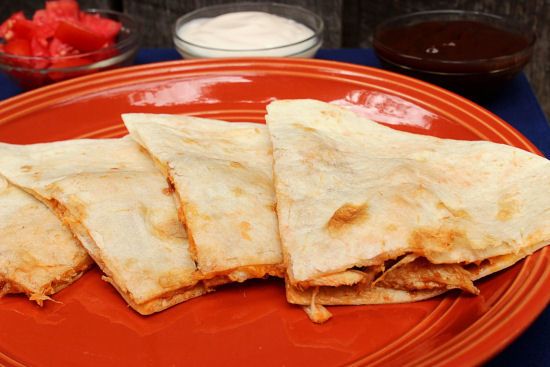 BBQ & Cheese Chicken Quesadillas
Ingredients
8 flour tortillas, 2 tortillas per

Quesadilla

1 cup diced cooked chicken (about 2 chicken breast)

2 cups shredded cheese

1 cup BBQ Sauce, store bought or homemade

1/4 cup diced tomatoes, optional
Directions
Pre-heat the oven broiler on low. Once the oven is hot, place one tortilla onto the rack and let cook for 15 seconds.
Remove from oven and place on a baking sheet.
Add the cheese and spread it towards the edges.
Sprinkle the diced chicken over the cheese. Add a little BBQ sauce and tomatoes if adding any tomatoes.
Top with un cooked Quesadilla, place into the oven under the broiler for about 20 seconds or until cheese melts. Remove from oven and let set for a few seconds before cutting into wedges.
Continue these steps until all
Quesadillas are completed.
Serves 4
Connect with Katie Workman, Author of The Mom 100 Cookbook:
Join us for #SundaySupper on twitter starting at 7pm pm EST. We are featuring

recipes

from The Mom 100 Cookbook. Katie Workman will be joining us to answer questions, give tips and inspire.
We will be sharing great family recipes all afternoon and want you to share yours with us! #SundaySupper starts every week at 3:00pm EST by showcasing fabulous recipes (chat is from 7pmEST-8pm EST) .
Here are some other great Back to School Recipes from the the #SundaySupper Group this week from Katie's Cookbook!:
Lunchbox Wraps:
Easy Weekday Suppers:
After School Snacks: