{

Spicy Shrimp Fajitas
}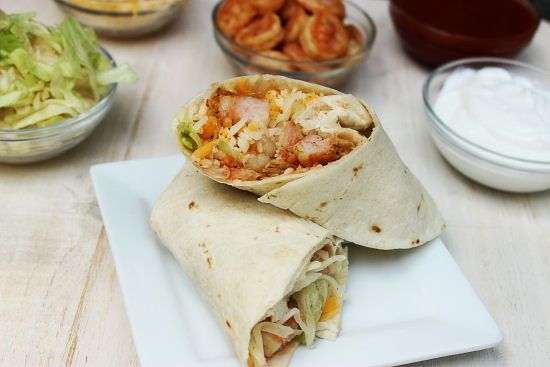 Let's be honest, sometimes restaurant dishes are so easy to make at home that they don't even cross your mind when you're looking for something to make at home. Well, maybe they don't seem super easy at first but if you break down most chain restaurant menu items, they can be made at home fairly quickly and for a lot less than that restaurant menu price tag. Now I'm not saying that it isn't nice to go out to eat, or that you should never go out. That's not what I'm saying at all. I mean, as much as I love cooking there are some days when I don't have the energy to cook and clean up the kitchen. Some days I just want to be lazy, or enjoy a nice meal without breaking out the pots and pans. It's OK to eat out. :) I'm just saying that some people may not be thinking about how easy it is to make that restaurant favorite at home. Not that everyone wants to do that, but so might want to.... haha. :)
For example, TGI Friday's has "Loaded Skillet Chip Nachos" on their menu. To make something similar at home, I slice a few potatoes into chips with a mandolin, fry them in my mini deep fryer or in a pot of oil on the stove top, throw a bunch of them into a cast iron skillet, sprinkle grated cheese and bacon bits over them, put the cast iron skillet into the oven to melt the cheese, and pour white cheddar queso over it. Tada. Loaded Skillet Chip Nachos. (Or you could even bake the homemade chips instead of frying them) You can get more for your dollar and more servings most of the time when you make it at home. (If you make large servings, save left overs for the next day or freeze small portions for "at home microwaveable freezer meals")
Simple Sandwiches that some restaurants offer with combos for $8-$10 are so simple to make that it's almost sad that it cost so much to buy them haha. The other day I went to FireHouse Subs for the first time. And while I do admit that their food was really good, a pulled pork sandwich, chips and a drink cost me close to $9.00. I can buy a whole pork butt and make a ton of sandwiches for like $12.00. Ok, sorry I got on a little soapbox there... so sorry about that. Back to the Shrimp Fajitas.
So, fajitas are one of those meals that are so easy to make and I never took the time to just make them. I loved them when I worked at Rockola, but did you know that Big Bear has never even eaten Fajitas out at a restaurant? (Yeah you probably didn't know that haha) But it's true, because he can't eat onions and peppers and they ALWAYS put the fajitas on a bed of onions and peppers even when he's asked them not to. So he gave up. That's one of the reasons I decided to go ahead and make these at home. Mainly so that hubby could actually have fajitas and of course to share with you. :)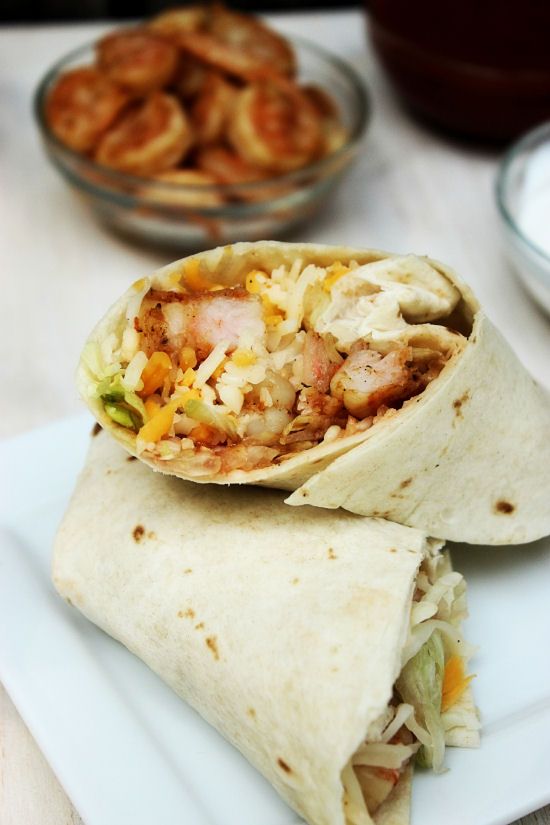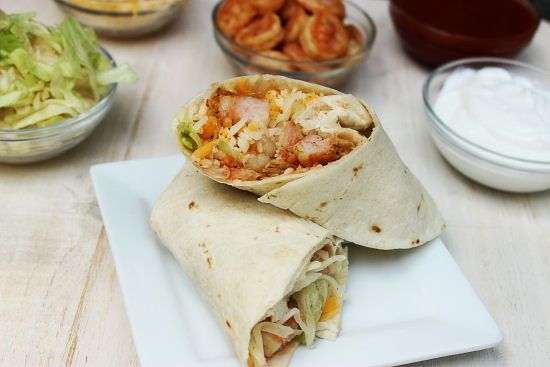 Ingredients
1 large bag frozen shrimp (or fresh, either will work)

1 tablespoon butter

1 to 2 tablespoons Creole Seasoning (we used

Homemade No-Salt-Seasoning Salt

)

Shredded Lettuce

Shredded Cheese

Sour Cream

Taco Sauce

and whatever else you'd like have in the Fajitas

Large soft tortillas
Directions
Peel and devein the shrimp.
In a large skillet, melt butter. Toss shrimp with seasoning and add to skillet. Cook on medium heat while stirring until shrimp is cooked. This should take less than 5 minutes, shrimp will turn pink and curl up when done. Remove from heat.
Place some of the shrimp at the edge of a large

soft

tortilla. Top the shrimp with lettuce, cheese, sour cream, taco sauce and any other items you'd like on the fajita. Roll the fajita up like a burrito, folding the edges in as you roll.
Yields: 6-8 Spicy Shrimp Fajitas