{
Softer Chocolate Chip Cookies
}
I named these cookies "Softer Chocolate Chip Cookies" because they actually didn't turn out exactly as soft as I wanted them but were still pretty darn good so I wanted to share them.
Back a few months ago, I signed my mom up for
"Desserts for the Deserving
",
a program that Amanda from
i am baker
put together. A group of wonderful people signed up to make desserts, and you could nominate people that needed a little pick me up gift. I nominated my mother because she had just had surgery and needed a smile. Her name was chosen as one of the 200 *I think 200* people that would be getting these treats.
Well a wonderful person sent my mom some chocolate chip cookies and they were amazing (she brought me one to work). They tasted so much like the "Soft Batch" cookies that I loved as a kid. I wanted to try and make them, but couldn't find a good recipe, so I experimented. I am obviously a bad scientist. ;)
These cookies came out soft but where a little cake like. I'm ok with cake like cookies.... but just "ok" with them. Hubby loved them. I did like them dipped in milk though.....dipped in milk they were awesome.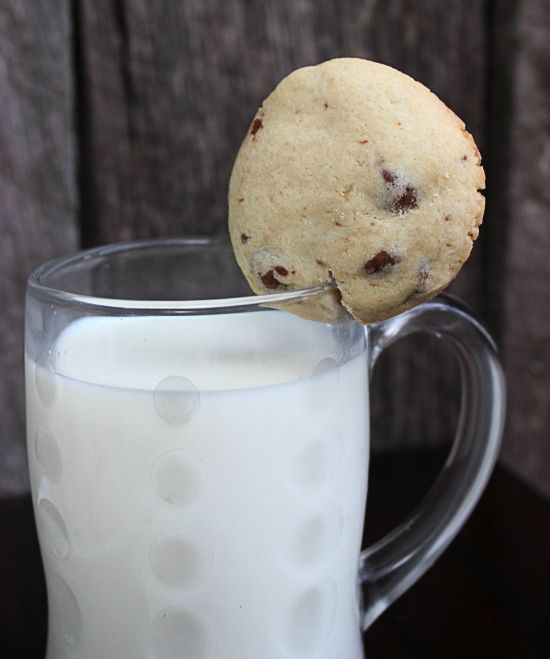 So I figured that just because they were not exactly the "soft batch" cookies I had set out to make that they were indeed still good and someone out there might want to try them. Maybe I need to try less flour next time or maybe more cornstarch? Not sure. But I'm sure hubby will enjoy the "bad batches" ;)
Softer Chocolate Chip Cookies
Ingredients
2 sticks

unsalted butter

1/2 cup

sugar

2

eggs

1 cup

brown sugar

2 teaspoons

vanilla extract

3 cup

all-purpose flour

1 tablespoon cornstarch

1 1/2 teaspoon

baking soda

3/4 teaspoon

salt

2 cups

chocolate chips
Instructions
Pre-heat oven to 350F.

In a mixer cream the butter, and sugars together. Mix well.

Add the eggs one at a time. Make sure each egg is incorporated before adding the next.

Add the vanilla. Mix for 3-4 minutes.

In another mixing bowl, whisk together the flour, baking soda, cornstarch and salt.

With the machine on low, slowly add the flour to the batter. Mix until just combined.

Mix in the chocolate chips.

Using a spoon, scoop out about a tablespoon of dough. Roll around in the palm of your hand and shape it into a ball. Now slightly flatten in fall with the palms of your hands. These cookies do not rise or flatten out once in the oven, so what ever shape you press it down to is what shape they are going to be.

Place cookies onto a baking sheet.


Bake at 350 F for 8-10 minutes.

Cool on a wire rack.

Details
Prep time:
Cook time:
Total time:
Yield:

12