Angel Food Cake Pumpkin Roll
THIS WEEK'S CRAVINGS Linky Party #50
The Theme is: Angel Food Cake Day
(Please share with us your favorite Angel Food Cake Recipe!)
Hello Hello Hello!
I've paired up with a few awesome bloggers to be a part of "This Week's Cravings Linky Party". This is a weekly party that was started by Tina from
MOMS CRAZY COOKING
.
Each Week There is a different theme, and we all create something using that theme, share it with you all and host the linky party on our site for YOU to link up your favorite recipe with this weeks theme.
Hope that made sense 🙂
Since this is my first week hosting with From My Tiny Kitchen and MOMS CRAZY COOKING I wanted to make something extra special.
So for you I have…
An Angel Food Cake Pumpkin Roll
I can I tell you how excited I was when this Angel Food Cake Pumpkin Roll actually came out like I wanted it to.
I kinda mushed 3 different recipes into one and prayed it would work.
And it did… and I did a little dance in the kitchen… and Thomas looked at me like I was crazy…. he should be use to that from me by now.. I don't know what that funny look was for 😉
Angel Food Cake Pumpkin Roll
What you need:
For the Cake:
1 box Angel Food Cake Mix
1 cup of Pumpkin Puree
1 tablespoon of all purpose flour
1 cup of cold water
For the Filling:
8oz cream cheese, softened
2 tablespoons butter, softened
1 cup powdered sugar
1 teaspoon vanilla extract
What to do:
Pre-heat oven to 375F.
Line a 15 inch x 10 inch x 1 inch baking sheet (a cookie sheet with a edges will work), with wax paper. Spray the wax paper with cooking spray.
Mix the Angel Food Mix, Pumpkin Puree, flour and water in a bowl, I used my KitchenAid stand mixer.
Mix well.
Pour batter into the wax paper lined baking sheet. Spread the batter out evenly in the pan.
Bake the cake for 10 minutes. Once cooked, the cake should spring back after being lightly touched.
Let the cake cool for a few minutes. While the cake is cooling, dust a clean kitchen towel with powdered sugar.
Flip the cool cake over onto the kitchen towel. Peel off the wax paper.
Starting at one of the short ends, roll the cake, Jelly-Roll style with the towel.
(The towel will be rolled up into the cake)
Place the towel/cake on a cooling rack, and let the cake cool completely.
(I let mint cool for about an hour)
Once the cake is cool, start making the filling.
In the bowl of your mixer, mix the cream cheese, butter, powdered sugar and vanilla extract. Mix until smooth.
Carefully unroll the cake onto a flat surface. Remove the towel.
Spread the filling evenly over the cake, leaving a 1/2 inch of plain cake around the edges.
Re-roll the cake. (without the towel this time)
Place in the freezer for about 30 minutes.
Once ready to eat, remove from freezer and let it sit out for about 5 minutes at room temperature. Slice and serve 🙂
So Now Show us what you've got!! Show us your best, your favorite Angel Food Cake Recipe!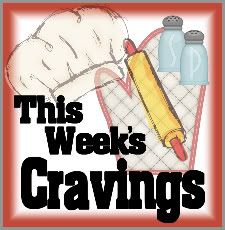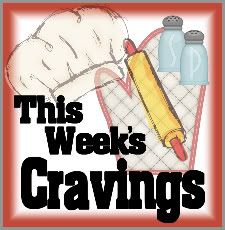 _______________________________________________________________________________

This Week's Cravings Upcoming Linky "THEMES"
October 17 – Any Pasta Recipe
October 24 – Halloween Treats & What to do with Left-Over Candy?
October 31 – National "Men Make Dinner" Day
This is a BLOG Party hosted by From My Tiny Kitchen and MOMS CRAZY COOKING & Big Bears Wife.
If you are a regular link-up we're excited to see what you made this week. If you are new please read and follow the simple rules, so that everyone can enjoy the linky party! If you forget to follow the theme, your post will be deleted. Please don't feel hurt, just come back and link up a recipe that follows the theme. Thanks a million, we look forward to blogging with you!
The LINKY PARTY is opened ALL Week!
PLEASE do not link more then 3 recipes per week.
This week's theme is: ANGEL FOOD CAKE
Please only link recipes with our theme!
I'm linking this pumpkin recipe to It's A Blog Party: FallOWeen 2011 – Pumpkins