THIS WEEK'S CRAVINGS LINKY INFO
Welcome to

This Week's Craving

Information & Rules
There is also a List of Past/Future Recipe Themes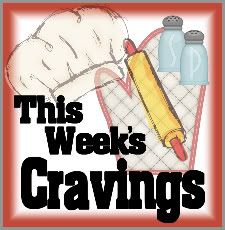 Monday is the beginning of the week and an awesome day for "THIS WEEK'S CRAVINGS". This is your chance to share your favorite recipe each week based on our themes. Post that favorite breakfast from last week, or post your favorite cheesecake you made last month, just please stick to the theme. We all want to read and discover your favorite recipe post that may of gotten lost, or if you don't have a recipe that matches this week's theme, then our hope is that we inspire you to make something and then link-up.
Please link directly to your post, NOT to your home page. And you MUST include a link back to one of our hosts of "This Week's Cravings", using the button (or a direct link). We hope to see you week after week sharing new recipes with us and the entire blogging community; bloggers and readers. It's FUN to visit too! Click around at the other participant's and visit as many as you can, LEAVE COMMENTS too! Everyone loves to know that their blog is being enjoyed by others. And this is a BLOG PARTY so please ENJOY THE PARTY AND MEET OTHER BLOGGERS!
The SIMPLE Rules:
1. Please stick to the THEME and only link up recipes that go with our theme for the week.

2. Add our button and/or a DIRECT link back to this post, inside of your post.



3. Also we'd love for you to hop around and visit the other link-ups! After all it's a BLOG PARTY and it's not fun for everyone linking up if you don't hop around and say Hello!!!



PLEASE follow the simple rules, so everyone can enjoy the linky party! If you forget to link back or add a button IN YOUR post you will receive a gentle reminder to add it, before we delete your post! THANKS A MILLION!
Don't forget to grab the button to add to your posts
or just leave a direct link back to any one of the hosts blog sites.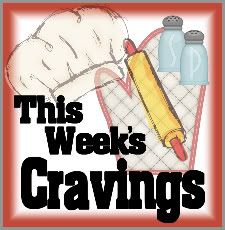 Your Hosts:

MOMS CRAZY COOKING

,
From My Tiny Kitchen
,
Big Bear's Wife
&
The Daily Dish
.
As hosts, we will try our hardest to visit as many of the links we can. We all enjoy your links and look forward to gathering recipes each week. Please know, that if there is a recipe category you would like to suggest to us, email any of us or leave a comment here.
This Week's Cravings Schedule


1/9/2012 Week # 63 COMFORT FOOD: Soups & Casseroles
1/16/2012 Week # 64 CHEESE LOVER DAY... YUMMY Cheese recipes
1/23/2012 Week # 65 Homemade Pies
1/30/2012 Week # 66 Recipe from Your Favorite COOKBOOK
2/6/2012 Week # 67 Nutella DAY (Peanut Butter, Almond Butter & More)
2/13/2012 Week # 68 Valentine's Day Treats or Romantic Dinners
Some of the Past Recipe Links 2010-2011