{ Freezable Bacon Egg and Cheese Sandwiches }
#SundaySupper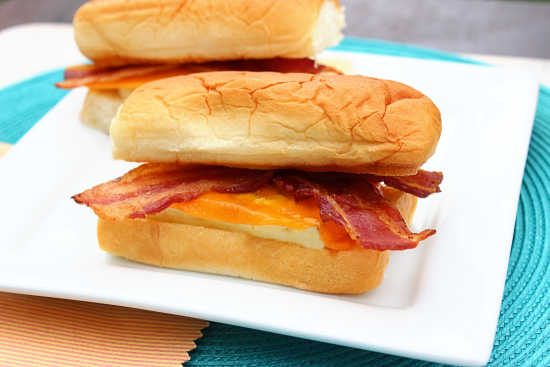 We've talked about the fact that I hate mornings, right? Well…I've talked about it, you've ready about it 😉 I've never been a morning person, ever. I don't know why. Unless I'm going on a trip! If I'm going on a trip I can wake up at 3 AM bouncing off the walls with energy. Ask me to get up at 6 AM for work and it's a totally different ball game…. like you shouldn't talk to me until about 9 AM kinda game. People at work better be happy that I even have make up on and have my hair done in the mornings….. most mornings I do….;)
So because of this morning hate, I don't normally eat breakfast………I do believe we've talked about this too. With that being said, my poor hubby will never wake up on a work day with a wonderful breakfast waiting on him at the kitchen table. Sorry hubs. Be glad I at least acknowledge you some mornings…. 🙂
Next best thing? Make an awesome breakfast that he can throw in the microwave while he's getting ready in the mornings 🙂 You're welcome honey bunny 🙂
No but really, these Bacon Egg and Cheese Sandwiches are pretty good (and that's coming from me, the person that doesn't really like breakfast food), and BigBear said these were the best he'd ever had. Well I can imagine that most things that come out of my kitchen are better that fastfood, but I'm going to take that as a compliment.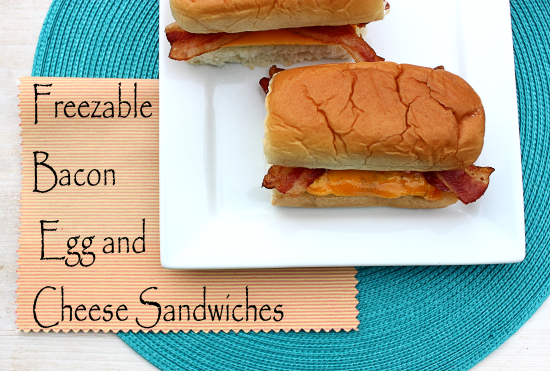 I made a ton of these the other night and wrapped them in foil and placed them in freezer bags in the freezer, so that in the mornings when BigBear is getting ready for work he can just pop one (or two) in the microwave (unwrapped of course) and heat them up before heading out the door. Beats a cold bowl of cereal. I recommend if you are going to freeze them, that when you go to re-heat them, place them in the microwave for about 2 minutes. After 30 seconds remove the bun if it's getting to hot and continue to heat until everything is hot.
But if you don't want to freeze them, they are awesome for a weekend breakfast (unless you're awesome and actually want to get up early on the weekdays and cook breakfast)
Also I don't know if you noticed, but these Bacon, Egg and Cheese sandwiches are rectangles (I'm sure you did though, because you're smart like that)… most of the time you see them in a circle… like on a English muffin or biscuit. I think I like these better. I used King's Hawaiian Mini Sub Rolls for the bread and I baked the eggs in a mini meat loaf pan to make them rectangles to fit just right on the sandwich. 🙂
(Printable Recipe Here)
Freezable Bacon Egg and Cheese Sandwiches
Ingredients
6 Mini Sub Rolls (I used King's Hawaiian)
6 jumbo eggs
6 slices chedder cheese
12 pieces bacon, cooked
salt and pepper
Instructions
Pre-heat the oven to 350F. Crack 6 eggs into the slots in a mini meat loaf pan. (Or if you don't have a mini meat loaf pan, crack eggs into a muffin pan, this will make them thicker though so they made need to cook longer)
Sprinkle each egg with salt and pepper. Cook in a pre-heated oven for about 12 minutes or until cooked throughout.
Remove from oven. Carefully remove cooked eggs from pan with a mini spatula or carefully with a knife.
To assemble the sandwich: Open mini sub roll, place cooked egg onto bottom half. Add a slice of cheese and add two slices of bacon. Top sandwich with top half of mini sub roll.
*If you're going to freeze them for later, wrap sandwiches individually in foil or freezer paper. Place in freezer gallon size bag and freeze. To re-heat: Un-wrap, place on plate and into microwave. Microwave about 2 minutes or until heated throughout. After 30 seconds remove the bun if it's getting to hot and continue to heat until everything is hot.*
Details
Yield: 6 Freezable Bacon Egg and Cheese Sandwiches
Join us this week Around the Family Table for #SundaySupper! That fun starts at 3pm EST with these fabulous recipes being showcased and ends with our #SundaySupper live chat at 7pm EST.
Our theme this week is "Dishes in 5 Interesting or Less"
*salt and pepper don't count silly*
Breakfast, Starters, Butters and Jams:

Main Dishes:

Desserts:

Beverages:
Please be sure you join us on Twitter throughout the day during #SundaySupper. We'll be meeting up at 7:00 pm
(Eastern)
for our weekly #SundaySupper live chat where we'll talk about our favorite apple recipes! All you have to do is follow the
#SundaySupper hashtag
, or you can follow us through TweetChat! We'd also love to feature your apple recipes on our
#SundaySupper Pinterest board
and share them with all of our followers!
I'm linking to :
Manic Monday Party 🙂