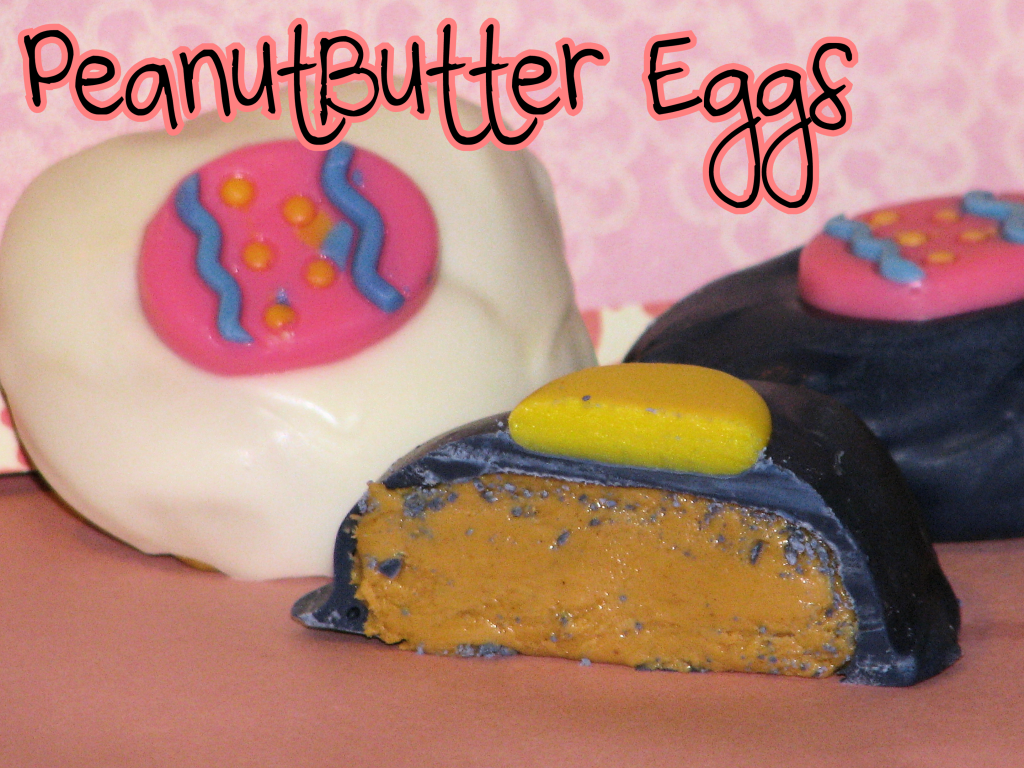 What is your favorite Easter Candy? The most candy that you start glancing around for once they start putting out the Easter Decorations and Goodies?
For me? Reese's Peanut Butter Eggs!!
I could dream about Peanut Butter Eggs……….I mean If I was the kinda person that dreamed about chocolate covered peanut butter drops of heaven.
yeah………
I've been telling my husband for the past 3 years that I would be making peanut butter eggs for Easter… and have failed in my duties as a wife each and every year buy forgetting…. oops..
so this is how this year went:
After planning on actually making them, and getting everything for them:
Me: So I went to the store today, and picked up a few things. I have a surprise I'm going to make you. But I can't tell you what I'm making, so leave the kitchen. BIG SMILE
Hubby: You're making peanut butter eggs.
Me: Blank Stare………….
I'm pretty sure my husband has a spy that follows me around and GPS in my car.
Do you know I went shopping the other day and got a TON of great deal on some things, have like 6 bags full of stuff and got home all excited to share what I got for my 32 bucks and "surprise him" with my savings……. yep…. I said: "oh honey guess how much I spent on all this"……..
Hubby: "um. like 32 dollars…"
Me: "I give up…….."
I had spent like $32. 05 in cash………a spy I tell you a Spy
But anyways back to the peanutbutter eggs 🙂
I will have to say these eggs/recipe was a bit to much straight peanutbutter taste for me…… but I'm going to be trying them again, with less peanut butter. They were perfect for BigBear.
Let me know how you liked them!
Peanut Butter Eggs
What you need:
2 cups powdered sugar
2 1/2 cups creamy peanut butter
Melting Chocolate
Decorations if desired like sprinkles, gummies, etc.
What to do:
Place peanut butter and powdered sugar into a large bowl mixing bowl and mix until combined.
It will start to turn into dough, which at this point it is easier to just use your hands to work all of the powdered sugar in since the dough will be pretty thick.
Scoop out about 2 tablespoons of dough into your hands and shape the dough balls into eggs. Lay on a cookie sheet lined with either freezer paper or parchment paper.
Place into the freezer for 30 minutes to an 1 hour or until the peanut butter eggs have hardened a little. I left mine in overnight, because I forgot about them haha.
When you're ready to coat your eggs, remove eggs from the freezer. Melt your chocolate either in the microwave or with a double broiler.
Once the chocolate is melted, dip your peanutbutter eggs into the chocolate one at a time. Coating the entire eggs and then lay on the freezer paper or parchment paper to harden. Repeat until all eggs are done.
If you want to use sprinkles or gummies on the eggs, add them when the chocolate is still wet.
Let chocolate harden and then enjoy!