{
Black Truffle White Cheddar Macaroni and Cheese

}
While I was in Orlando / Walt Disney World for the
Food Blog Forum Food Blogger Conference
, I had a chance to visit Downtown Disney! Hide your wallets when you visit Downtown Disney, because you'll be tempted to spend every last penny that you have. While we were walking around, Mom spotted a kitchen shop called Mickey's Pantry and because it's packed full of everything to do with the kitchen, I had to stop in for a minute.
As we're looking around the store, I noticed a section in the corner with huge jars of spices. We went over to check it out and as I was looking at the different spices, the guy from
The
Spice
a
nd
Tea Exchange was telling two other ladies about a Black Truffle Sea Salt that he used to make
Macaroni and Cheese. So as I'm looking at the spices and eavesdropping on their conversation, I decided that I NEEDED this
Black Truffle Sea Salt. After all I do love a good
Macaroni and Cheese recipe!
But they were standing right in front of the jar for the
Black Truffle Sea Salt... how do I get to it without totally throwing myself out there as an
eavesdropper. I'm not a good conversation starter, so I didn't want to just start talking about it with them... that makes me nervous. So anyways, I just kinda casually reached through them haha, and grabbed my packet of Sea Salt. Then the guy started talking to me about the
Black Truffle Sea Salt. I failed at not drawing attention to
myself
.
But I'm kinda glad I did because he started telling me how to make this
Macaroni and Cheese. Then we talked about food, and more food, the the Food Blogger Conference, and some of our favorite blogs, and then I gave him my business card. After grabbing a few other things, I headed to check out and overheard him sharing my blog with another person. Muhahaha someone was sharing my blog with someone else! I secretly was exploding with joy inside. :)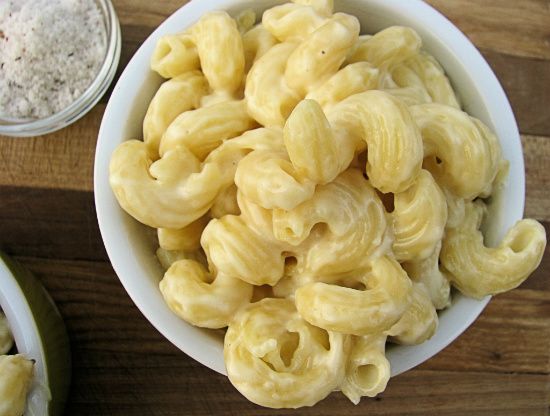 So while I didn't get exact measurements for this
Macaroni and Cheese, I did know what went into it, so I kind of just guessed. This is one of those "Gourmet
Macaroni and Cheese" recipes as I call it. It's got a good "tangyness" to it. I think that next time I make it, I'll add mushrooms and peas to it as well.
Black Truffle White Cheddar Macaroni and Cheese
Ingredients
1 box

Dry Pasta

16 oz

sharp white cheddar cheese, grated

1 pint

heavy cream

1 teaspoon

Black Truffle Sea Salt
Instructions
In a large pot bring water to a boil and cook pasta according to package directions. About 12 minutes.

Drain the pasta and set aside.

In a saucepan, heat heavy cream over medium heat until hot. Right before it starts to boil, add grated cheese and stir to melt.

Turn heat down to low and stir cheese until completely melted. Add Black Truffle Sea Salt 1/4 teaspoon at a time. Stir and taste. You may want more or less than what we used.

Once the cheese sauce it seasoned to your liking, mix in the cooked pasta.

Toss well to coat.
Details
Prep time:
Cook time:
Total time:
Yield:

6-8