{

S'mores Bread Pudding
}
#kingshawaiian
Experimenting isn't something I normally do in my kitchen. It's because I don't like to fail at stuff when it comes to cooking, I want everything perfect and I get really irritated when something doesn't come out like I think it should. I've always been like this towards cooking, but I'll have to say that within the past year, I've started to move away from my comfort zone just a little bit. Not a lot, but just a bit.
This bread pudding is the third flavor combination I've made since I convinced myself to try a
Jack Daniels bread pudding
reci
pe that a local chef had given me a few years ago. I've used that recipe base to make a Pineapple Banana Caramel Bread Pudding and now a
S'mores Bread Pudding. So we're taking baby steps, using a base recipe to make different flavors of one dessert, to see what works and what doesn't. *fingers crossed* that one day I'll be able to stand in front of a counter full of food and whip up a delicious meal or dessert with no recipe or direction.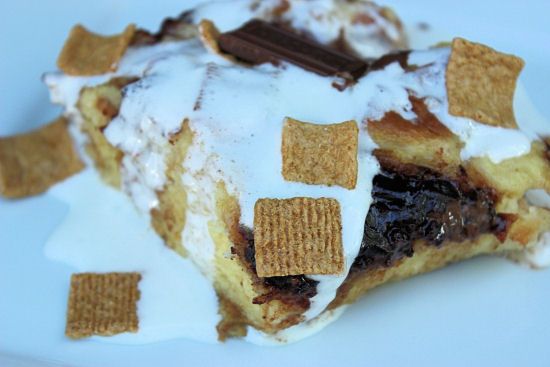 For m

y bread pudding I always use
King's Hawaiian sweet rolls at the base to build the flavors on. I don't know what made me start using them. The original recipe for the
Jack Daniels bread pudding
called for day old french bread, perhaps it said something like "or use any type of sweet bread". Now that I think about it, I think it did say that and I went with
King's Hawaiian sweet rolls, because that was the only kind of sweet bread I had bought before. Plus, 1 pack of
King's Hawaiian sweet rolls is exactly what I need for each bread pudding recipe that I make.
Random note about
King's Hawaiian bread, did you know that they have hamburger buns now? Oh my word, I mean
King's Hawaiian sweet rolls are like heaven sent when it comes to rolls, so I can only imagine with
King's Hawaiian hamburger buns are like. mm mmmmm.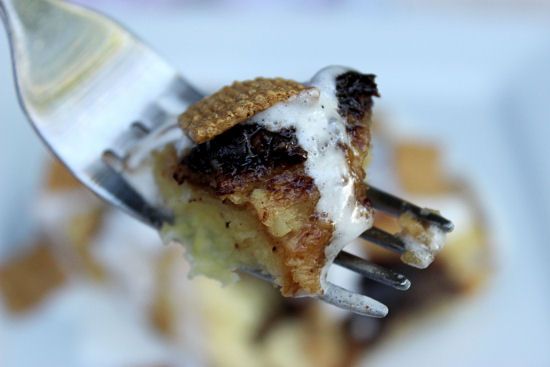 Ingredients
12

Hawaiian Bread Rolls (1 pack)

6

eggs

1 pint

whole milk

1 pint

half and half

1 teaspoon

cinnamon

1 cup golden graham cereal (or broken graham crackers)

4 chocolate bars, broken into pieces

1 cup mini marshmallows
For Marshmallow Drizzle:
1 Jar of Marshmallow Fluff
1/4 cup milk
Instructions
Butter a 9-inch square baking dish.

Cube the rolls. Toss cubed rolls into baking dish.

In a large bowl, mix together the eggs, and cinnamon.

Add in the half and half, stir. Stir in the milk.

Pour milk mixture over the bread crumbs and toss well. Make sure all of the bread is nicely coated.
Add in the

golden graham cereal, chocolate pieces, marshmallows.

Cover with foil and refrigerate for 1 hour or overnight (I let mine sit overnight).

Once the bread pudding is ready to bake, pre-heat oven to 325F.

Bake for 1 and 15 minutes hour or until set.
For Marshmallow Drizzle:
Heat marshmallow fluff and milk, stir until smooth.
Drizzle over warm bread pudding.
Details
Prep time:
Cook time:
Total time:
Yield:

9
This is one of my favorite recipes to share with friends and family! What is your favorite dish to share with the family? Comment below and you'll be entered to win a $200 Grocery gift card
King's Hawaiian
.
This is a sponsored conversation written by me on behalf of
Kings Hawaiian
. The opinions and text are all mine.
Official Sweepstakes Rules
.