{
Baked Drumsticks with Coca Cola Barbecue Sauce
}
What does summer mean to you?
If you had to describe summer in four words, which four words would you use? My Four Words?
"HOT GRILLING COUNTRY DAYS".
Yes my friends, because that's exactly what summer time brings to this part of the country, and for the most part that is what spring has brought us too.
The days are long and hot; the nights are warm, the country skies are full of bright stars and the fireflies come out in the yards and fields.
All of this
usually
, means that the grill is among the top hangout spots for us, along with the fishing pond, and the old country
store that houses the beer, mikes hard lemonade, and cokes in a glass bottle. *this being one of my favorite things...the
Coca-Cola
in a glass bottle that is ;)*
*random note:
Coca-Cola
in a glass bottle and a piece of hoop cheese = one of my all time favorite snacks*
With
that being said, I was more than excited when Coca-Cola contacted me a few weeks ago and asked me if I'd recreate one of their new recipes from their "
My Coke Rewards Meals Recipes
".
After spending a little while looking over the wonderful recipes from
Chef G. Garvin
and
Chef Ingrid Hoffmann
, I finally decided to make the
Coca-Cola
BBQ Wings from
Chef G. Garvin
. I'd never made BBQ sauce before, so I thought this would be a great time for me to do so. I did use drumsticks instead of wings, and changed a few ingredients and amounts of some things to make it perfect for us.
**Using the recipe below, you will have an extra 2-3 cups of sauce. I did this on purpose so that I could store the extra BBQ sauce to make more BBQ drumsticks If you want less sauce, divide the sauce recipe in half or use more chicken drumsticks.**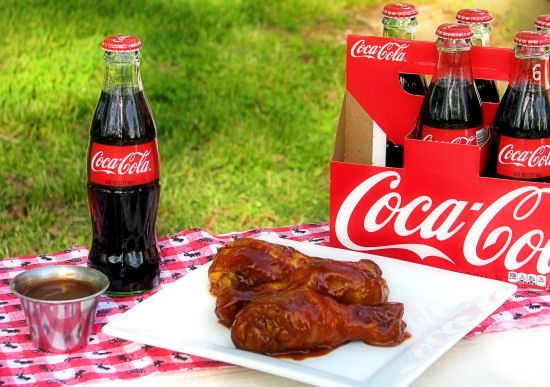 Baked Drumsticks with
Coca Cola Barbecue Sauce
Ingredients
For BBQ Sauce
4 tablepsoons

canola oil

2-3 cloves

garlic, minced

6 cups

ketchup

2 cups

orange juice

1 cup

molasses

1 cup

Coca-Cola

1 cup

brown sugar

2 tablespoons

liquid smoke

2 teaspoons

garlic salt

2 teaspoons

paprika
For Wings:
16

drumsticks

canola oil

salt and pepper
Instructions
Start by pre-heating the oven to 350F.
To make Coca-Cola BBQ Sauce:
Heat a pot over medium-high heat and add canola oil and minced garlic. Cook and stir until garlic is starts to brown.
Remove the pan from the heat. Add ketchup, orange juice, Coca-Cola and molasses.
Mix well. Add in the brown sugar, liquid smoke, garlic salt, and paprika . Whisk to combine.
For the drumsticks:
Add 4-5 tablespoons of canola oil to a skillet and heat it on medium-high heat. Salt and pepper the chicken drumsticks.
Once the oil is hot, cook 4 drumsticks at a time, about 5-6 minutes on each side. Once the skins have browned just a little, remove them and place them on a place. Set aside.
Continue until all drumsticks are done.
Cover the bottom of a 13x9 casserole or roasting dish with 1 cup of the BBQ sauce.
Place drumsticks into the dish, in a single layer. Cover the drumsticks with 2 cups of BBQ sauce.
Cook for 1 hour.
Details
Prep time:
Cook time:
Total time:
Yield:

16 drumsticks
Compensation was provided by Coca-Cola, but Coca-Cola is not a sponsor, administrator, or involved in any other way with this pin/post. All opinions expressed are my own and not those of Coca-Cola.