{
Pastel Flower Cupcakes
}
Someone I know it having a very special birthday this year. A very important, amazing birthday.
BigBear's Grandmother (Grandma Mary) is going to be turning 85 this year.
*Happy Early Birthday Grandma Mary*
And guess what else. Guess who's in charge of her party.... parties... (yes you read that right, 2 birthday parties this year)... me! :)
This makes me happy for 3 reasons.
#1. I love BigBear's grandma and I'm so excited to be able to give her an amazing birthday celebration weekend, she is such an amazing woman!
#2. I am overly excited that I get to plan 2 huge parties.
#3. I am full of joy in knowing that his grandmother and aunt love me so much and trust me enough to give me full control over such a big event.
The theme? Flowers, Ocean, Beach, Birds, Pastels. I'm going to make it work. It's going to be awesome.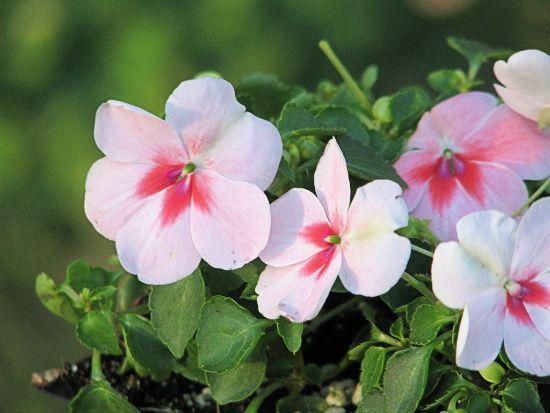 See these will match perfectly!
That is why I have made these cupcakes. I needed to practice some designs. This is one of them and I think it's the one I will use for the party. The cupcakes are a "Box From Scratch" kinda cupcake, yes it used a box mix but with other added things, so it's kind of from scratch. ;) These cupcakes are adorned with royal icing flowers (directions below) and cream cheese butter-cream icing (recipe below).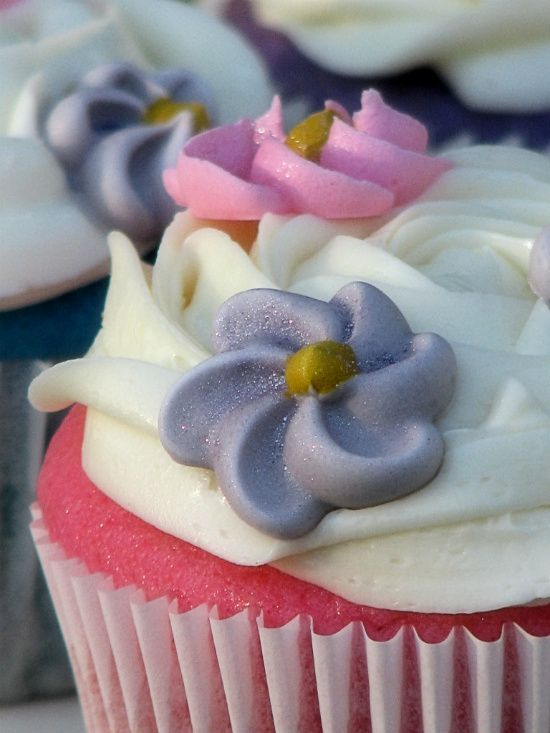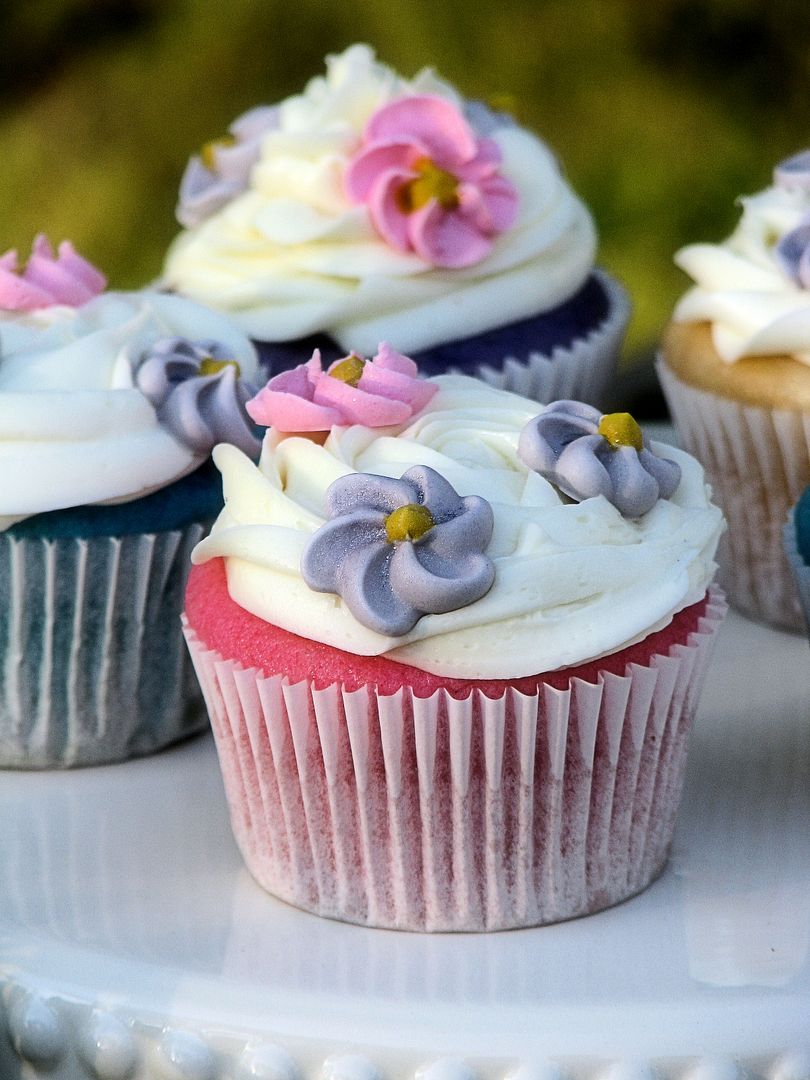 1 box

white cake mix

1 cup

all-purpose flour

1 cup

granulated sugar

1 teaspoon

salt

4

egg whites

1 1/3 cup

water

2 tablespoons

vegetable oil

1 cup

sour cream (8oz container)

1 teaspoon

vanilla




For Royal Icing Flowers:
3 oz

warm water

2 1/2 tablespoons

meringue powder

1/2 teaspoon

cream of tartar

1 pound

powdered icing sugar

5 tablepoons

cornstarch

Edible Glitter

gel food coloring

2D Tip

Piping Bags


For Cupcake Icing:
1 cup

butter

8 cups

powdered sugar

2 teapsoons

vanilla

8 oz

Cream cheese

4 tablespoons

heavy cream
For Cupcakes:
Pre-heat oven to 325F.
In a large bowl, mix together cake mix, flour, sugar, and salt.
In the bowl of a mixer, mix together the egg whites, water, and vanilla.
Mix on low for about 10 seconds. Slowly add the dry mix a little at a time. Mixing on low until everything is combined.
Add sour cream and mix well. Add color now if desired. Mix well.
Line a muffin/cupcake tin with paper liners.
Fill each cupcake liner 3/4 full of batter.
Bake at 325F for 25 minutes. Remove from oven and cool.
For Royal Icing Flowers:
In the bowl of a mixer, mix the warm water and the meringue powder. Mix for 30 seconds. Add the cream of tartar and mix for 30 seconds.
Add powdered sugar slowly, mix until combined. Add in cornstarch and mix.
Using the paddle attachment on the lowest speed, mix slowly for 10 minutes.
Tint with gel food coloring.
To Make the flowers: Fill a piping bag, fitted with a 2D Drop Flower Decorating Tip. On parchment paper, press tip to surface and squeeze, rotating your wrist from a 9'o'clock angle to a 12 o'clock angle. Release pressure and left away. Dot center with yellow icing. Let dry over night. Once flowers are dry, brush with edible glitter.
Use to decorate cupcakes
For Cupcake Icing:
For icing: Cream butter in the bowl of a mixer. Add cream cheese and mix well. Slowly add powdered sugar while mixing. Add vanilla and heavy cream and mix until combined.
For my cupcake icing, I used a piping bag, fitted with a 2D Drop Flower Decorating Tip and swirled.
Yield:

24 cupcakes