{
Strawberry Freezer Jam

}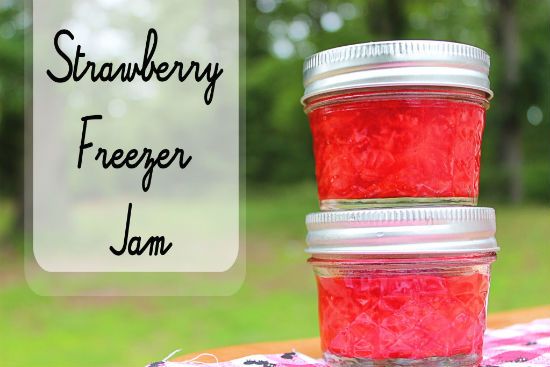 I am so glad that our local farmer's market is open now. I love going there on Saturday mornings and looking through all of the produce, baked goods, and crafts. When I went the other Saturday though, most of the vegetables that were there were green. Well you know..just green. Lettuce, herbs, cucumbers, but I was looking for something with more color. I wanted to see tons of bright red strawberries, orange carrots, bight yellow corn in the husks and deep purple eggplants. I guess I'll have to wait until those are ready around here. But thankfully a couple of boys outside the market had a truckload of beautiful strawberries for sale. I love the smell of fresh strawberries.
Mom and I split a basket of the strawberries. I love them but hubby doesn't. He doesn't really like any kind of berry. *crazy*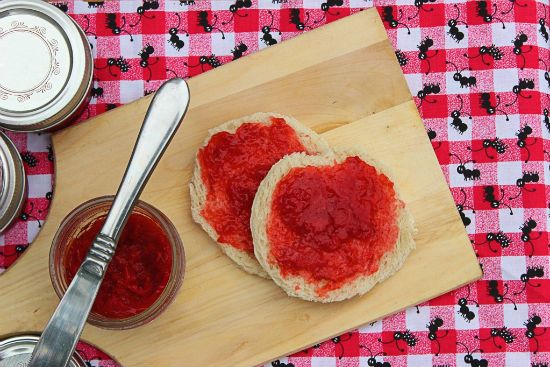 But since I had half of a basket left, I had to find a way to use them before they went bad. Because even though I love them, I can only eat but so many strawberries before I've had enough. And I have this bad habit of getting lots of fruit at one time, eating fruit like a mad woman for two or three days and then forgetting about it. oops. haha I didn't want these strawberries to have the same fate.
So what does one do when they have a ton of fruit? Make Jam! And since I know nothing about canning I opted for the easy route. I went with Strawberry Freezer Jam. I kind of went with the directions on the packet of pectin for this. But they really didn't have directions for freezer jam, because I bought no-sugar needed pectin instead of instant pectin. I didn't even know there were different kinds. oh well. This worked, so I'm happy with it. And on the up side, I didn't have to add cups and cups of sugar to it! I used some local honey for sweetness but that's it.
Just a few days ago my mom was talking about Strawberry Freezer Jam and how much she missed having it. So I made a few jars of jam for her as well. She's quite happy with them :)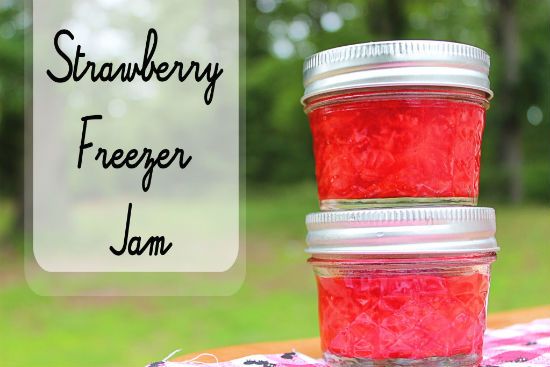 2 cup of mashed strawberries

3 tablespoons no sugar needed pectin

1/2 cup water

5 tablespoons honey



Mash the strawberries with a potato masher.
In a sauce pan, combine mashed strawberries, pectin and water. Stir.
Bring to a boil. Cook for 1 minute while stirring. Once the boil can not be stirred down, stir in honey. Cut the heat off and remove the pan from the heat.
Let cool for 5 minutes.
Ladle jam into clean canning jars. *I used
Ball Quilted Jelly Canning Jar 4 Oz* Leaving a little space at the top, for it to expand a little when frozen.
Clean the rim of the jar and screw on the caps. Put into freezer.
Jam should be ready after about 1-2 hours.
Prep time:
Cook time: 5 mins
Freeze time: 2 hours
Total time:
Yields:

8

-

10 (

4 Oz) jars of jam (depend on how much you fill each one)