{
Strawberry ShortCake Trifle
}
Happy Birthday, Savannah Grace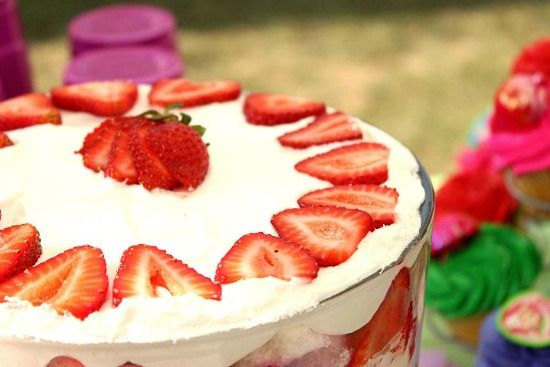 Four years ago today I was waiting on the arrival of my 1st (and so far only) niece. BigBear was in Iraq and I had come home for the week because my sister in law was due soon and I wanted to be home in VA when she went into labor. I remember going to breakfast with her and her husband and talking about how nervous but excited she was. Within 24 hours of that breakfast, my sweet and beautiful niece Savannah was here. I had been at the hospital most of the day, it seemed like she would never get here. Once it started getting late I left the hospital and joined a few of my sorority sisters for dinner. *My sisters's mother in law had promised to call me as soon as something happened.*
At about 11pm as we were sitting in the restaurant with a group of friend from college, my phone rang. I answered and began squealing with delight as Rachael's mother in law told me that Savannah was here. Being that is was already past 11pm and all new mothers need their sleep I didn't rush up there. But I did share the news with my girlfriends at the table and before you know it half of the bar/restaurant was cheering along with me. And yes...... I'm almost positive that 50% of them had no idea why they were jumping and cheering along with me. But little Savannah was welcomed into the world with tons and tons of cheers and celebration!!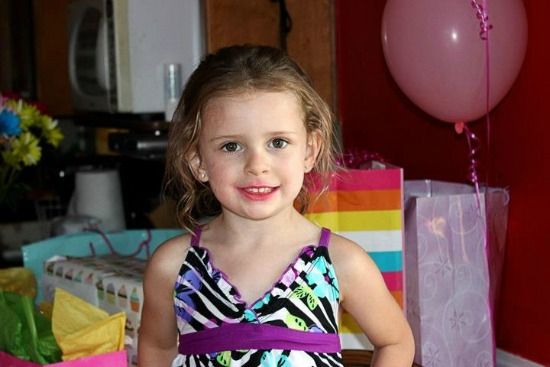 I love this little girl with my whole heart. She is amazing and she is so super smart. She started school this year. I am so proud of her.
The weekend before last, we celebrated her 4th birthday (even though today is her birthday). She gets to pick out her birthday theme every year and this year she picked "Strawberry ShortCake". They had her party at their house this year, it was a huge and wonderful party. Their backyard was full of things for her and the kids to get into, included a pool, a waterslide/bounce house, her giant playground swingset and a trampoline.
Cookout food galore and cupcakes for the birthday girl....oh and of course I brought something ;) What else but Strawberry Shortcake! Well... a Strawberry ShortCake Trifle. There isn't really much to it. A
Strawberry ShortCake Trifle isn't much work at all, you just have to take the time to put it together. But let me tell you, it was certainly loved by everyone there. People were scraping the bowl for the last bit of it. Next time I'll have to remember to make two... or three.
Happy Birthday, Savannah Grace! I love you so much, baby girl!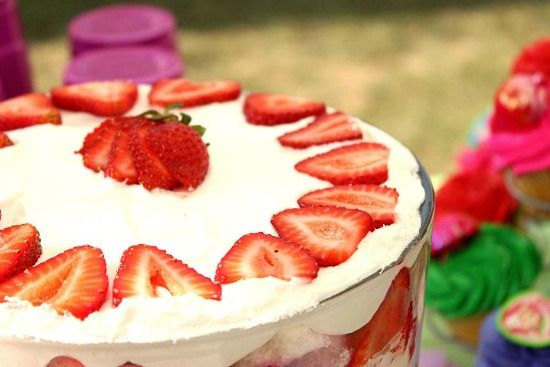 Strawberry ShortCake Trifle
by
-30-2012
Ingredients
1 large

Angel Food Cake (store bought or homemade)
2 cartons of strawberries
1 large tub of cool whip, thawed
Directions
Wash and dry strawberries. Cut the green tops off of the strawberries. Slice the strawberries and set aside. Cube the Angel food cake into bite size pieces.
In a large trifle dish, or any tall dish, start layering the trifle.
First lay down a layer of cubed angel food cake. Next add a layer of cool whip. Next add a layer of strawberries.
Ontop of the strawberries add another layer of angel food cake, add another layer of cool whip and add another layer of strawberries.
Continue layers until trifle dish is full. Finishing with a layer of cool whip. Decorate with sliced strawberries.