{
Honey BBQ Wings and Cool Ranch
}
#SundaySupper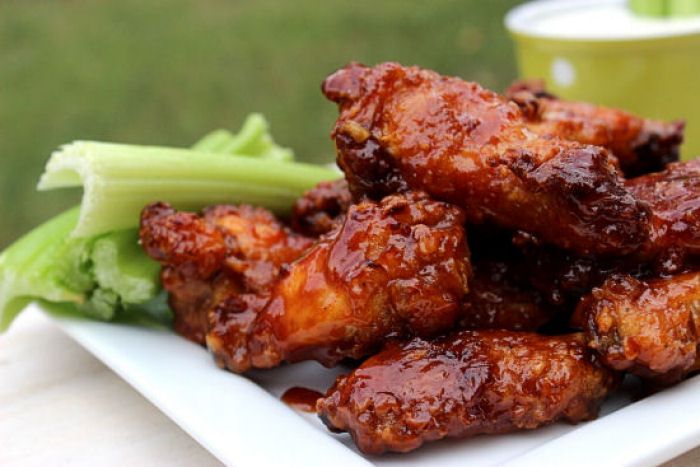 Is it true? Is it true that August is already over and that September is already here? I didn't even realize that Monday was labor day until last Monday. September just snuck up on me, literally!! August was a crazy month, a good month but crazy and busy. So many people in our family have birthdays in August.
BigBear
and his best friend have their
birthday
on the same day, a few cousins have birthdays in August,
Savannah
(my niece) has her birthday in August and my dad's birthday is the last day in August.
Along with all the birthdays, last week hubby hurt his back, again. He really got hurt bad when we was in Iraq the first time, so he's had back problems for a while now, but last Sunday he hurt his back even more and we spent most of Monday in the ER at the Veterans hospital, then I was sick Tuesday and then worked the rest of the week.
Since this weekend is Labor day weekend, I thought that Honey BBQ wings would be perfect for #SundaySupper. The perfect football, tailgate, cookout food and not to mention they are pretty easy to make. I've always loved wings, but have never taken the time to really make them. Well I mean I've made some by just pouring sauce over wings and baking them, but these Honey BBQ wings are actually breaded and then sauced. I baked these in the oven even though they are breaded like fried chicken. Baking wings is a pretty good alternative to deep frying, and I can't tell a difference in the taste.
When we lived in NC we use to order wings all the time. But we haven't really had them a lot since we've been back in VA. These totally reminded me why I loved them so much back then!! Wings are so good! These were so good that hubby said he'd "fist fight me for them"........um... I'm taking that as a compliment. HAHA. um.... not that he'd really do that.... I hope ;) haha.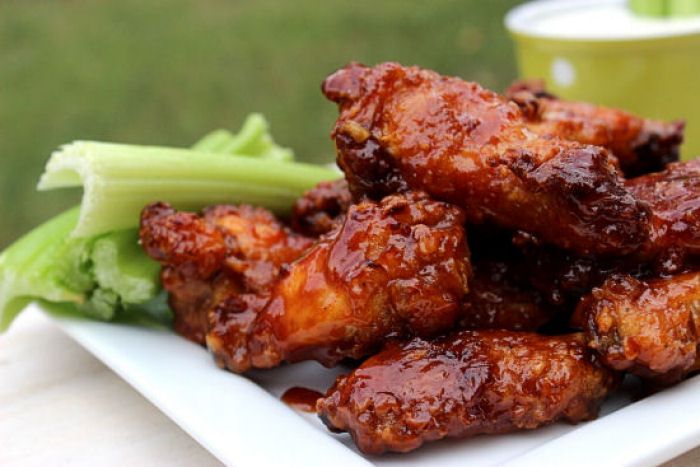 Honey BBQ Wings and Cool Ranch
Ingredients for Wings
6 chicken wings (cut in half at joint to make 6 winglets and 6 drumettes)
2 cups flour
Salt and Pepper
1/2 cup milk
3 eggs
2 cups BBQ sauce
3 tablespoons honey
Ingredients for Ranch
2 cups mayo
1 packet Ranch seasoning
4 tablespoons milk
Directions for Wings
With a sharp knife, cut the wings at the joint to create the
winglets and the drumettes. Make sure to cut the pointy tip off of the wings.
In a bowl whisk together the eggs and milk. In a separate bowl mix together flour, and a dash of salt and pepper.
Pat chicken wings dry. Place wings in egg and milk mixture. Then dip in the flour mixture until completely coated.
Pre-heat oven to 425F.
Place a wire rack over a baking sheet. Place wings on to the wire rack. Bake in the oven for 25 minutes.
Remove wings from oven and flip over. Bake for 25 more minutes.
About 5 minutes before the wings should come out of the oven start making the Honey BBQ sauce.
In a medium sauce pan, heat 2 cups of BBQ sauce and 3 tablespoons of honey on medium heat .Stir until hot.
When wings are done, remove from oven and toss into a huge bowl. Pour BBQ sauce over wings and toss to coat. Place wings back on wire rack and bake for 5 minutes.
Remove from oven and serve with ranch for dipping and with celery sticks.
Directions for Ranch
In a medium bowl, add 2 cups of mayo and ranch seasoning packet. Mix well. Add milk and whisk. Let sit in fridge for 1-2 hours before using.
Yield: 12 Honey BBQ Wings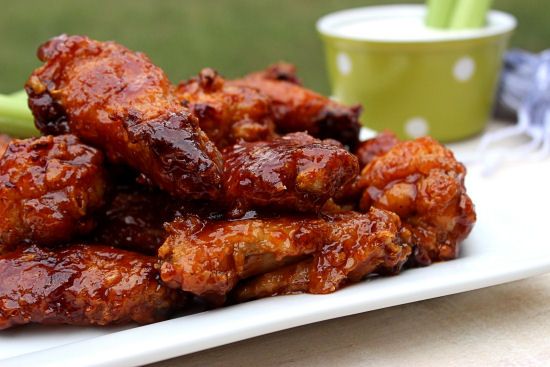 Join us this week Around the Family Table for #SundaySupper! That fun starts at 3pm EST with these fabulous recipes being showcased and ends with our #SundaySupper live chat from7pm-8pm EST.
Labor Day Cookout Recipes:
Starters & Snacks
Salads & Sides
Drinks
Desserts
Wine Pairings
Labor Day Cookout Food And Wine Pairings byENOFYLZ