This post and photos may contain Amazon or other affiliate links. As an Amazon Associate I earn from qualifying purchases. If you purchase something through any link, I may receive a small commission at no extra charge to you. All opinions are my own.
Our Thanksgiving was fabulous!
I love being to share my love of cooking with the love of family time.
We had 3 Thanksgiving Meal to attend this year. I only cooked for one of them though.
This is one dishes we had at our Maitland/Batman Thanksgiving.
The BLT Pasta Salad has the perfect combination of bacon, tomatoes, pasta and lettuce. The lettuce really makes it a "Pasta Salad" haha.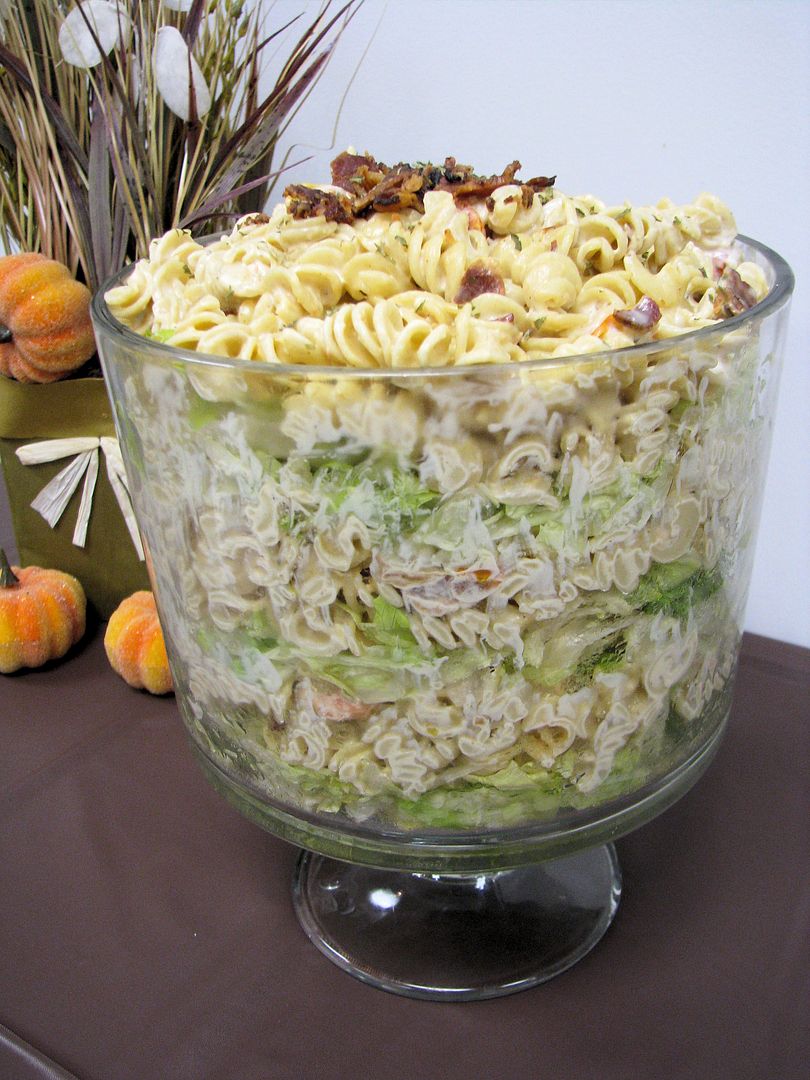 I was never a lover of pasta salad when I was younger, Something about cold pasta was not something I wanted to eat. I only started eating pasta salad, when I got older and noticed that is was always something the adults at the party loved. So when I was growing up and trying to fit in to the "rising adult" area, I started to try new foods, pasta salad being one of them, and I'm so glad I did.
I don't love all pasta salads. Some are to heavy on the mayo, sometimes they are mixed with so much powdered cheese that it's like eating sand.
But that's why I love cooking! You can make everything to match your taste-buds 🙂
What you need:
1 box (12 ounce) shaped pasta ( I used CorkScrew)
1 cup milk
1 cup cherry tomatoes, sliced in half
2 teaspoons of minced or powdered garlic
10 slices of bacon, cooked and chopped into bacon bits (reserve 3 tablespoons of bacon grease)
1/2 cup mayo
1/4 cup sour cream
1/2 cup ranch dressing
3-4 cups shredded lettuce
Salt and Pepper
What to do:
Cook the pasta in a large pot of salted boiling water for about 15 minutes, or until tender.
Drain the pasta.
Toss the pasta with 1 cup of milk in a large bowl. Drain again.
Cook the bacon and reserve 3 tablespoons of the bacon grease.
In a medium sauce pan, heat the bacon grease and the garlic. Cook the garlic until it starts to brown and become fragrant.
Add the chopped cherry tomatoes. Cook the tomatoes until they are tender, about 5-7 minutes.
Chop the cooked bacon into bacon bits. Set aside about 1/4 cup of bacon bits and add the rest of the bacon bits to the bowl of pasta. Mix together.
Mix the tomato mixture with the pasta and bacon.
Mix the mayonnaise, sour cream and ranch into the pasta. Mix well until everything is coated. Season with salt and pepper.
I served my Salad in a glass Trifle bowl, so that the layers would show. If you don't have a Trifle dish, you could just use a glass bowl or a regular bowl.
In the Trifle dish, add one layer of shredded lettuce. Next add a layer of the pasta mixture, next add a layer of lettuce, next add a layer of pasta, keep going until you reach the top ending with a layer of pasta.
Sprinkle the 1/4 cup of bacon bits that was reserved.
I let the salad chill for about 30 minutes and then brought it out and let it come to room temperature before serving.