Cake Truffles Step by Step / Frosting for a Cause
Today I am Guest Posting at 🙂 Frosting For The Cause
I love baking and I love charity work…………. put the two together and I am in DEEP LOVE!
So when I stumbled across Frosting for the Cause I knew I had found something that I had to be a part of!
Paula was more than happy to sign me up for Frosting for the Cause! What is Frosting for the Cause?? I'm so glad you asked!!
I'll borrow a bit from Paula's "About us Section" to explain!
"Beginning January 1, 2011 a total of 365 sugar cookie & cupcake bakers/decorators and bloggers from across Canada and the United States will take turns doing a guest post at Frosting for the Cause. By signing onto this project every guest baker/blogger has committed to not only donating a batch of their cookies or cupcakes to their local Women's Hospice but they have also committed to making a personal $25.00 donation to either the Canadian or American Cancer Society to be directed to research projects that are working diligently to find cures specifically for cancers that affect only women. Through the generous volunteer commitment of the 365 guest bakers on Frosting for the Cause, we will not only raise awareness of all of the cancers that currently affect women, but we will raise a total of $9,125 alone for research into these diseases"
I know that my Cake Truffles are neither cookies nor cakes and I know that they wont stop cancer… but I do know that They will bring a smile to someone in need and I know that my donation to the American Cancer Society will HELP find a cure!
Even though I myself have not been directly touched by cancer I know so many that have been and I pray for a cure everyday.
As I post this, I hope that you will enjoy this recipe and have fun sharing these cake truffles with the ones you love and find happiness in bringing a smile to their faces with such a simple treat.
I'd also like to send a few "Air" Hugs and Kisses to an Angel in Heaven taken away from us to soon, because of Leukemia. XOXO
If you'd like to be a part of Frosting for the Cause please Visit the Link Below!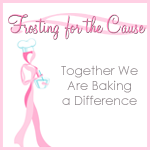 Cake Truffles Step by Step
You will need:
1 Baked Cake
8oz cream cheese
Chocolate Candy Melts
Parchment Paper

What to do:

Take your cooled baked cake and crumble the cake into a large bowl.


With your hands, Mix in 8 oz Cream Cheese until the "dough" is the texture of play dough.

Roll spoonfuls of dough into balls. I usually place them on a cookie sheet lined with wax paper but tonight I used a Mini Muffin Pan and it worked perfectly! Each cake truffle had its own little "Holder".

Place your cake truffles in to the freezer and chill for a few hours. If you're not in a hurry you can place them in the refrigerator overnight.
Melt your chocolate melting chip according to the package directions.

Once the chocolate is melted I take out 2-3 cake truffles at a time to work with.
I stick the cake truffle on the end of a fork and dip it into the melted chocolate. Swirl it just a bit to coat it and tap off any excess chocolate.

Then I place it on parchment paper.
This is when I add my sprinkles if I'm adding sprinkles 🙂
Let the cake truffles harden and you're done.
So simple yet so delicious.
**Side note, make sure to keep these cool, as they can stay out at room temperature for about a day or so but I wouldn't leave them out super long because of the cream cheese. Refrigeration is best 🙂