{ Caramel Apple Pie }
THIS WEEK'S CRAVINGS Linky Party #65
The Theme is: Homemade Pie Recipes
(Please share with us your favorite Homemade Pie Recipes )
I've made a few pies in my life. Most of them start with a pre-made pie crust and then consist of me mixing some things together, throwing them into that pie crust and baking them.
Well, I'm proud to say that this is my first pie that is totally from scratch. Well…. I mean I didn't churn the butter or grow the apples, haha but it's as close to "from scratch" as I'll ever get.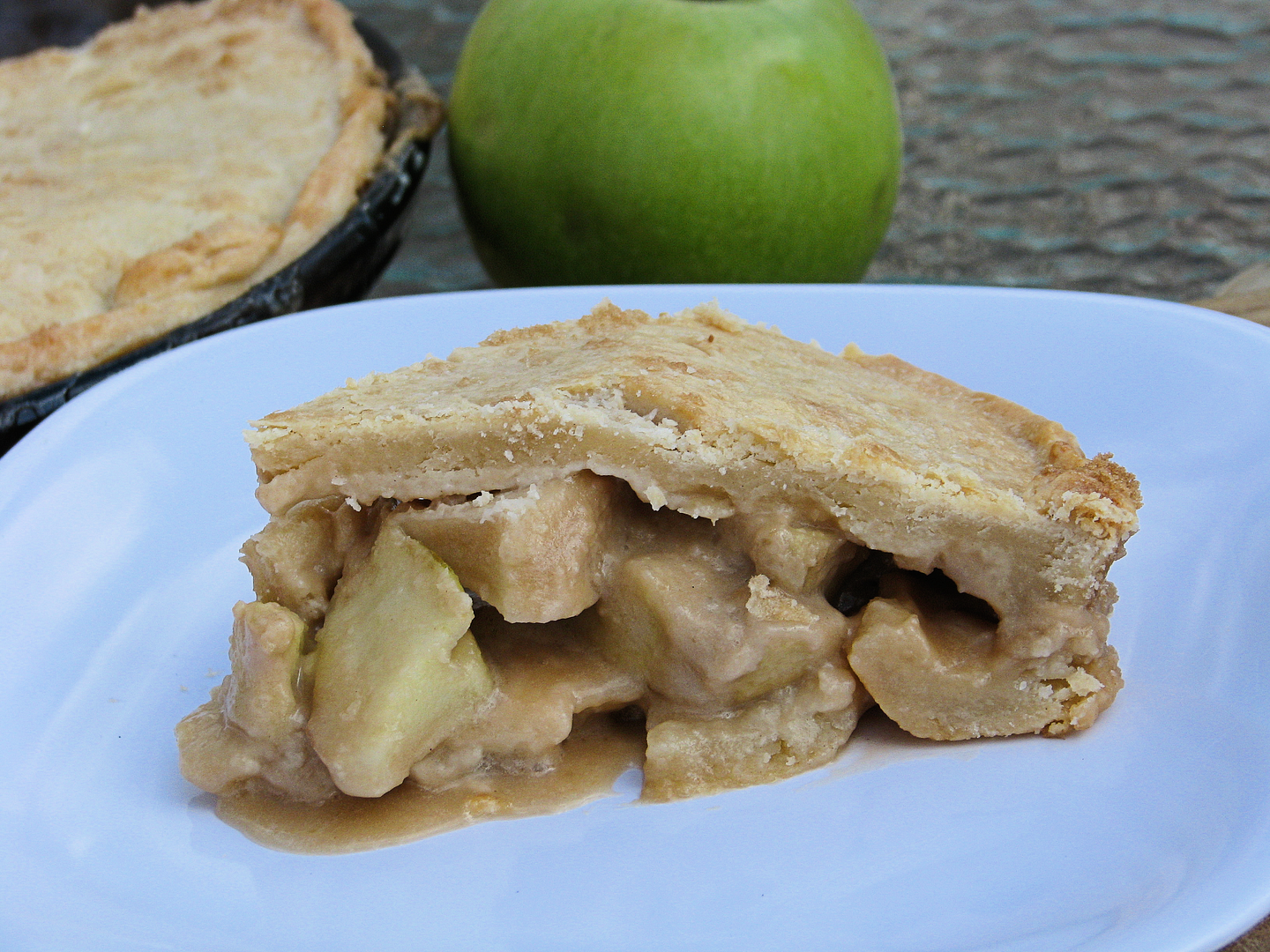 Apple Pie probably isn't suppose to look like that…. but that's ok.
I'm not really sure as to what an apple pie is "suppose" to taste like. Before this apple pie, the only type of apple pie I've ever tasted and liked was the Apple Crisp, that Amy taught me to make.
But Regular Apple Pie? I've tasted apple pie before, maybe once. I remember it was hot and gooey and mushy and not so wonderful.
But this apple pie… oh this Caramel Apple Pie was so good. I don't know if it is what apple pie is suppose to be like, but whatever, I don't care. It was really good. The apples were crisp but soft.
The caramel nicely coated on the apples. Not to thin but not to thick.
The crust is a cream cheese crust. Melt in your mouth crust.
**want an arm workout? Make this crust. haha**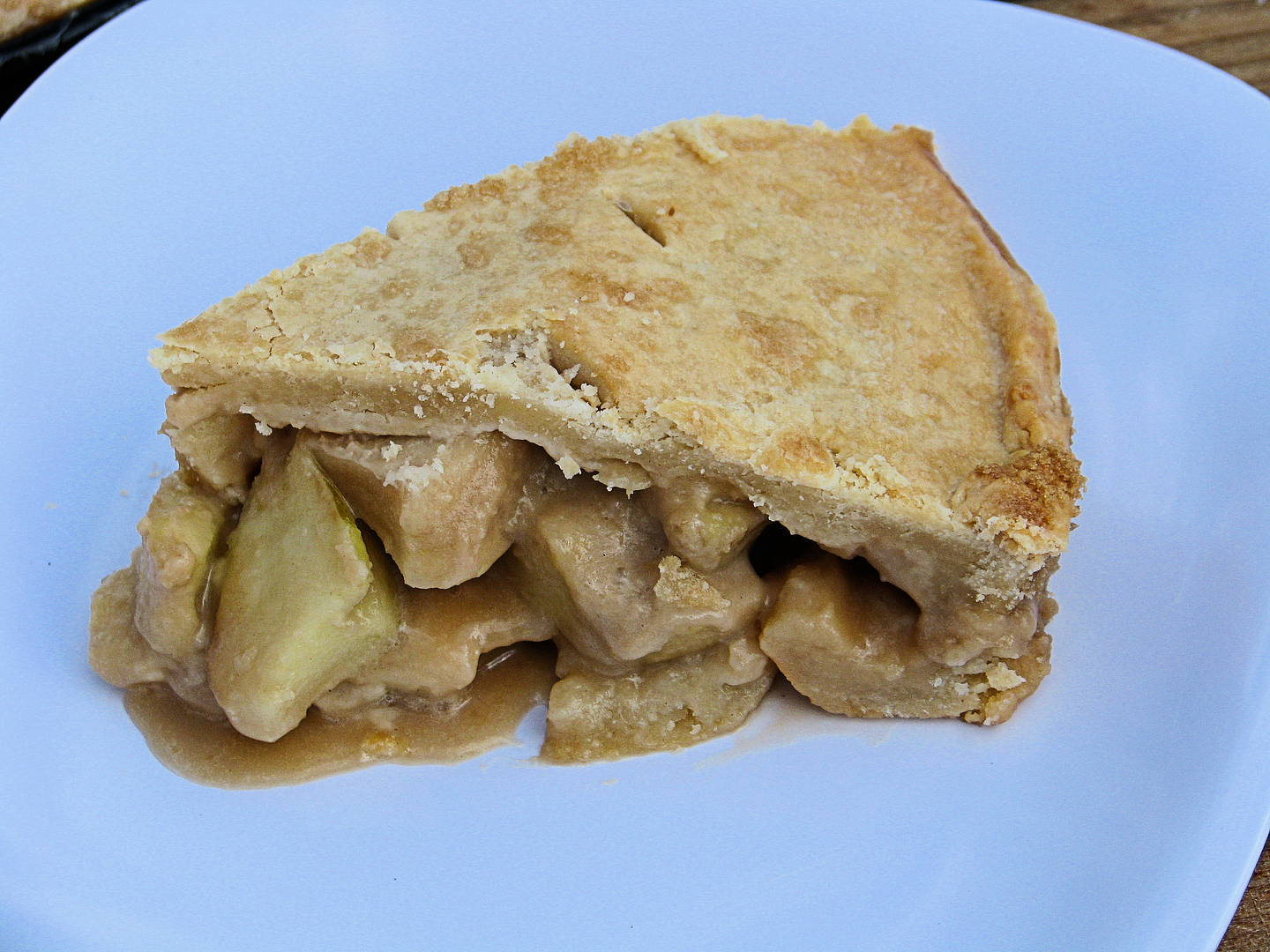 Caramel Apple Pie
What you need for the
crust:
**This will make 1 pie crust. You will need to do this twice. You will need 2 pie crusts, one for the bottom and one for the top**
1/2 cup cream cheese (about 4 oz)
1/2 cup room temperature butter
1 1/2 cups all purpose flour
What to do for the crust:


In a stand mixer, mix the cream cheese and butter. While it is mixing, add the flour a little bit at a time. Continue to mix until everything is combined. Dough will be very crumbly. I let mine mix for about 5 minutes so that it would come together more.
Shape dough into a round disk with your hands. Roll it out in between 2 sheets of wax paper until 1/8 inch thick.
Freeze the crust for about 15 minutes.
(Make 2 of these for this recipe)
Once they have been in the freezer for 15 minutes, remove 1 crust and gently press it into a pie pan.
Prick the bottom of the pie crust with a fork and bake at 350F for 15 minutes.
Make pie according to directions below.
What you need for the pie:
3/4 cup packed brown sugar
3 tablespoon flour
Pinch of Salt
1/4 cup heavy cream
4-5 Granny Smith apples, sliced
3 tablespoons cold butter, cut into bits
1 tablespoon heavy cream (for top of crust)
1/4 tablespoon brown sugar (for sprinkling on the top of crust)
What to do for the
pie:
Pre-heat oven to 400F.
In the bowl of a stand mixer, mix together the 3/4 cups of brown sugar, salt, flour and cream.
Peel and slice the apples. Place the apples into a large bowl.
Pour the brown sugar mixture over the apples and toss. Make sure all of the apples are coated.
Pour the apples into the pie crust. (the one that was slightly baked earlier in the recipe)
Scatter the bits of butter over the top of the apples.
Brush the rim of the pie crust with a little water and apply the second pie crust over the top of the pie.
Crimp the edges and make a few slits in the top of the pie to let it vent.
Brush the top of the pie with a little heavy cream and sprinkle with brown sugar.
Bake for 45 minutes until the crust is golden and the apples are tender. Cool for at least 1 hour before slicing.
Show us your favorite " Homemade Pie recipes " 😉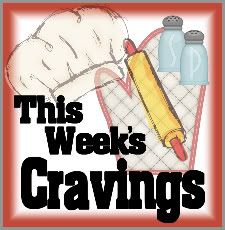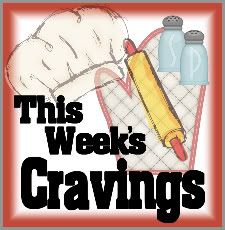 _______________________________________________________________________________

This Week's Cravings Upcoming Linky "THEMES"
Janurary 30th – Recipe from your favorite CookBook
February 6th- Nutella DAY (Peanut Butter, Almond Butter & More)
February 13th- Valentine's Day Treats or Romantic Dinners
February 20th- Avocado Recipes & Homemade Salsa
This is a BLOG Party hosted by MOMS CRAZY COOKING , Big Bears Wife , The Daily Dish and Veggie Converter .
If you are a regular link-up we're excited to see what you made this week. If you are new please read and follow the simple rules, so that everyone can enjoy the linky party! If you forget to follow the theme, your post will be deleted. Please don't feel hurt, just come back and link up a recipe that follows the theme. Thanks a million, we look forward to blogging with you!
The LINKY PARTY is opened ALL Week!
PLEASE do not link more then 3 recipes per week.
This week's theme is: Homemade Pie Recipes
Please only link recipes with our theme!