This post and photos may contain Amazon or other affiliate links. As an Amazon Associate I earn from qualifying purchases. If you purchase something through any link, I may receive a small commission at no extra charge to you. All opinions are my own.
Chicken with Peas, Parmesan and Vodka sauce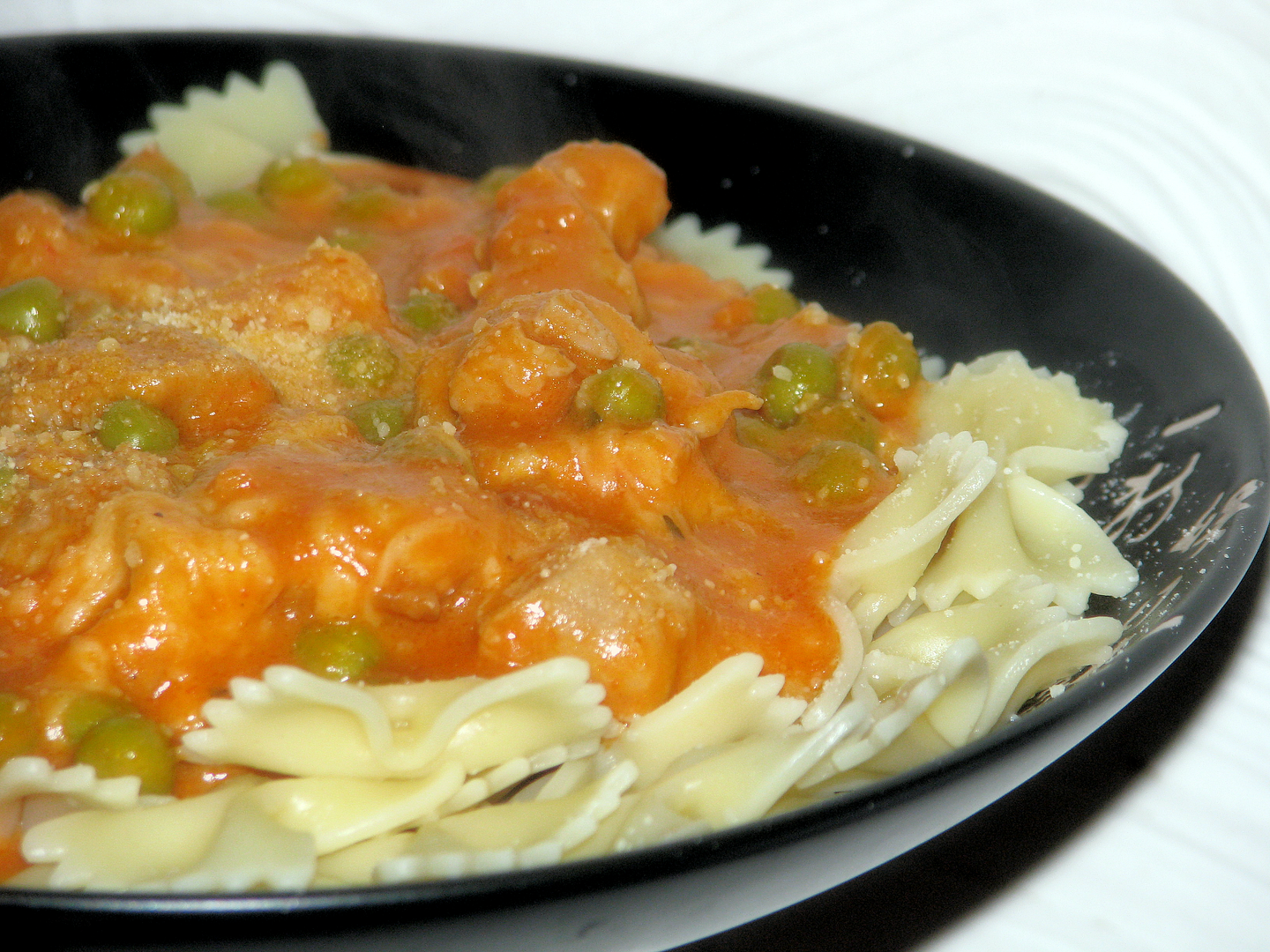 I really need to work on my food photography skills…. big time. For instance, the dish I am sharing with you now is delicious and creamy and awesome, But the pictures don't seem to do it justice. Maybe some foods just don't look good when photographed……..maybe its just me…..yeah probably just me and my lack of food photography skills. haha
I think I've signed up for every food magazine, food website, and food blogger (that I've found so far) to get daily recipes e-mailed to me, so my inbox is always stuffed with recipes. This was one of those recipes.
It is from Bertoll, I changed it up a little, but basically the same one I got from them.
What you need:

1-1/2 pounds of boneless, skinless chicken thighs, cut into large chunks
1 Tbsp. Olive Oil
2 cloves garlic, finely chopped or 1 tablespoon of granulated garlic
1 jar Bertolli Vodka Sauce made with Fresh Cream
1/2 cup green peas
2 cups grated Parmesan cheese
Pasta of your choice (I used Bow-ties)
What to do:
Season chicken with salt and ground black pepper.
Heat olive oil in a large skillet over medium heat and cook garlic,stirring frequently, 30 seconds.
Add chicken and cook, turning occasionally, 10 minutes or until browned.
Stir in sauce and simmer 5 minutes. Stir in peas and grated Parmesan cheese.
Simmer 15 minute or until peas are heated through and chicken is thoroughly cooked.
Serve over hot cooked pasta and garnish with Parmesan cheese shavings.