This post and photos may contain Amazon or other affiliate links. As an Amazon Associate I earn from qualifying purchases. If you purchase something through any link, I may receive a small commission at no extra charge to you. All opinions are my own.
YAY, Sausage Gravy and Biscuits! One of the few things that can get me out of the bed in like 5 seconds on the weekends. My grandpa use to make Sausage Gravy and Biscuits all the time when I was younger. My brother use to say "Papa, you need to bottle that Sausage Gravy up and sell it!" He never did bottle it up and sell it but we did get to enjoy almost every time we went up to Nana and Papa's to spend the night. I wish I had been into collecting recipes when he was around, because his recipe for Sausage Gravy and Biscuits would have been an amazing one to get him to put on paper.
When BigBear and I got married, we'd visit home on the weekends once in a while and normally made a stop at his parent's house for breakfast. The first time my father in law made Sausage Gravy and Biscuits I was in heaven. It took me straight back to my grandpa's kitchen. From that point on, anytime we had plans to head to their house for breakfast, before BigBear could even ask, his dad would say, "….and yes, Sausage Gravy and Biscuits for Angie." 🙂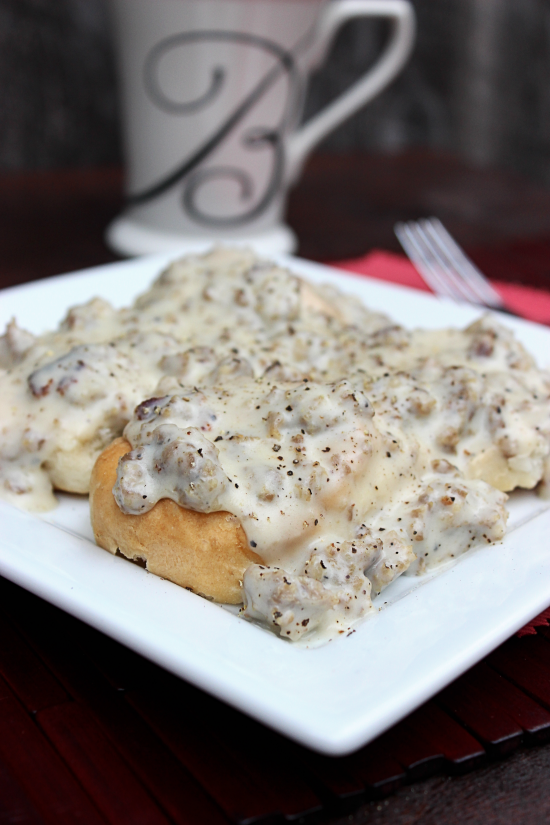 After a little while of practicing, BigBear has mastered Sausage Gravy and Biscuits. Well at least I think he has! When I told him that he finally had gotten it to be just like his dad's, he smiled and knew he had it perfect. 🙂 Sausage Gravy and Biscuits is probably my #1 comfort food when it comes to breakfast. But it is a special treat, personally I would eat it everyday………. but since hubby makes it, I only get it on the weekends and then, it's still like random. I should make it a mandatory Sunday morning breakfast! haha
Big Bear says "Pour this gravy over biscuits for the best breakfast at home you can ask for"
(Printable Recipe Here)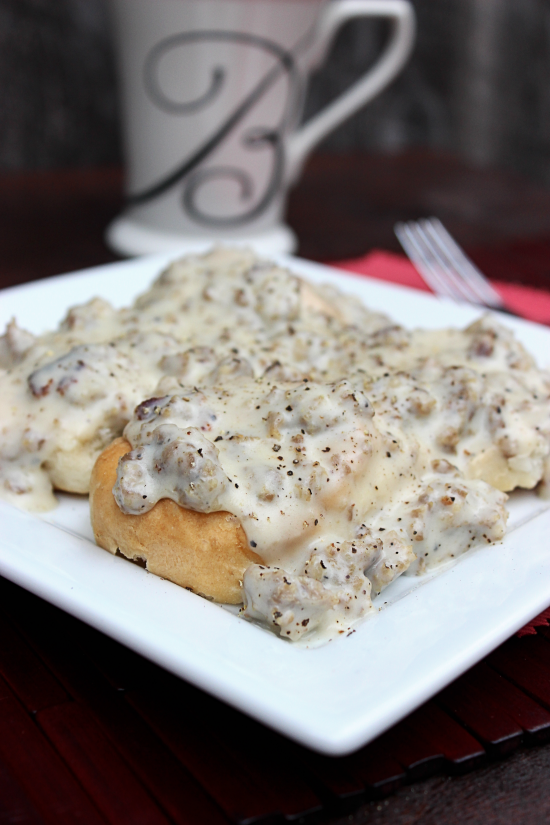 Sausage Gravy and Biscuits
Ingredients
1-2 pounds ground sausage
1.5 teaspoons butter
3 cups whole milk
3 tablespoons of flour
Salt and Pepper
4-5 cooked biscuits
Instructions
Heat a large skillet on high. Once skillet is hot, place the sausage in the pan and cook until done.
While cooking. use a large metal spatula to press down on the sausage to help get some of the extra fat out of the meat.
Right before the sausage is ready place three pats of butter about 1/2 a teaspoon or so each into the skillet with the sausage.
Place 3 cups of whole milk into the microwave for about two minutes. (this makes sure that the milk won't curdle when added to the sausage)
Sprinkle 3 tablespoons of flour over sausage. Add warm milk, 1 cup at a time, stirring after each cup of milk is added.
Bring mixture to a boil and then reduce to a simmer.
Once you reduce the heat if the gravy is not as thick as you want you can add 1/2 teaspoon of flour at a time stirring after each one is added.
Salt and pepper to taste and let simmer for about 10-12 minutes.
Pour over biscuits and serve hot.

Details
Yield: 4 -6 servings of Sausage Gravy and Biscuits

Join us this week Around the Family Table for #SundaySupper! That fun starts at 3pm EST with these fabulous recipes being showcased and ends with our #SundaySupper live chat at 7pm EST.
Our theme this week is "Comfort Food with
Lee Woddruff
.
Lee's new book, Those We Love Most, recently made the NY Times Bestselling Book!
#SundaySupper Comfort Food |Soups
#SundaySupper Comfort Food | Main Dish
#SundaySupper Comfort Food | Desserts
Please be sure you join us on Twitter throughout the day during #SundaySupper. We'll be meeting up at 7:00 pm
(Eastern)
for our weekly #SundaySupper live chat where we'll talk about our favorite apple recipes! All you have to do is follow the
#SundaySupper hashtag
, or you can follow us through TweetChat! We'd also love to feature your apple recipes on our
#SundaySupper Pinterest board
and share them with all of our followers!