Sausage Spaghetti Squash with Alfredo : Secret Recipe Club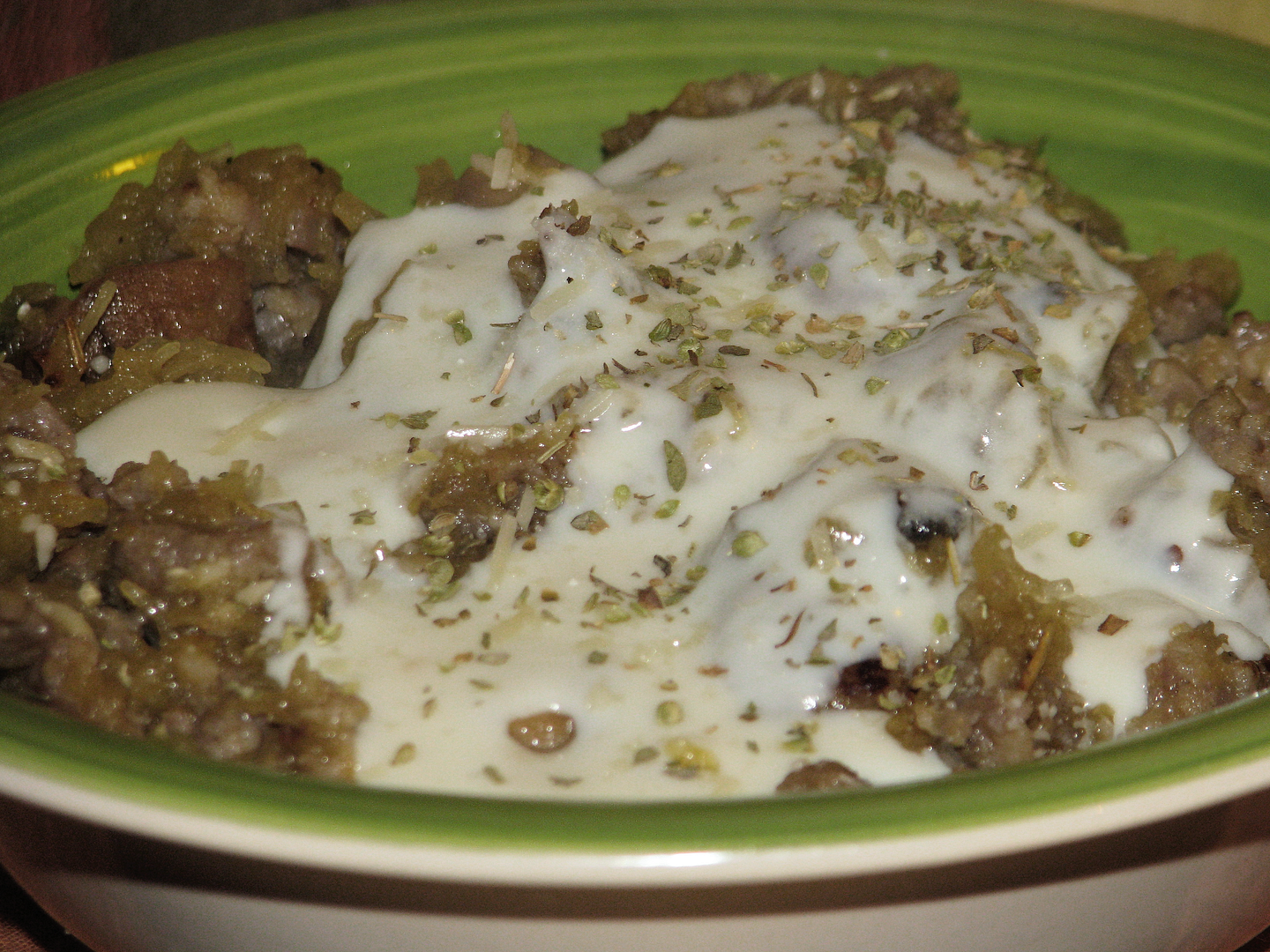 Hey Hey Hey, What do you say!
It's Time for another Secret Recipe Club Recipe! One of my favorite posts to look forward to each month.
Have you ever heard the phrase "Don't Judge a Book by it's cover."?
That's one thing that I learned to do when I started really getting into the kitchen. There are so many different foods out there; some food that I didn't even know existed until I was an adult.
And then there are ones that make you turn you nose up as a child, but have become a favorite of yours now.
You know those food, those foods that you looked at and though "I will never be asking for that", and then you have a taste of it and can't get enough?
That's happened to me quite a few times since I became and adult and started cooking a lot.
For instance… Deer, Venison. As a child I was extremely disturbed about eating "Bambi". I don't even know why is bothered me. I mean I wasn't emotionally attached to Bambi haha, but it was just one of those "ewwww" food.
But as an adult, I eat it all the time. I mean hey, It's free meat! Can't go wrong with that.
Same thing with this recipe I'm going to share with you today.
Spagethhet Squash.
As a Child, anything with the word Squash in it sent me running. Now I'm ok with it.
But First, Let's Talk Secret Recipe Club.
Amanda from
Amanda's Cookin
, has created an amazing Club called The Secret Recipe Club. We have over 300 members now and 4 different "Groups".
We get to find new recipes each month and support other bloggers. It's a great club, that I love.
Find out more about it here .
Today is Group C's Reveal Day!
Groups A and B have already posted for October. You can see their recipes here:
This month I had Lynne's
Blog 365 Days of Baking
. She's Got a plan to bake or cook everyday for 365 days! I love it. As I was reading Lynne's about me page, trying to learn more about her, I read that her dream job was being a stay at home mom. She says "
I remember sitting on the school bus in high school looking out the window, seeing mom with kids in their car seats thinking that was all I wanted to do – be a mother."
This I loved, because I felt the same way when I was younger, and still feel that way today, I can't wait until we have kids.
But anyways, haha back to the food.
Lynne had a recipe for Sausage Spaghetti Squash on her site. I've never had Spaghetti Squash, but I'm up for trying new things, so I gave it a go. Plus since Spaghetti Squash is suppose to be like "Spaghetti", it's a fabulous substitute for pasta in some dishes!
Did you know that 1 cup of cooked spaghetti has about 190 calories , where 1 cup of Spaghetti Squash has about 45 calories! Amazing!
So before I share to much with this, I want to remind you of the phrase "Don't Judge a Book by it's cover!"
Because I added Mushrooms to mine and mixed it all together, It did not look pretty. NOT pretty at all.
But It was GOOD. Really Good. As in I plan to use Spaghetti Squash to replace pasta in a lot of my future dishes.
SO Don't Judge this dish by the picture. It's Really Really Good, so try it before you turn your nose up at it.
oh and PS. Lynne's looks 100% better than mine haha, so Go look at hers if you need to 🙂
***I added Mushrooms and Alfredo Sauce to Mine and had to change the Seasonings***
Sausage Spaghetti Squash with Alfredo
What you need:
6 sausage links, (remove the casings)
1 spaghetti squash, about 2 pounds
1 tablespoons minced garlic
1 dried rosemary
1 teaspoon dried oregano
1/2 teaspoon salt
1/2 teaspoon black pepper
3 tablespoons butter
1 cup diced mushrooms
Alfredo Sauce (Optional)
Preheat the oven to 375F.
Cover a baking sheet with aluminum foil (use a baking sheet with edges).
On a cutting board, carefully cut the squash in half lengthwise. Be super careful, because it is really though to cut through.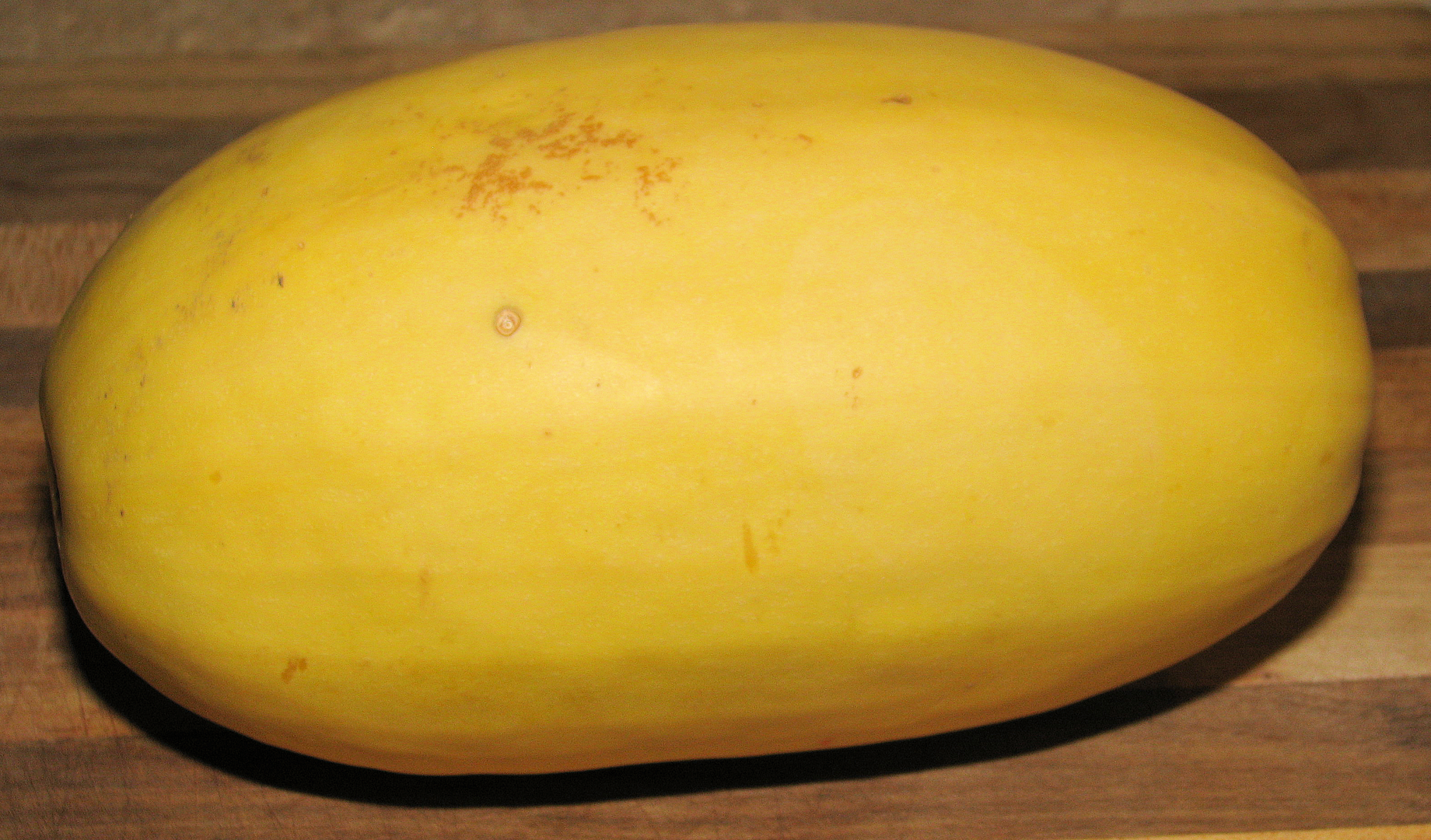 Lay each half cut side up on the baking sheet.
Pour water into the baking sheet, until you have about 1/2 an inch of water in the pan. (this is why you need a baking sheet or dish with sides)
Cover with alumni foil and bake for 1 hour.
Once it us cooked all the way you should be able to use a sharp knife to easily pierce the squash skin.
Remove squash from oven and uncover them. Flip them over and re-cover.
Bake for 15 minutes.
Remove the squash from the oven and allow to cool enough to handle.
While the squash is cooling, cook the sausage in a large skillet over medium heat.
Break it apart with a spatula as it cooks, and cook until brown. Once cooked, scoop sausage into a bowl and set aside.
Using the same skillet, melt 2 tablespoons of butter. Once melted, cook the mushroom with the garlic, rosemary and oregano until the mushrooms are tender.
While the mushrooms are cooking, being to prepare the squash.
Place one of the squash halves onto a cutting board. Scoop the seeds out and throw them away.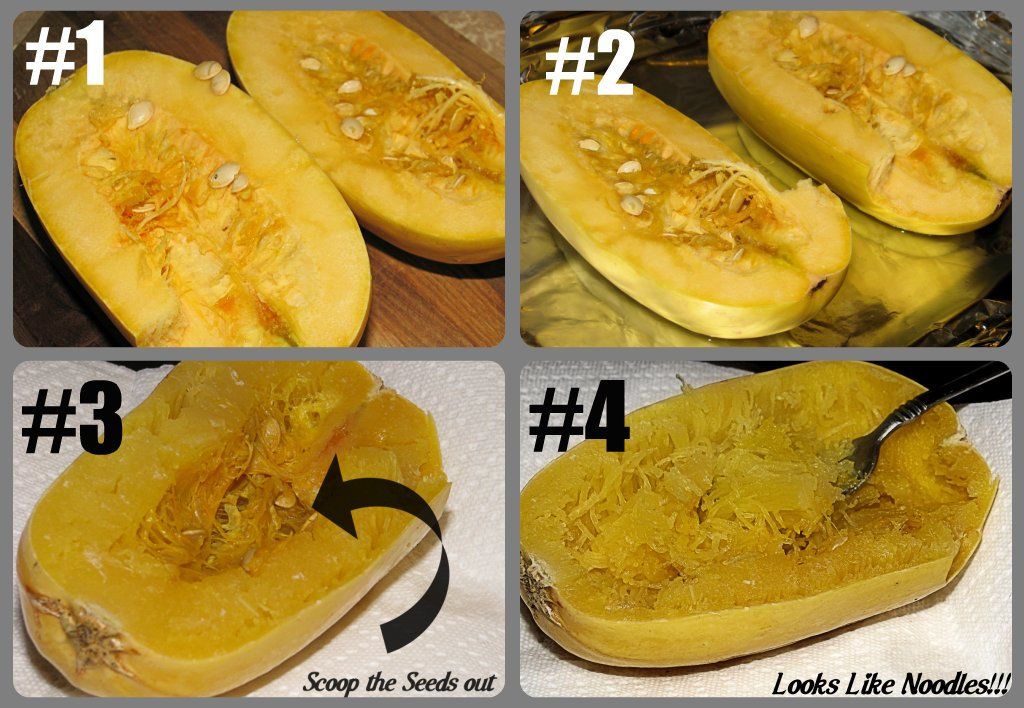 Once all the seeds have been removed, use a fork to scrap the squash out, until the shell is hollow.
It now will start to look like spaghetti!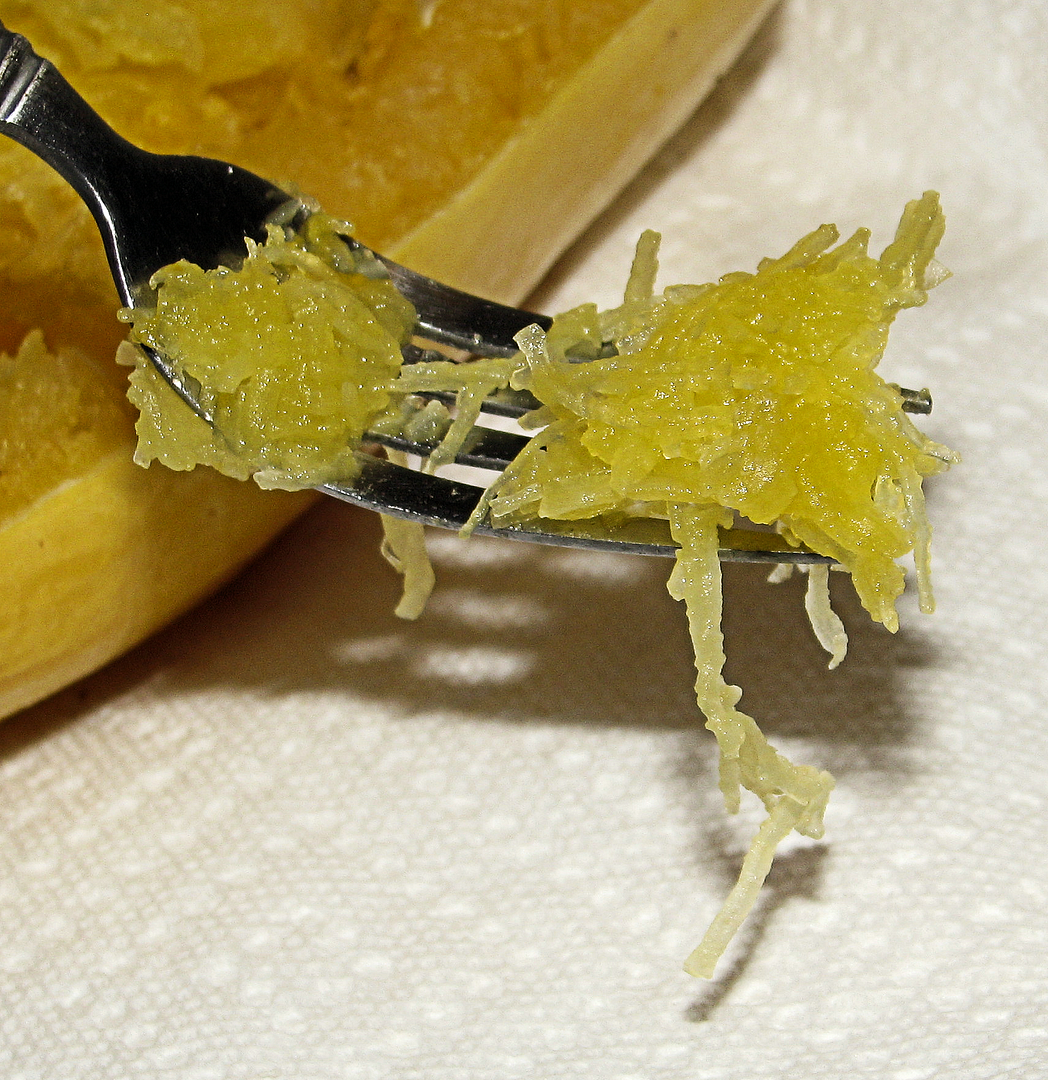 Place spaghetti strands into a bowl and set aside. Do the same thing with the other half of the squash.
Once the mushrooms have finished cooking in the skillet, add the sausage back to the skillet. Stir and add the spaghetti squash. Add the last tablespoon of butter and toss everything together. Cook until everything is heated.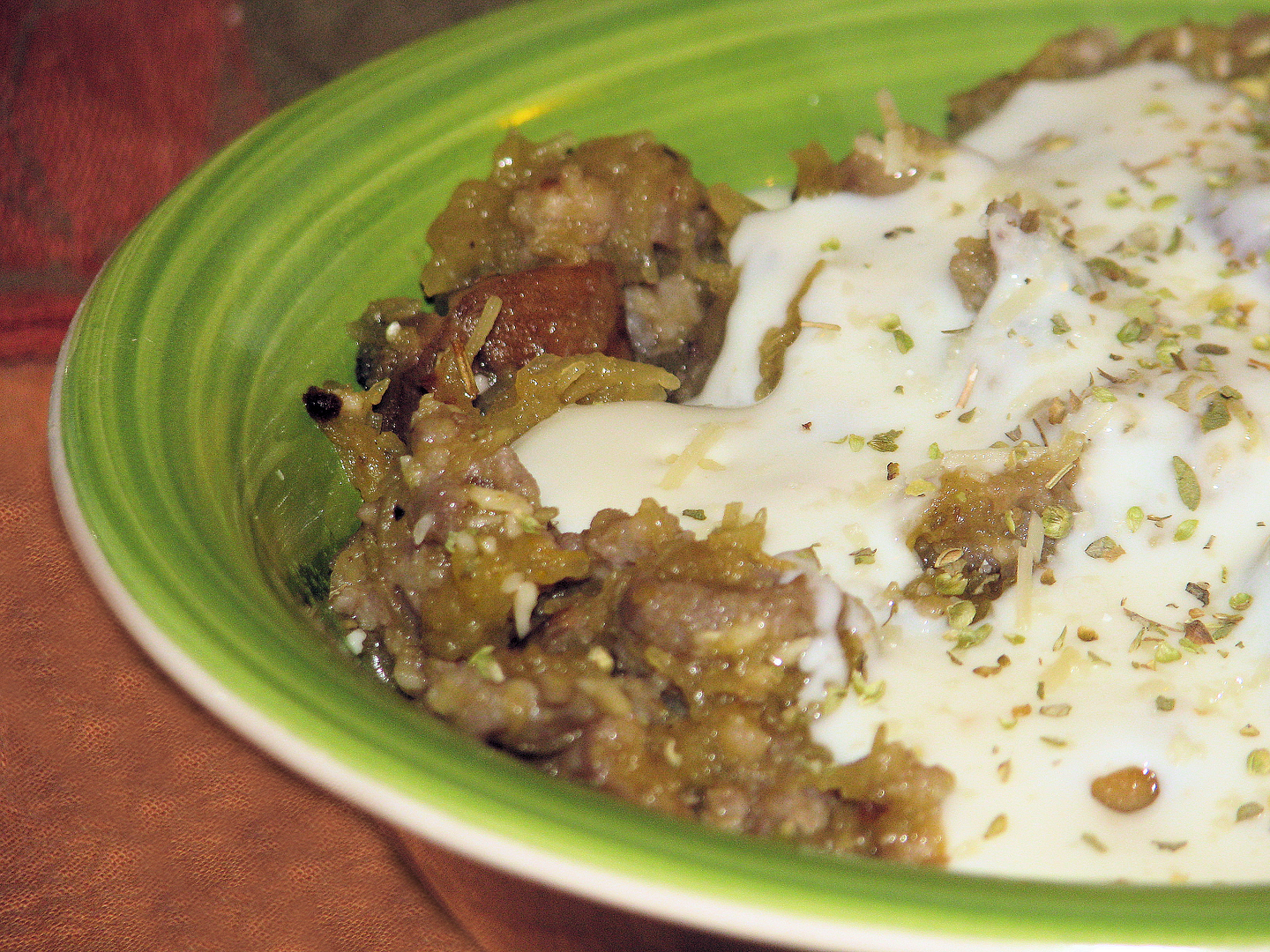 I chose to serve Alfredo over mine, because I LOVE Alfredo pasta. But it's not necessarily needed to make this taste wonderful!. Give it a try! Just think of all the dishes that you could use Spaghetti Squash in instead of regular pasta!
Check out all the other awesome recipes from Group C below: