Last Sunday, like most Sunday's I participated in sharing recipes with our #SundaySupper group. Normally we have a theme to go off of and we come up with recipes and dinner ideas to encourage meals around the family table.
But last Sunday , we didn't have a theme, instead some of us received Katie Workman's new cookbook,
"
The MOM 100 Cookbook
". We were to pick one of her recipes, make it, and then share it :) I choose the
Sesame Noodles, and they were just perfect. I love it when a recipe comes together like it's suppose to. While trying the
Sesame Noodles
, I was telling Big Bear about how much they reminded me of Chinese take out noodles but that they were even better. Then it hit me, I needed to make Sesame Chicken to go with these noodles. At home Chinese "take out".............only better. ;)
I searched the internet and a few cookbooks for a good sesame chicken recipe, I even watched a handful of you tube video's on making it. After feeling quite confident that I could make it, I did just that. I made it, we ate it, we loved it.
Had I thought this out a little more, I should have gotten some little Chinese take out boxes and chop sticks for the pictures... that would have been cute. Whelp.........that didn't happen..........sorry about that.
Also, I'm just posting the recipe for the
Sesame
Chicken. I know that the
Sesame
Noodles are in the photo, because that's what I served my sesame chicken with, but you can go to the
Sesame
Noodle Recipe
... *
Sesame
Noodles*
<----- to find the
Sesame
Noodle Recipe.
**and I can assure you that even though I have linked to the Sesame Noodle Recipe 4...make that 5 times in the last sentence, that someone is still going to say something like "I see noodles in the picture, but no noodles in the recipe"... It's OK though, because I will point them to the
Sesame
Noodle link ;)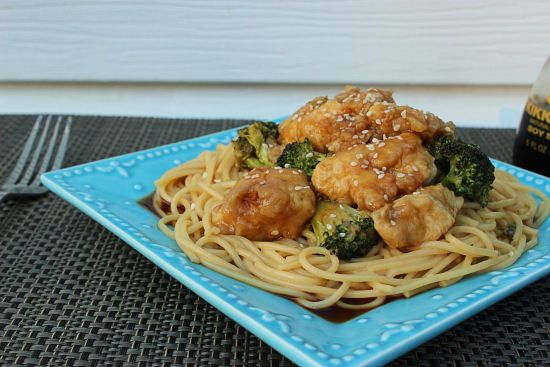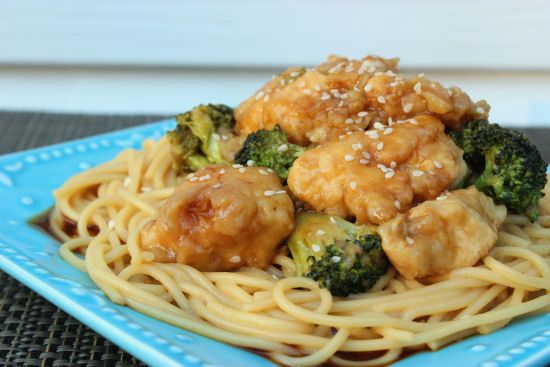 Ingredients
For Batter:
1 1/2 cup flour

1 cup cold water

1/2 cup cornstarch

1 egg

1 teaspoon salt

2 teaspoons baking powder
For Sauce:
2 cups chicken broth

3 tablespoons white wine

2 tablespoons sugar

3 tablespoons soy sauce

2 tablespoons sesame oil

2 tablespoons cornstarch
Also will need:
4-5 chicken tenders (skinless boneless) (or use chicken breast)

Broccoli

1 tablespoon ground ginger

Oil

Sesame seeds
Instructions
Heat oil in a deep fryer or pot to 375F.
In a medium bowl, mix together the flour, 1/2 cup cornstarch, egg, salt, baking powder and water. Whisk until combined.
Chop chicken tenders into bite size pieces. Dip chicken into batter and let sit for about 5 minutes.
Once oil is hot, drop chicken pieces (working in small batches), into the hot oil and fry for about 3 minutes, until lightly golden. Continue until all of the chicken is cooked.
In a large skillet or a wok, heat 5 tablespoons of oil on medium to high heat. Chop broccoli and add to wok. Cook broccoli for 6-7 minutes or until slightly soft. Broccoli should start to turn a darker shade of green.
In a medium bowl, mix together the chicken broth, white wine, sugar, soy sauce, sesame oil, and

2

tablespoons

cornstarch. Pour into wok, stir and let reduce until it starts to thicken.
Once the sauce has thickened, add in the chicken and gently stir to coat it with the sauce. Heat for about 3-4 minutes. Remove from wok and serve.
** I served mine over Sesame Noodles*
Details
Yield:

4