Savory Patriotic Chicken Kabobs are the perfect additional to this summer's holiday cookouts! Perfect for grilling outside or inside!
I can't believe that it's already July. It feels like It was just June 1st the other day and I was counting down the days until my birthday. Summer is just flying by! With today being July 1st, we all know that The 4th of July is pretty much here! Which means, cookouts, BBQ's, parties, fireworks, Savory Patriotic Chicken Kabobs and most importantly remembering and being thankful for our troops!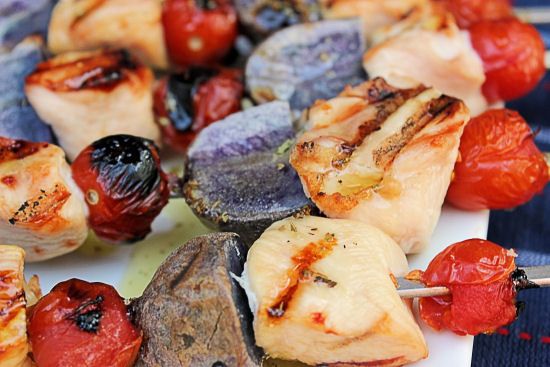 Normally we always have a huge cookout for the 4th of July. We cook tons of food, have a wonderful family cookout and then set off fireworks. I think hubby's family is still doing a cookout so, we'll be attending that, but we (hubby and I) won't be having our normal big family cookout at the house because mom will be in the hospital. She's having surgery on the 3rd and will have to stay there for about a week. 🙁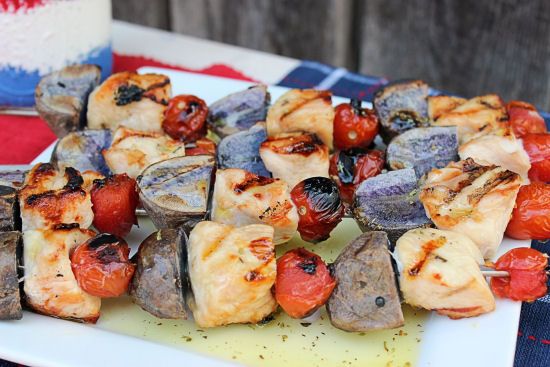 But we'll be sure to have a 4th of July cookout when she's feeling better 🙂 To celebrate July and the 4th of July, Big Bear and I made Savory Patriotic Chicken Kabobs.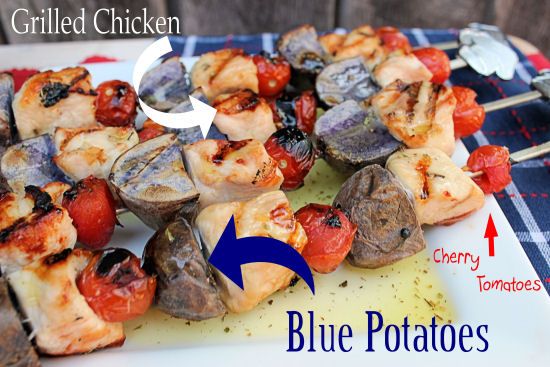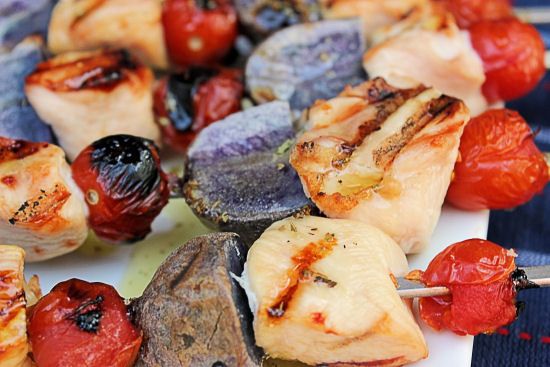 Savory Patriotic Chicken Kabobs
Ingredients
12 Cherry Tomatoes, whole
2-3 Boneless Skinless Chicken Breast, cubed
4 Blue Potatoes, cubed
½ cup extra virgin olive oil
1 tablespoon thyme
1 tablespoon basil
1 tablespoon oregano
Pinch of salt and pepper
Cut chicken in cubes. Cut potatoes into cubes.
Slide a tomato, a cube of chicken, and a potato cube onto a wooden or metal skewer. Repeat until full. Repeating the pattern of Red, White and Blue…. Tomato, Chicken, Blue Potato.
Place on grill racks, heated to 375F. Cook kabobs for 6 minutes, flip and cook for 6 more minute, or until chicken is done.
For the extra virgin olive oil drizzle:
In a bowl, mix together extra virgin olive oil, thyme, basil, oregano, pepper and salt.
Mix well and drizzle over warm kabobs.
Yield:4 Kabobs