{
Loaded Chicken & Steak Stuffed Potatoes
}
#SundaySupper
I don't have the responsibility of making dinner for a family that includes children just yet. One day but not right now. Right now, it's just BigBear and I. Although, feeding BigBear is kind of like feeding a lot of little kids at once..... so I understand haha. Just kidding honey ;)
Even though I'm not rushing around homework and after school activity schedules just yet, I still try to keep dinner preparation under an hour. After all, BigBear and I both work all day and don't normally get home until around 6, if we're lucky. So if I take longer than an hour or so to make dinner, we don't get to eat until late and then I feel like our whole evening is one big blur. And to be honest that kinda stinks.
Don't get me wrong, some nights I may want to cook longer than an hour, but these are normally nights where I want to practice a recipe or BigBear has fire department meetings or whatever. Nights where my plan is to literally be in the kitchen all evening.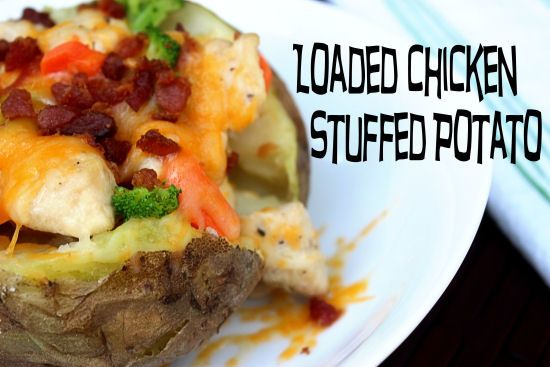 Nicole from
Daily Dish Recipes
is hosting this week's #SundaySupper and we're sharing Back to School Recipes. Recipes that can be made in 30 minutes or less. Everyone, parent or not can benefit from those kind of recipes. Right?
I'm sharing these Loaded Chicken & Steak Stuffed Potatoes for this week's #SundaySupper post. They're kind of like the Stuffed Potatoes that they served at the restaurant I use to work at. haha I know, I use their food a lot as inspiration for post. I can't help it. I never thought I'd say that I missed that place. It's weird. But since I can't get their food anymore, I have to make it.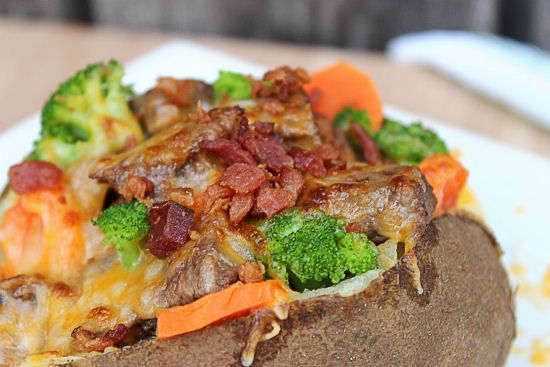 These can be Chicken Stuffed Potatoes, Steak Stuffed Potatoes, Veggie Stuffed Potatoes..... humm... Shrimp Stuffed Potatoes, Pork Stuffed Potatoes, Pasta Stuffed Potatoes.............ok.... that might be a little weird. But that could actually be really good....high on the carbs but good haha. Ok, I don't think I'll be making Pasta Stuffed Potatoes, but you get the idea.
I love all things chicken and while BigBear will eat chicken, he's more of a steak guy. So I made a steak potato for him :)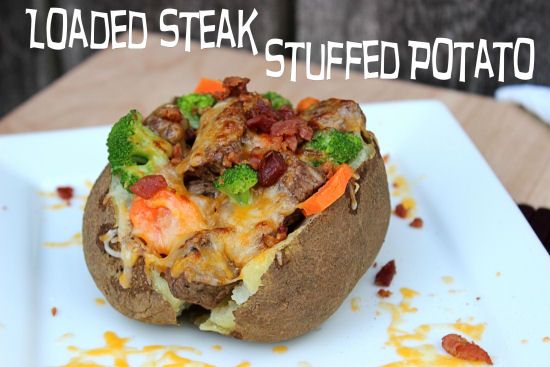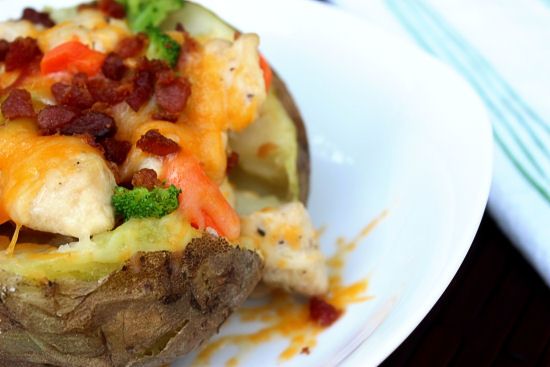 Loaded Chicken & Steak Stuffed Potatoes
Ingredients
2 Baking Potatoes
1/2 cup diced chicken or diced steak, cooked
6 oz shredded cheese
1/4 cup chopped broccoli, steamed or boiled
1/4 cup diced carrots, steamed or
boiled
2 tablespoons bacon bits
Butter
Olive Oil
Salt and Pepper
**Tip** This is great for using up leftover chicken or steak. If I don't have leftover chicken or steak, I chop up small pieces of chicken and steak and cook them in a frying pan for a few minutes until done. Buy pre-cooked chicken, packaged or rotisserie, to save time as well. Boil or steam broccoli and carrots together to save time as well.
Directions
Prick each potato with a fork. Rub each potatoes with a few tablespoons of olive oil.
Sprinkle the potatoes with salt and pepper. Place the potatoes on a microwave-safe plate.
Microwave on high for 4-6 minutes. Flip the potatoes over and microwave for 4 minutes.
Check the middles of the potatoes, potatoes should be soft through the entire potato. If the potato is still a little hard, microwave for 1 minute and check again. Repeat until soft.
Turn broiler of oven on now.
Slice top of potato lengthwise. Push sides of potato inwards to open potato up. *potato will be hot*
Add
a little butter to the inside of the potato.
Fill potato with chicken (or steak) and vegetables. Sprinkle with cheese and top with bacon bits.
Put under broiler for 30-45 seconds or until cheese is melted. Serve Hot.
Yield: 2 Stuffed Potatoes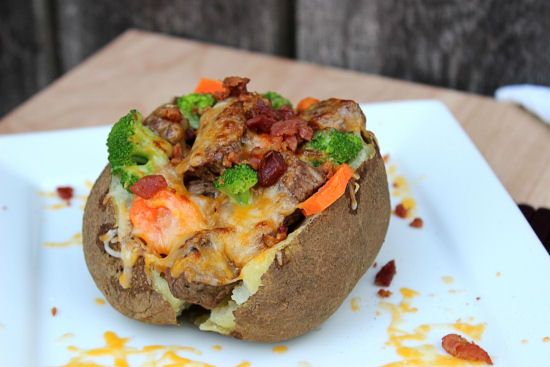 Join us this week Around the Family Table for #SundaySupper! That fun starts at 3pm EST with these fabulous recipes being showcased and ends with our #SundaySupper live chat at 7pm EST.