{ Mini Peach and Cherry Trifles }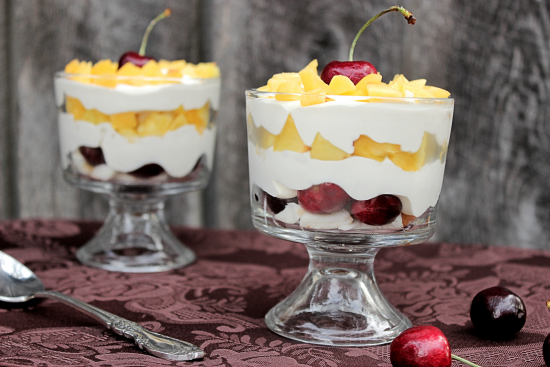 Back in July, I got an e-mail from
Bella Magazine
out of Roanoke, VA asking me if I'd still be interested in writing for their magazine. I had sent
Bella Magazine
an e-mail about 2 or so years ago asking if they had any interest in adding a food blogger to their magazine, but when I didn't hear back from them I just assumed that they didn't. Turns out my e-mail had accidentally been over looked and had just made it to the hands (or I guess I should say onto the screen) of Bella Magazine. They were interested
Turns out that they happened to be looking for some new food type writers for a food section of the magazine. So without hesitation, I jumped on board.
This is the first recipe I sent them. I made sure it was OK to share again and they said yes. So here it is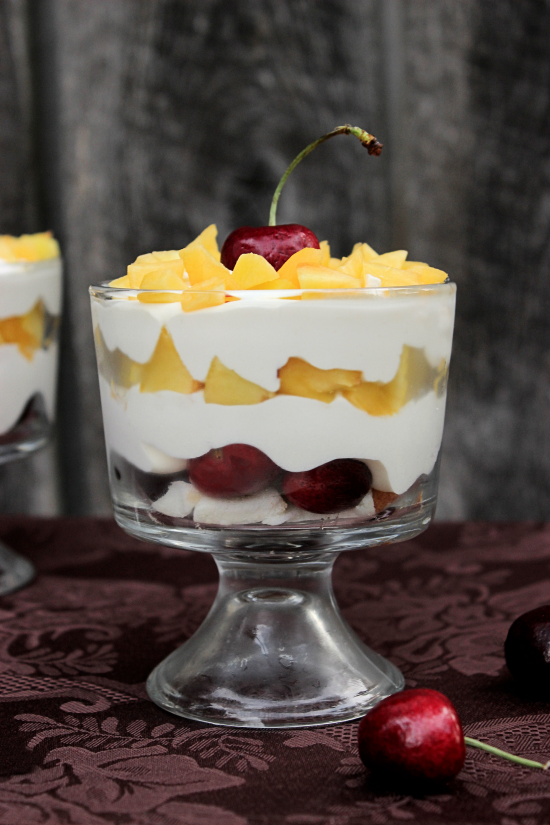 It was published in the September Issue of Bella Magazine.
See, See! There it is below in the magazine. OK sorry I was pretty happy about that haha
So onto the Mini Peach and Cherry Trifles! I love making these trifles in the mini trifle dishes vs. the giant one! Mainly because I think all things "tiny" are just so freaking cute and because well, because they taste good.
Peaches have always been one of my favorite fruits and I've really been falling in love with cherries this year. This little dessert has the best of both. A sweet dessert, not to sweet…. but sweet. Fresh Sweet…..if that makes any sense. For this I did not pit the cherries though, but you can. I just didn't because they looked like a hot mess when I did… and hot messes do not equal pretty pictures haha.
(Printable Recipe Here)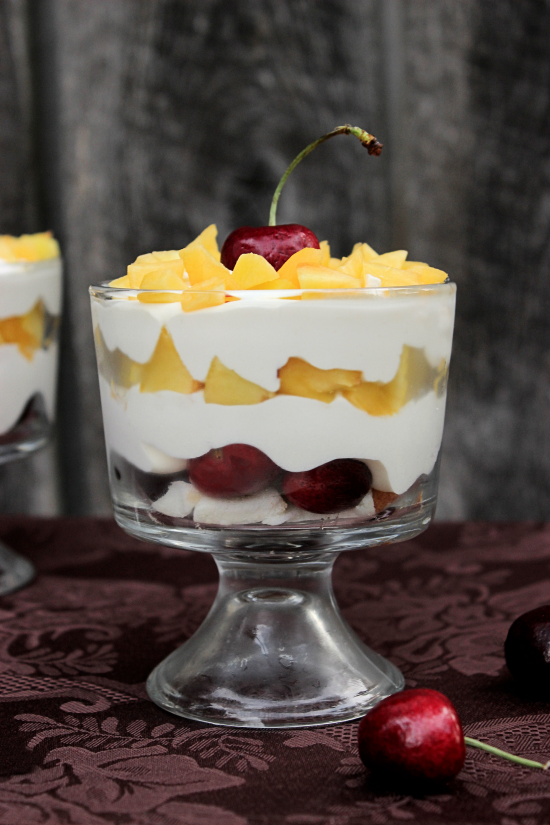 Mini Peach and Cherry Trifles
Ingredients
6 peaches, peeled and cubed
1-2 cups whole cherries, pitted or left whole
1 pre-made or homemade angel food cake, cubed
1 large tub of cool whip, thawed
Instructions
Cube the peeled peaches. When making the mini trifles, make the cubes pretty small. Cut the angel food cake into small cubes. In mini trifle dishes begin the layering process, by placing a layer of angel food cake cubes in the bottom of the trifle dishes. Next add a layer of cherries, followed by a later of cool whip. Next add a layer of diced peaches. Top with another layer of angel food cake cubes. Top with a layer of cool whip. Continue layers until trifle dish is full. Finish the trifles off with a layer of cool whip, sprinkle with diced peaches and add a cherry on top.
Details
Yield: 6 mini trifles or 1 large trifle