{ Apple Streusel Cobbler }
#SundaySupper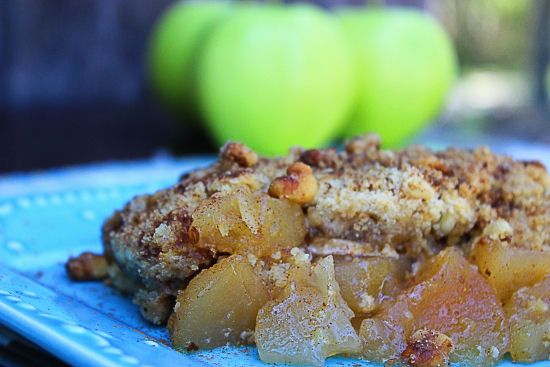 This first thing I thought about when this Apple Streusel Cobbler came out of the oven is that it's almost exactly like the Apple Crumble Pie that I make. Apple Crumble Pie is my brother's favorite dessert, well I don't know if it's his favorite…but it's one of his favorites that I make.
Once when we lived in NC and he came to visit, I baked an Apple Crumble Pie for him and pulled it out of the oven just as they were arriving. He stood at the stove and ate the entire thing. HAHA. I have a feeling that he'll love this Apple Streusel Cobbler just as much!
Between the apples, cinnamon and Streusel topping this dessert just screams FALL. Well at least it does to me. Baked Apples….I mean really…that's Fall right there. Speaking of Fall, I am so excited about this Fall weather that we've been having. I can't wait until I can start wearing hoodies! Hoodies and Flip Flops…. yep.. my kinda outfit. Are you getting into the Fall Flavors? I know I am 🙂
(Printable Recipe Here)
Ingredients
2 (21 oz) cans apple pie filling
2 large eggs
1 (14 oz) can sweetened condensed milk
1/4 cup butter, melted
1/2 teaspoon ground cinnamon
1/2 teaspoon ground nutmeg
1/2 cup firmly packed brown sugar
1/2 cup All Purpose Flour
1/2 cup cold butter, cut into cubes
1 cup chopped walnuts
Instructions

Pre-heat oven to 375F.
Lightly butter and 9-inch square baking dish, or spray with butter spray.
Pour apple pie filling into baking dish. Using a spatula, spread out filling to an even layer.
In a medium bowl, beat eggs, sweetened condensed milk, 1/4 cup melted butter, cinnamon and nutmeg. Pour mixture over apple pie filling.
In another medium bowl, combine brown sugar and flour.
Mix in the cubed cold butter. Crumble with a fork or with your fingers. Add walnuts and mix together. Sprinkle mixture over the top of the cobbler.
Bake 45 minutes. Remove from oven and let cool.
Details
Yield: 9 servings
Join us this week Around the Family Table for #SundaySupper! That fun starts at 3pm EST with these fabulous recipes being showcased and ends with our #SundaySupper live chat at 7pm EST.
Here's our Autumn Apple Party Menu for Sunday, September 23, 2012!
Soups, Salads, Starters and Breads
Main Meals
Sides
Desserts
Please be sure you join us on Twitter throughout the day during #SundaySupper. We'll be meeting up at 7:00 pm
(Eastern)
for our weekly #SundaySupper live chat where we'll talk about our favorite apple recipes! All you have to do is follow the
#SundaySupper hashtag
, or you can follow us through TweetChat! We'd also love to feature your apple recipes on our
#SundaySupper Pinterest board
and share them with all of our followers!