Are you ready? It's almost here… like only a few days away…. spooky…creepy….HALLOWEEN!
Why am I so excited about that? Only one of the best holidays ever. Well… to me anyways. When I was growing up I had maybe 4 different Halloween costumes. 1 year I was a hobo, 1 year I was a butterfly, every other year I was a witch. Once I reached high school, the costume switched from witch to vampire. Let's say that I like to use Halloween to let my inner dark side out. Oh… and one year I was a sailor girl…. and felt total out of place. haha
Speaking of Halloween… what's Halloween without some treats!?! I know that Halloween is technically about Tricks and Treats, but I'm not that into the "trick" part. I really hate haunted houses and spooky trails and evil clowns…. I hate evil clowns.
#SundaySupper is all about Trick or Treating (Halloween Party) this week. I don't know if you've noticed or if you read this blog a lot, you might already know, but I gather together with some other bloggers every Sunday to bring you some great recipes! There are about 50 or so of use that participate every week (all of the links are at the bottom of this post). Leslie from La Cocina de Leslie is hosting this week's party! 🙂 I love the theme 🙂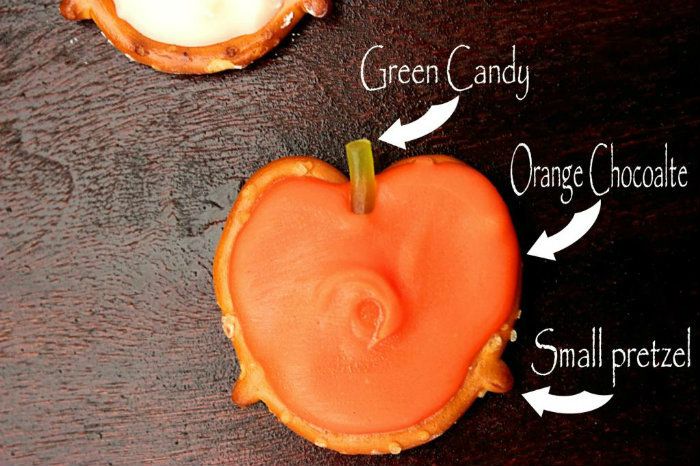 Trail mix is one of my favorite snacks. Mainly because you take a bunch of good stuff, throw it into a bowl, mix it up and create some really great stuff.
(Printable Recipe Here)
Ingredients
2 cups wheat chex cereal
2 cups rice chex cereal
2 cups candy corn white chocolate M&MS
1 cup "puppy chow" (powdered sugar and chocolate covered chex cereal)
Chocolate Pumpkins (Recipe Below)
Halloween Sprinkles
(1/2 cup melted chocolate – 1/2 cup powdered sugar – 1 cup chex for "puppy chow")
Instructions
To make the "puppy chow: Mix melted chocolate with chex cereal. Stir in powdered sugar. Spread onto wax paper and let cool.
In a large bowl mix together the wheat chex cereal, rice chex cereal, M&Ms and "puppy chow". Mix well. Add in the chocolate pumpkins and gently mix together to spread the
Sprinkle in the Halloween sprinkles. Serve in a large bowl for a Halloween party or scoop into clear baggies and tie with ribbon for a cute little gift.
What you need for the Chocolate Pumpkins:
Whole Small Pretzels
Melted Orange Chocolate
Small green candy for stems
What to do for the Chocolate Pumpkins:
Lay small pretzels out onto a piece of parchment paper.
Fill small pretzels with melted orange chocolate. Press a piece of green candy into the top of the "pumpkin" for the stem. Let chocolate harden and then mix Pumpkins into trail mix.
Please be sure you join us on Twitter throughout the day, this Sunday (October 28th) during #SundaySupper. We'll be meeting up at 7:00 pm EST for our weekly #SundaySupper live chat where we'll talk about all things Halloween. All you have to do is follow the #SundaySupper hashtag!
Check out these gorgeous #SundaySupper Recipes:
On the menu for our Trick-or-Treat #SundaySupper Halloween Party:
Bewitching Brews:
Ghoulish Gruel:
Haunted Snacks:
Spooky Sweets: