Great for camping, grilling on the patio or cooking in the oven, these foil packet recipes are fun to put together and easy to cook! Check out 10 of the Best Foil Packet Dinner Recipes that I've found from bloggers that I love!
Want recipes delivered right to your inbox? Sign up here! Sometimes I even send out free e-cookbooks too!
Foil Packet dinners, or Hobo dinners as I've heard them called, are just simply meals that you make and cool inside of foil. They're great for when you're camping but they're also great for grilling in the back yard or cooking in the oven.
Below you'll find 10 of the Best Foil Packet Dinner Recipes that I've found from bloggers that I love. including chicken dishes, Fish, Vegetable options and even a breakfast for dinner recipe!
10 of the Best Foil Packet Dinner Recipes
1. ASIAN CHICKEN AND VEGETABLE FOIL PACKETS
Chicken and vegetables are drizzled with a sesame ginger sauce and cooked in a tightly packed foil pouch to ensure tender, juicy chicken and flavorful veggies every time. An easy, gluten free Asian dinner recipe!
Recipe from The Lemon Bowl – Click Here for the Recipe
2. EASY FOIL PACKET NACHOS
The Best Nachos Recipe is one that's easy, delicious, and quick. That's exactly what these Foil Packet Nachos are! Loaded with beef, tomatoes, green chiles (and more), and covered in melty cheese…I'm obsessed! I love foil packet recipes and these nachos can be made in the oven or on the grill.
Recipe from The Cookie Rookie – Click Here for the Recipe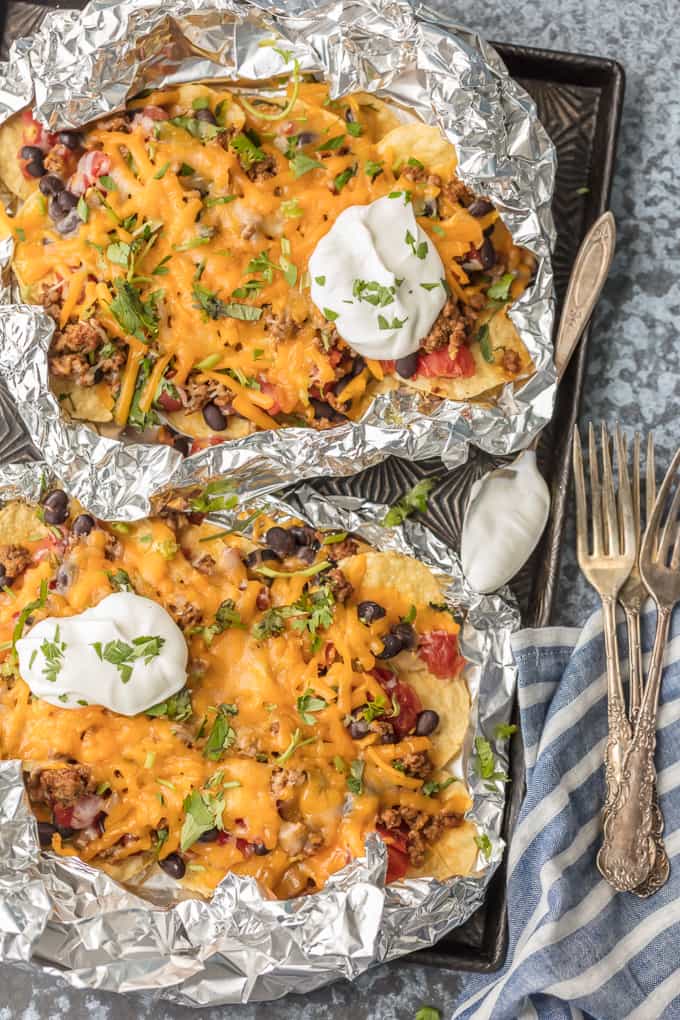 3. CHEESY MAPLE DIJON CHICKEN FOIL PACKETS WITH VEGGIES
Chicken foil packets that you can cook on the grill or in the oven make dinner easy to prepare and even easier to clean up. These chicken foil packs are filled with veggies and a creamy sauce flavored with maple syrup and Dijon mustard for a tangy, slightly sweet flavor that the whole family will love, especially because the chicken and vegetables are also covered with melted cheddar cheese. Whether these become a summer staple that you grill or a family favorite all year round when baked in the oven, you are going to love Cheesy Maple Dijon Chicken Foil Packets with Veggies.
Recipe from Cupcakes and Kale Chips – Click Here for the Recipe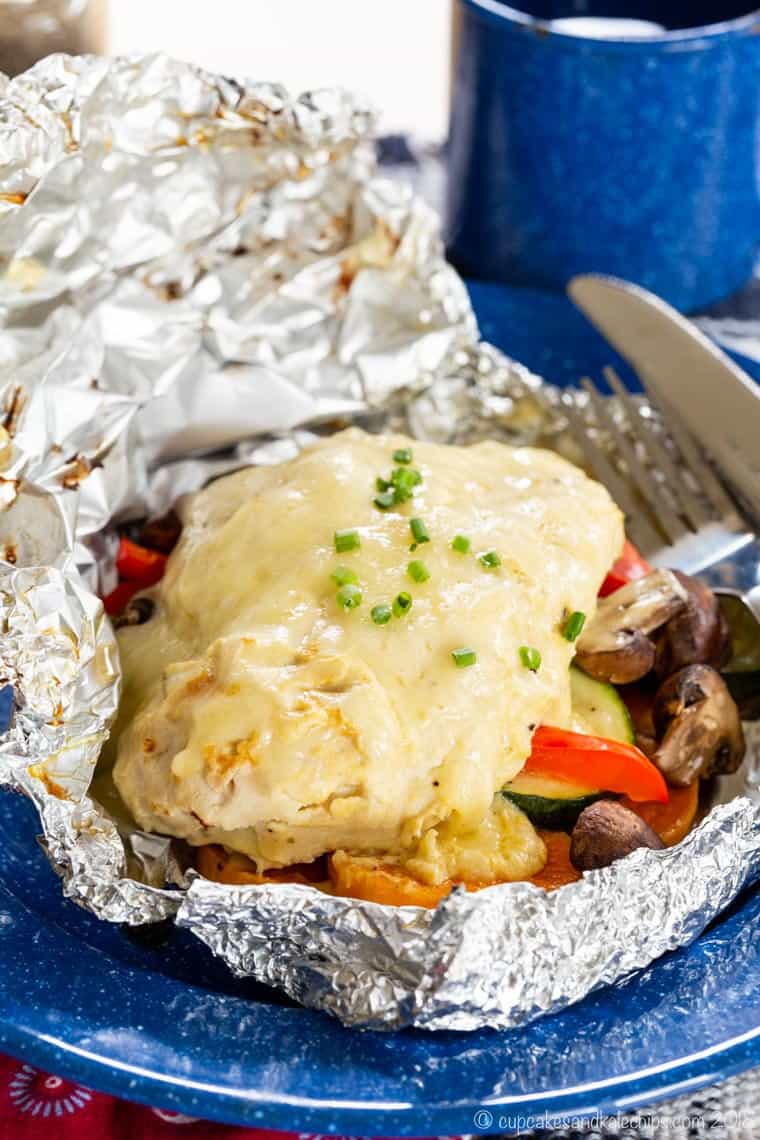 4. Foil Packet Salmon
An easy tutorial on how to grill salmon in foil packets. This simple method for cooking salmon requires only a few ingredients, a few minutes, and minimal cleanup.
5. CAMPFIRE APPLE AND PORK PACKETS
6. EGG BAKE BREAKFAST FOIL PACKET
Egg Bake Breakfast Foil Packet ~ Love Breakfast Casseroles As Much As I Do? Now You Can Make Them Over The Campfire or on the Grill! Enjoy Your Favorite Breakfast on the Grill or Campfire!
Recipe from Julies Eats and Treats – Click Here for the Recipe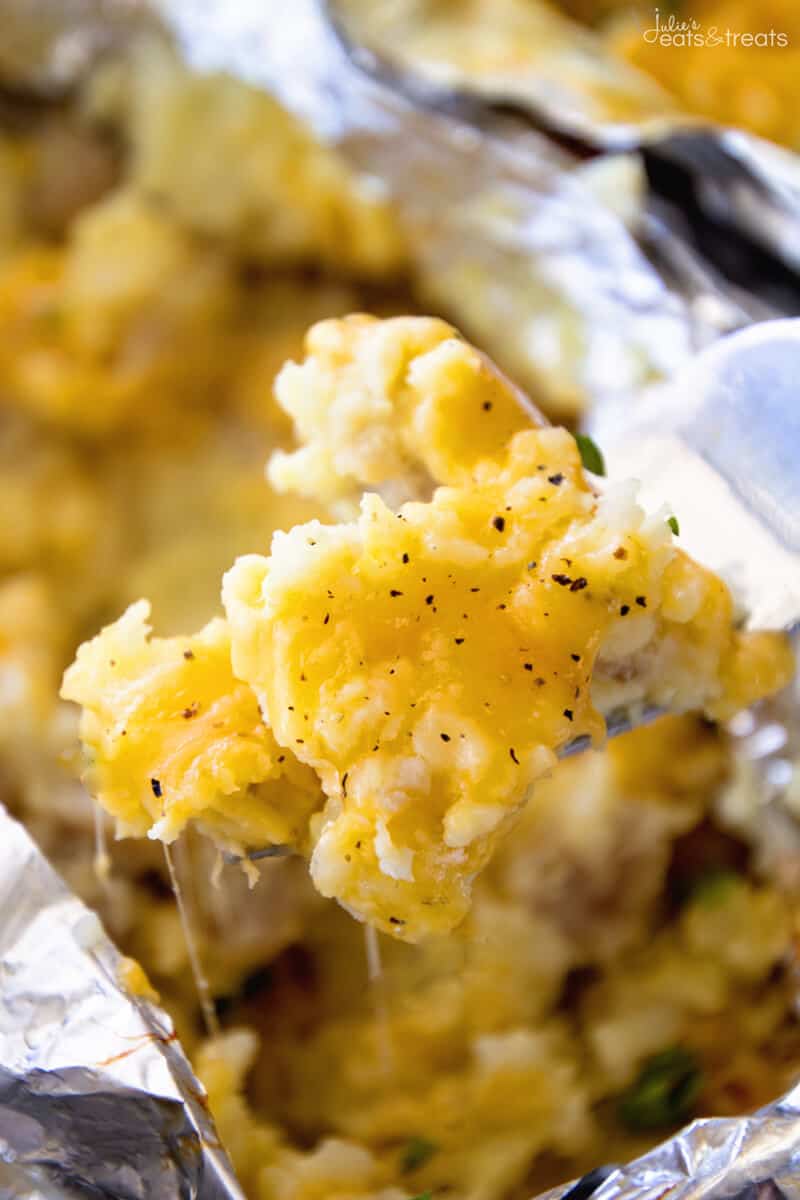 7. Shrimp Foil Packets With Zucchini
Easy recipe lovers this one is for you. We have make-ahead Shrimp Foil Packs full of juicy shrimps, quick cook veggies and everyday spices. Bonus is that they require minimal prep and no cleanup. Suitable for Gluten-Free, Keto, Paleo and Low Carb diets. Weight Watchers points included in the post.
Recipe from Recipes from my Pantry – Click Here for the Recipe
8. CHEDDAR BARBECUE SAUSAGE AND POTATO FOIL PACK DINNER
Whether you've gathered friends or family for a camping trip in the great outdoors, or you are just trying to recreate a camping-style dinner in your backyard or kitchen, it's a campfire classic with an updated twist and easy cleanup in this Cheddar Barbecue Sausage and Potato Foil Pack Dinner.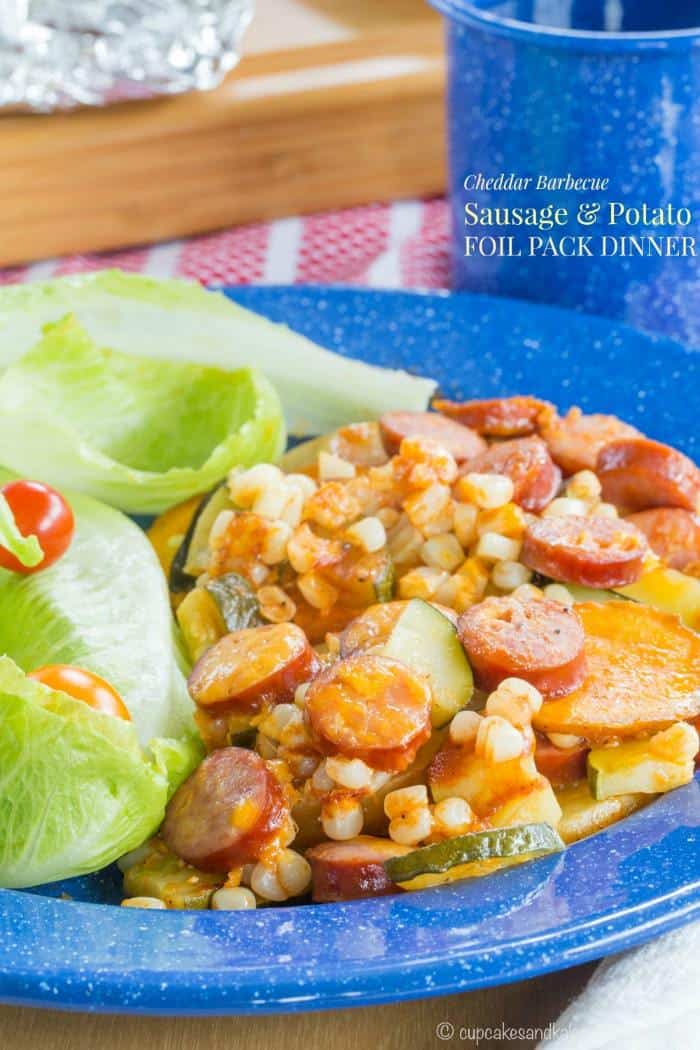 9. FOIL PACK SOUTHWEST SAUSAGE AND POTATOES
You just can't beat the foil pack method of cooking for an easy, stress-free summer meal. This Foil Pack Southwest Sausage and Potatoes takes just minutes to assemble, 15 minutes to cook, and cleanup is almost non-existent!
Recipe from Valeries Kitchen – Click Here for the Recipe
10. Sausage and Veggie Grill Packets
Sausage and Veggie Grill Packets ~ here's an easy idea for lazy summer nights…pile your sausage and cut veggies onto a sheet of foil, wrap it up, and throw it on the grill ~ dinner'll be ready in 30 minutes!
Recipe from The View from Great Island – Click Here for the Recipe
I'm also throwing in one more foil recipe for y'all. I didn't add it to the list because it's not really a dinner or meal kind of recipe but if you want to learn how to roast garlic in foil, I have a great step by step photo post on how to do that!
10 of the Best Foil Packet Dinner Recipes
Love it? Pin it!