Interested in planning a Spooky Trip to Wilmington, North Carolina? For a Hypothetical Spooky Weekend Trip to Wilmington, NC we are picking out the best B&Bs, Ghost Tours, Shops and Restaurants!
I love to travel. I've always loved to travel and I don't think my love of travel is going to leave anytime soon. However, with the pandemic and a toddler, traveling hasn't happened as much lately as I'd like.
So the other night I was thinking, I love to plan trips. I'm always the trip planner when our family goes on vacations and I spend hours upon hours searching for things to do and places to eat. So what if I took some time to plan some Hypothetical trips that we may or may not take in the future and share them with YOU!
First up on the Hypothetical trip planning… a A Spooky Weekend Trip to Wilmington, NC. I absolutely love Wilmington/Carolina Beach and it is one of the cities that we still travel to a lot.
If I were going to Wilmington, North Carolina for a Spooky weekend this is where I would be going and what I would be doing.
We will section this off into a few categories:
Where I would Stay for a spooky Weekend in Wilmington, NC:
While I normally stay with friends or book an AirBnB at Carolina Beach when we head to Wilmington, If I were going for a spooky themed weekend trip, I would 100% have to stay in the historical downtown area of Wilmington.
After looking at a few options, I think that I would have to go with,
"The Verandas" Bed and Breakfast in downtown Wilmington, North Carolina.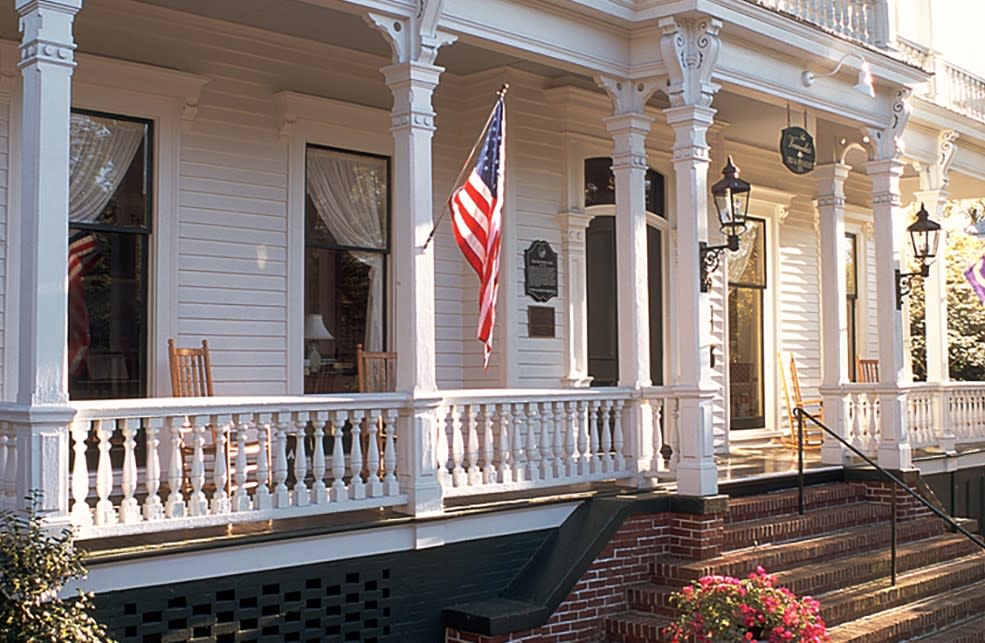 While I can't find anything that states that The Verandas bed and breakfast is haunted, it was originally built in 1853 by Benjamin Beery. I can only assume that any building in Wilmington that is over 160 years old has has at least one ghost pass through its doors. As most of downtown is know for its ghostly visits from the other side, it would be interesting to spend the weekend here and see if we encountered anything from the other side.
Other than the fact that this bed and breakfast is absolutely gorgeous, it has won an AAA Diamond Award and an Award for Interior Restoration from the Historic Wilmington Foundation.
The Verandas Bed and Breakfast Inn is an 8,500 square foot, four-story mansion that includes 8 beautiful guest rooms, a large formal living room, a piano room, a breakfast room, dinning room, reception areas, 4 verandas and a lovely garden.
They provide a wonderful breakfast for guest using locally sources ingredients and have a sample menu here on their site.
Rates:
It looks like for a weekend stay (using October as a sample month) that the room rates are between $239 / NIGHT and $279 / NIGHT depending on which guest room you choose.
Location:
The Verandas Bed and Breakfast is located at 202 Nun Street, Wilmington NC 28401 – according to a quick google maps search it looks like it is only a 3 minute drive or 7 minute walk to Market Street which is the main road in downtown Wilmington.
You can find The Verandas on Facebook here
Where I would eat/What I would eat in Wilmington, NC
There are so many food and restaurant options in Wilmington that you'll have to problem finding something that hits the spot.
#1. Front Street Brewery
9 N. Front Street Wilmington, NC
This restaurant is one that I have eaten at and love to eat at. Front Street Brewery is perfect for our spooky weekend trip because it is a haunted restaurant!
The Food at Front Street Brewery
Items I have ordered and would order again on the menu:
Homemade Fried Beer Battered Pickles
Jumbo Soft Pretzel with Queso
Fried Green Tomatoes and Pimento Cheese – "Sliced, hand-breaded, and lightly fried. Served with homemade pimento cheese, and chipotle remoulade."
Shrimp and Grits – "Sautéed shrimp in a rich Cajun Bacon Creole Sauce served over Southern fried cheese grit cakes, shredded cheese, and scallions."
Fried Green Tomato BLT – "Fried, marinated green tomatoes, bacon, lettuce, homemade pimento cheese, and chipotle remoulade on grilled sourdough."
Items that sound amazing and I want to try on the menu:
Beer Nuggets "Tasty dough bites lightly fried, then tossed in fresh chopped garlic, butter, and parsley. Served with marinara. "
Beer Battered Fish and Chips – "Coastal Kölsch tempura-battered fish served with coleslaw and fries."
Pretzel Chicken – "Pretzel-encrusted chicken tenders tossed in Alabama White Sauce topped with Provolone cheese and homemade pickles on a brioche roll."
You can find their Food Menu, Beer Menu and Whiskey Menu online
The Ghost at Front Street Brewery
This building is over 150 years old and sadly in November of 1895, Henry W. Wenzel fell to his death inside while he was painting near a skylight for the Katz & Polvogt Dry Goods Store that was located there at the time.
In an old newspaper article that I found online from the "The Weekly Star. Nov. 8, 1895" , it seems that Mr. Wenzel was a german painter who has been living in the city with his wife for about 4 years. He has been working for Armour Packing Company and Palmetto Brewing Company as driver of wagons but in the past year has started painting. He was painting around some skylights when he fell from the unstable scaffold to the sales floor below. He hit the cashiers counter and chair which resulting in him breaking his neck, both legs and right arm.
Henry W. Wenzel was only 36 years old at the time of his death and left behind a wife but no children.
I've never personally seen or interacted with Mr. Wenzel but I've read reports of Front Street Brewery employees having encounters with him.
Front Street Brewery once had a beer named after Henry but I don't see it on their beer menu anymore.
#2. The Basics – Gourmet Soul Food (In the Cotton Exchange)
Located in: The Cotton Exchange in the Wood Seed Building on Front Street
Address: 319 N Front St, Wilmington, NC 28401
I haven't eaten at this restaurant but its 100% on my hypothetical must try list for this hypothetical spooky trip. This restaurant is located inside of the historic cotton exchange and while I'm not sure if this actual spot is haunted, I know that the Cotton Exchange is haunted!
The Food at The Basics – Gourmet Soul Food
Items that sound amazing and I want to try on the menu:
It seems like the menu changes a lot, so these items may or may not be there when you go
HOUSE FOCACCIA herb, bacon, and candied bacon
SOUTHERN CANAPE deviled eggs, spiced pecans, pimento cheese
BOWL OF BRUNSWICK STEW classic carolina family recipe, with one side (find my recipe here for Brunswick Stew)
DIJON CRUSTED LAMB CHOPS* with vidalia jam, wild mushroom risotto and grilled asparagus
COCA-COLA CAKE milk chocolate cake with pecans, served warm with ice cream
mushroom risotto (you can find my recipe for mushroom risotto here)
You can find The Basics Food Menu Here
#2. Hoovers Sweets & Treats (In the Cotton Exchange)
Holy Moly their Milkshakes are crazy and look amazing!
Items that sound amazing and I want to try on the menu:
What's Up Buttercup Milkshake – "Honey Roasted Peanut Butter ice cream in a chocolate swirled cup with a peanut butter rim rolled in Reese's Pieces. Topped with whipped cream, chocolate and peanut butter drizzle, Reese's Cups, a brownie, and Reese's Pieces."
The Proof Is In The Pudding Milkshake – "Banana Pudding ice cream with a vanilla buttercream rim icing and vanilla wafers. Topped with whipped cream, banana nut muffin, banana pudding, and fresh bananas."
S'more Than A Feeling Milkshake – "Vanilla ice cream blended with marshmallow, graham cracker, and chocolate in a chocolate swirled cup with a marshmallow fluff rim rolled in graham cracker crumble. Topped with whipped cream, marshmallows, chocolate drizzle, a graham cracker, and a chocolate bar."
Walking Taco "Choose your chip bag. Topped with chili, nacho cheese, sour cream, shredded cheese, salsa, and jalapeños." (Ps. I have a recipe for Homemade Walking Tacos here)
You can find Hoovers Sweets & Treats Menu Here
The Ghost at the Cotton Exchange
The Cotton Exchange has been occupied by people and business since before the Civil War. There was Cape Fear Flour and Pearl Hominy Mill in 1884, a Chinese laundry in 1917, Winslow Merrick Barber Shop in the 1930s and so many more companies.
There have been reports of a man in 1920s attire walking around the exchange as well as a woman in a Victorian dress in the German Cafe. Once when we were down there visiting we were told that one of the ghosts like to visit some of the shops and rearrange jewelry and shop displays at night.
What I would do in Wilmington, NC for a Spooky Weekend Trip
Since Wilmington is one of the most haunted cities in the south, it isn't hard to find all kinds of spooky haunted themed adventures for a weekend trip.
#1. The Ghost Walk of Old Wilmington
I've gone on Wilmington's downtown ghost walk probably 10 or more times and I've Ioved it every time. It's a 90 minute walking tour through some of Wilmington's most haunted locations with a story telling tour guide and it's wonderful. I've captured ghostly faces in windows with my cameras, I've had my electronics and phone go absolutely insane at some point and even felt a few phantom presents around me while walking the old streets.
One of my favorite stories is the ghost story of Samuel Jocelyn! He was a young man that died and was buried in the early 1800's. He was burred in the churchyard of St. James Episcopal Church and for days after his burial, his best friend kept having visions of Samuel begging for him to dig up his coffin. Finally after a few days, they convinced the officials to dig up the coffin and they found claw marks in the inside top lid of Samuel's coffin! He has been buried alive!
Ps. This is also the oldest maintained cemetery in Wilmington!
You can find tickets for the ghost walk here
There is also a haunted pub crawl but since I'm not much of a drinker, I don't go to that one it would be fun for those that like bars.
#2. The Black Cat Shoppe
8 Market St, Wilmington, NC
https://theblackcatshoppe.com/wilmington
This is one of my favorite little shops to go into when I'm in downtown Wilmington. I'm not sure why I like it so much, 90% of it is filled with weird gag gift stuff that I'm not into but the other 10% is full of beautiful witchy spooky items that I love to browse through. This is also where you can get tickets for the ghost walk.
You can also normally find some fun ghostly Wilmington books at this shop too. This is where I picked up my copy of "Ghost of Old Wilmington" by John Hirchak. (He is also the owner of the Ghost Walks!)
#3. Fort Fisher
Open Tuesday – Saturday 9 a.m. – 5 p.m. – Admission is FREE
1610 Fort Fisher Blvd SKure Beach, NC 28449
Fort Fisher is about a 30 minute drive from downtown Wilmington towards the coast and has lots of spooky stories attached to it. Which means it gets a spot in our weekend plans!
Fort Fisher is at the end of the Carolina Beach Island and you'll find Fort Fisher Beach, Fort Fisher Aquarium and the Fort Fisher State Historic Site here.
It is the site of the Civil War's largest amphibious (sea landing) battle and in 1865 it was the last open port that the the Confederacy had on the Atlantic coast.
The defeat of Fort Fisher in1865 helped ensure that the Confederacy would fail. This battle results in a lot of deaths, including over 200 on both Union and Confederate sides when Fort Fisher's main magazine exploded.
You can tour the actual remains of the fort and the museum during the day but the spooks seem to come out at night.
Now the actual fort is not open at night but the surrounding areas are. The twisted oak trees give off a super creepy vibe and the ocean crashing onto the rocks adds to the all around spooky feel. I've been there a few times at night, just to the public areas and parking lots, it is indeed a supernatural hot spot.
One Halloween a few years ago, a friend of mine went down there for a bit of ghost hunting along the coast. While I didn't see any ghostly soldiers, I did hear the sound of heavy soldier boots following us up and down the paved paths. We also saw a few shadows dart to and fro around one of the memorial statue pictured below!
#5. Madame Meerkat's Cabinet of Curiosities
1001 S. Kerr Ave Wilmington, NC 28403
While I've never been to Madame Meerkat's Cabinet of Curiosities, I learned about it while I was looking up some things for this post and I'm so in love with it already. I can't wait to check it out next time I'm down that way and it has to go on the spooky trip itinerary!
This is a Metaphysical shop with local art work. It looks like they have shelves lined with herbs and spices as well as crystals, candles, tarots cards, jewelry, soap and books!
You should check out their Instagram here and look at all of the neat stuff in their shop.
#6. USS North Carolina
1 Battleship Rd NE, Wilmington, NC 28401
The USS North Carolina is a retired battleship that now lives in Wilmington, NC
There are so many ghost stories attached to this ship that it has to be on the list. I've been before but haven't been over there in about 15 years. However, I'm 100% sure that the ghost are still roaming the decks.
There have been tons of ghost hunters over the years that have found evidence of spirits on board and tons of guests that have had encounters.
I think there were a total of 10 people that died while working on the USS North Carolina.
Grab ticket information and prices here for the USS North Carolina
What I would seek out to buy in Wilmington, NC for a Spooky Weekend Trip
Here are a few items that I would seek out to buy
Have you been to Wilmington, NC? Have you went to any of these places? I would love to hear about your trips and what ideas you have for a spooky trip to Wilmington, North Carolina.
Love it? Pin it!