This post and photos may contain Amazon or other affiliate links. As an Amazon Associate I earn from qualifying purchases. If you purchase something through any link, I may receive a small commission at no extra charge to you. All opinions are my own.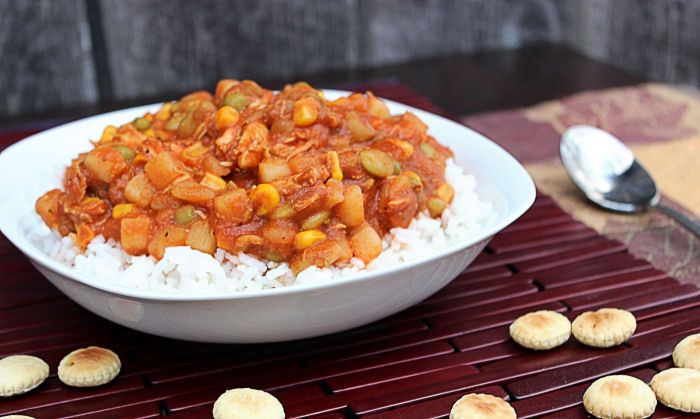 I've always loved Stew and Rice. I'm not sure when I had my first taste of Brunswick stew from that famous yellow can but it's engraved into my childhood memory. My mom always served Brunswick Stew over white rice when we were growing up and now that's the only way I'll eat it. Stew without rice just isn't right.
Around here Brunswick stew is pretty popular. It's a huge deal around this time of year as churches and local fire departments start making gallons of it and filling those familiar white styrofoam cups for fundraising. I totally support them and so far this Fall I've already bought four quarts of stew but that won't keep me from making it at home. One can never have to much stew in the freezer 🙂
Finding the perfect Brunswick Stew recipe turned out to be a little harder than I thought it would be. I thought that since it was extremely popular in the south that it would be easy to find a recipe for it, well it was easy to find a recipe, technically it was easy to find about 50 recipes for it. Each one a little different than the last. I couldn't decide on which one to make, each one of them claimed to be the best. So I kinda of just combined them all.
Every year BigBear helps make the stew for the local Fire Department that he's a member of. He gave me a basic idea of what all goes into the stew they make, but wouldn't tell me exactly how to make it. He claims that he doesn't remember exactly how to make it, but he's up there like all night every time they make it….so I think he's lying… but whatever. Just trying to keep the stew secret safe I guess haha. Doesn't really matter though, because this stew came out perfect. Well, it came out perfect for me and how I like my stew. I suppose all soups and stews need to be adjusted here and there for everyone's taste-buds.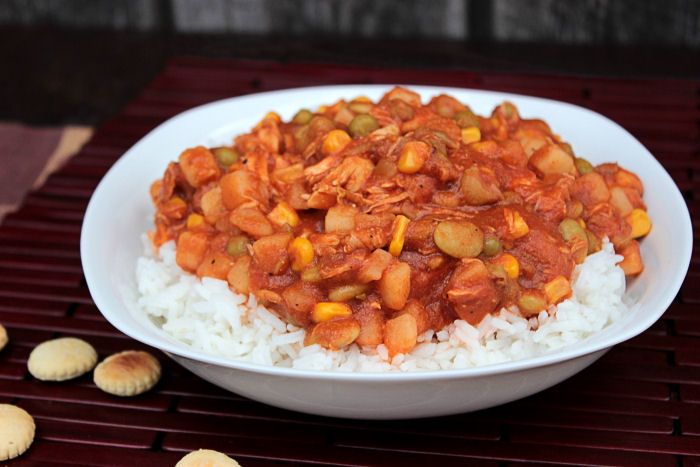 (Printable Recipe Here)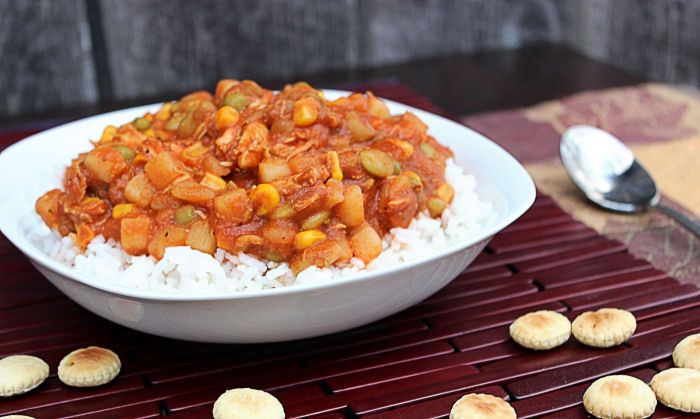 Ingredients
2 cans tomato paste (24 ounces)
2 cans of water (24 ounces)
1 can tomato soup (15 ounces)
2 tablespoons onion powder
2 teaspoons salt
2 teaspoons pepper
1 large can corn (29 ounces), drained
1 large can peas (29 ounces), drained
2 cans lima beans (30 ounces), drained
2 can diced potatoes ( 60 ounces), drained
2 cups chicken broth
2 tablespoons liquid smoke
1/2 cup worcestershire sauce
1 whole chicken, cooked and shredded
1 -2 pounds beef, cooked and cubed
4 tablespoons sugar
White Rice (or brown rice), cooked (to serve under stew)
Instructions
In a large stock pot, mix together tomato paste, water, tomato soup, onion powder, salt and pepper. Bring to a boil and reduce to a simmer.
Add in all of the vegetables and mix well. Add in chicken broth, liquid smoke and worcestershire sauce. Mix well.
Heat on medium heat for about 15- 20 minutes. Add in cooked, shredded chicken and cooked beef. Stir in sugar. Cover and let simmer for 1.5 hours – 2 hours. Add salt and pepper to taste.
Serve hot over white rice. (or brown rice)
Please be sure you join us on Twitter throughout the day, this Sunday during #SundaySupper. We'll be meeting up at 7:00 pm EST for our weekly #SundaySupper live chat. All you have to do is follow the #SundaySupper hashtag!
Tons of Recipes to "Warm the Soul" this week in the #SundaySupper line up 🙂
Main Entrees:
Chili/Stews:
Soups:
Desserts/Beverages: