Apple-Ginger Eggrolls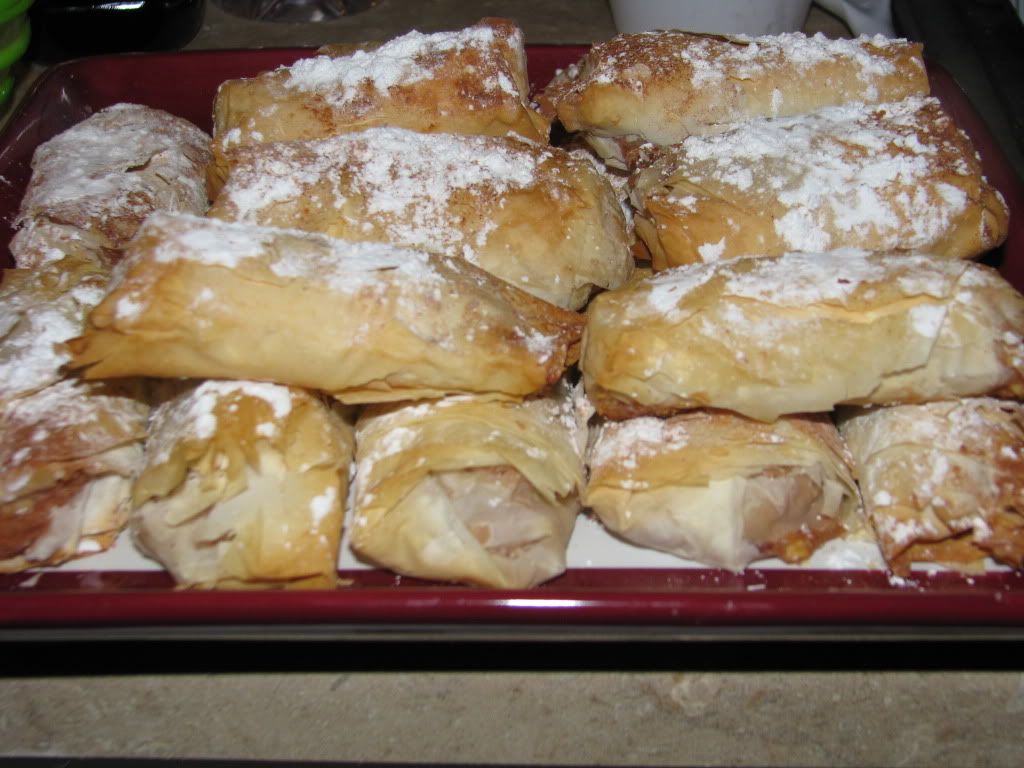 These Apple-Ginger Eggrolls taste like awesome little rolls of Apple-Pie!
What you need:
1 1-inch piece fresh and peeled gingerroot
2 large Granny Smith apples, peeled
1/4 cup granulated sugar
2 tsp cornstarch
1/4 tsp ground cinnamon
2 oz reduced-fat cream cheese
10 sheets thawed frozen phyllo dough
1 tbsp melted butter
Powdered sugar
What to do:
Preheat oven to 400°F.
Grate ginger with a Microplane Adjustable Fine Grater. It will need to measure about 2 tsp.
Cut the peeled Granny smith apples lengthwise into quarters.
Using a Food Chopper coarsely chop apples or dice them super fine with a sharp knife.
Combine ginger, apples, granulated sugar, cornstarch and cinnamon in large bowl.
Mix well.
Microwave for about 3–4 minutes or until thickened and bubbly; stir.
Cool 5 minutes. Add cream cheese; mix well.
Place phyllo dough on a cutting board. Layer about 3 on top of each other.
Place a tablespoon of the filling on an edge of phyllo. (one of the tips)
Start tucking phyllo tightly around filling. Fold sides of phyllo in toward center; gently roll up. Repeat with remaining phyllo and filling.
Place egg rolls, seam sides down, onto Large Bar Pan; lightly brush with melted butter.
Bake 12–14 minutes or until egg rolls are golden brown. Remove from oven to a Cooling Rack.
Sprinkle with powdered sugar.
Cook's Tip From PAMPERED CHEF: Keep phyllo sheets covered with plastic wrap while working on recipes to keep them from drying out. Wrap any leftover phyllo tightly with plastic wrap; store in refrigerator for up to 2 weeks or freeze for up to 2 months.