This post and photos may contain Amazon or other affiliate links. As an Amazon Associate I earn from qualifying purchases. If you purchase something through any link, I may receive a small commission at no extra charge to you. All opinions are my own.
Baby Sugar Snap Peas and Mushroom Wild Rice
Side dishes, something I always seem to forget when making a meal. It's not that they are not important, its just that I always get so focused on finding a main dish to "wow" my husband or guest that I just forget that maybe someone will want a side dish to go along with the meal. Oops….. sorry side dish gods. my bad.
You see I've joined a new group called The Secret Recipe Club….. oooo ahhhh, sounds kinda mysterious right? The Secret Recipe Club….. say it again. The Secret Recipe Club. OK… well its not that secret and if you want to join you totally can, by going here to the The Secret Recipe Club .
When I got my "assignment" from The Secret Recipe Club, this month, I was kinda excited :). It was my first one. 🙂
I was picked to make a recipe from Jennifer's site Savor the Thyme .
I looked over all of Jennifer's recipes, pondering over what to make. I've been following her site and following her on twitter for quite some time now, so I should have already known what I'd love to make from there, but everything just looked so wonderful.
I finally decided on making her Snow Peas and Mushroom Orzo .
I needed a Side Dish, one I had forgotten to make for dinner, and this was perfect.
I set out on my way home from work to gather my ingredients for the Snow peas and Mushroom Orzo.
Hummmm….. Mushrooms…check… my store had no Orzo…well than… and no snow peas…. well ok… But I made it work.
So I can at least say this recipe was inspired by Jennifer's site Savor the Thyme .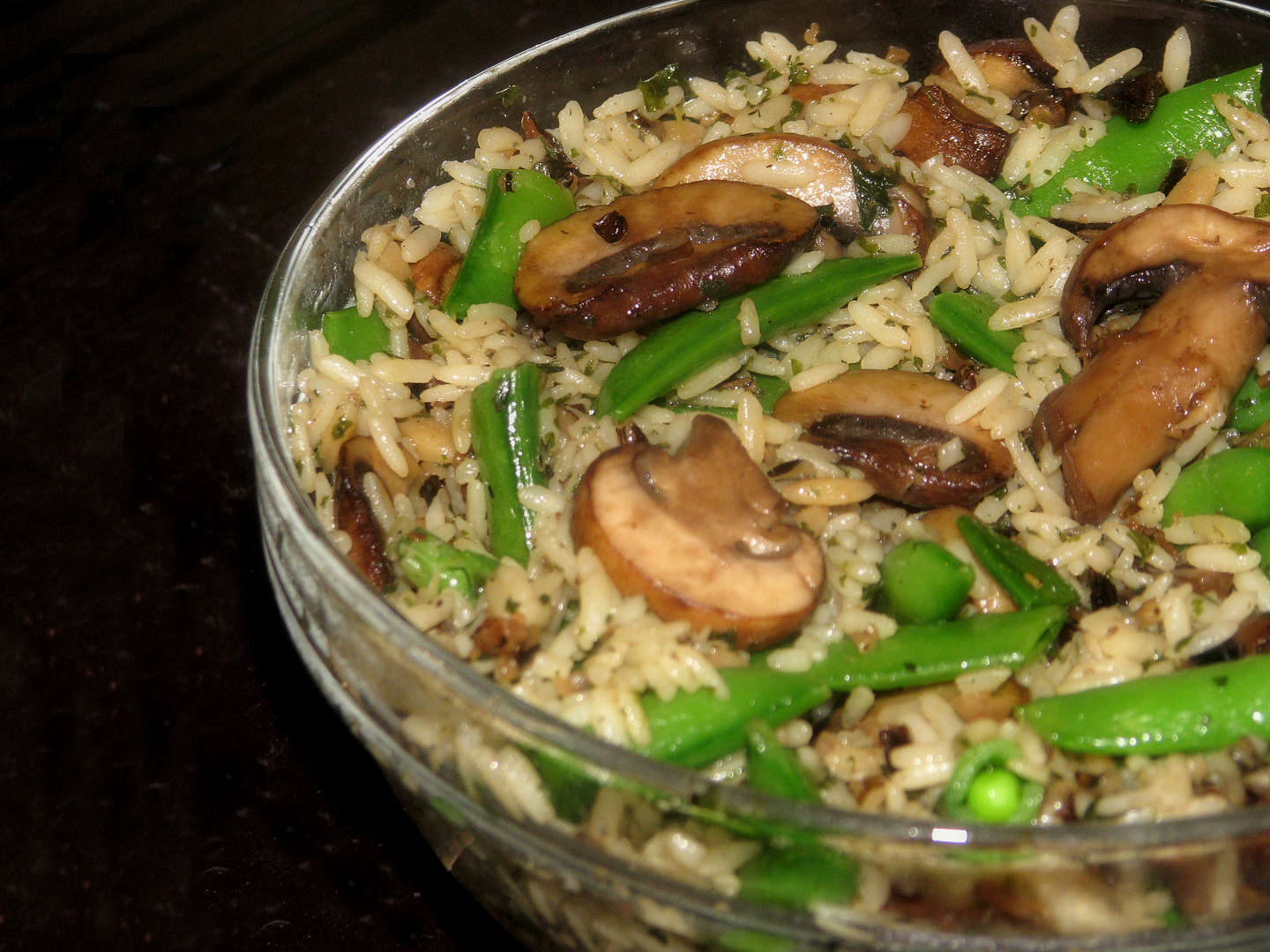 🙂
Baby Sugar Snap Peas and Mushroom Wild Rice
What you need:
1 teaspoon olive oil
8 oz. baby bella mushrooms, sliced
5 oz Baby Sugar Snap Peas
1 lb. Wild Rice
1 tablespoon Garlic powder
1 tablespoon butter
What to do:
Cook your rice per directions on box
Heat oil in skillet on medium heat.
Add garlic powder and stir. Add butter to skillet. Add mushrooms and cook on low until brown or done to your liking.
Cut Baby Sugar Peas in half and add them to the skillet cook for 2 minute.
Mix in mushroom/pea mixture into the Wild Rice.