{ Broccoli and Cheese Pasta Soup }
@SmartBalance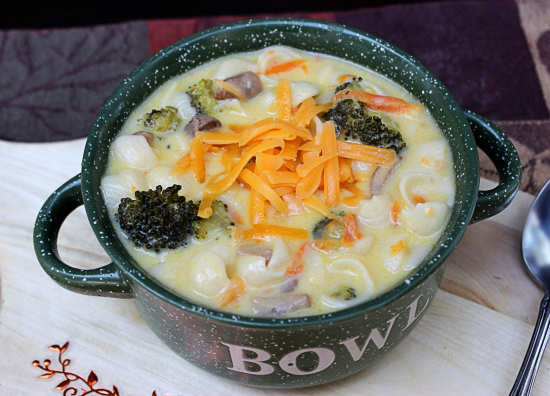 Soup is one of those meals that I can eat all year long. Spring, Summer, Fall or Winter… it doesn't matter. Usually during Spring and Summer months I do prefer more of a "bisque" type soup that's not quite as heavy as some hearty winter sounds but still, it'soup and I love it no matter what it's like outside. The first soup I ever made was a Vegetable soup. The recipe came from my aunt and I use to make it by gallon and store it in individual bowls in the freezer. When I worked at the restaurant, we served the best broccoli and cheese soup. When BigBear and I got married and we moved to Camp Lejeune, I was so sad that no places down there served good soup. 🙁
But since I've been bitten by the "cooking" bug after getting married, I don't have to worry about restaurants having my favorite soups. Because if I want soup, I can make it at home. Just the way I want it, when I want it.
This is the first soup I ever made that didn't come with a recipe. haha.
I used a few soups that I have had before as inspiration, but I was so proud of myself because I literally stood in the kitchen with this soup, adding a little of this and a little of that until it was perfect.
And now why would I do all of that? (I mean obviously other than the fact that I wanted some awesome soup)


I've entered it into the Smart Balance Recipe Contest! Smart Balance is holding the contest over on their Facebook Page and I would love to have your vote! The blogger with the most "likes/votes" by time the contest is over wins a trip for 2 to Canyon Ranch in Miami.


BUT that's not all! If I win, one of my readers wins the same trip!

Voting starts now and ends November 2nd


Here are the trip details/Prize package to include:


• Round-trip airfare to Miami International Airport (MIA) from anywhere within
the U.S.
• Transportation to and from MIA to Canyon Ranch Hotel & Spa Miami Beach
• Two nights in a one-bedroom suite at Canyon Ranch Hotel & Spa Miami Beach
• A $500 resort credit for spa treatments &; dining






YAY! So I'd love, love, love to have your vote on my Broccoli and Cheese Pasta Soup. If I win the trip, one of my readers wins the same trip (not with me haha, the winner would get their own trip with their own guest)


Smart Balance Facebook: www.facebook.com/smartbalance
Go to the "Recipe Challenge" app on the top right corner of the page
And vote for Broccoli and Cheese Pasta Soup by Big Bear's Wife
Thank you so much for reading and extra thanks if you go and vote for me 🙂
(Printable Recipe Here)
Broccoli and Cheese Pasta Soup
Ingredients
4 cups chopped broccoli
2 cups shredded carrots (2 large carrots)
1.5 cups chopped mushroom
3 cloves garlic, minced
3 tablespoons Smart Balance Butter
1.5 teaspoons granulated onion
4 cups chicken broth
3 cups milk
1 cup water
1 cup water and 5 tablespoons flour – whisked together in a small bowl
1 (16oz) box tiny shell pasta
3 tablespoons of Smart Balance Butter for pasta
Salt and Pepper
Instructions

In a large skillet, melt 3 tablespoons of butter. Add garlic and granulated onion to skillet. Cook until garlic is fragrant. Add shredded carrots to the skillet and cook for 3-4 minutes.
In a stock pot bring 4 cups of chicken broth to a boil. Add cooked carrots to chicken broth. Stir.
Add in the water flour mixture and whisk. Bring to a boil and then reduce to a simmer. Let cook for 5-10 minutes or until it starts to thicken.
Meanwhile, start boiling water for the pasta. Salt water and cook pasta until tender, about 12 minutes. Drain pasta and return to warm pot. Stir in 3 tablespoons of butter to pasta.
Add chopped mushrooms to broth. Stir in 3 cups milk and 1 cup water. Stir in broccoli.
Add 4 cups shredded cheddar cheese. Stir. Simmer on low for 20-30 minutes. Season with salt and pepper.
(If too thick, add more milk or water until desired constancy is reached.
Details
Yield: 10-12 bowls of soup
I'm linking to Tidy Mom – I'm Lovin It