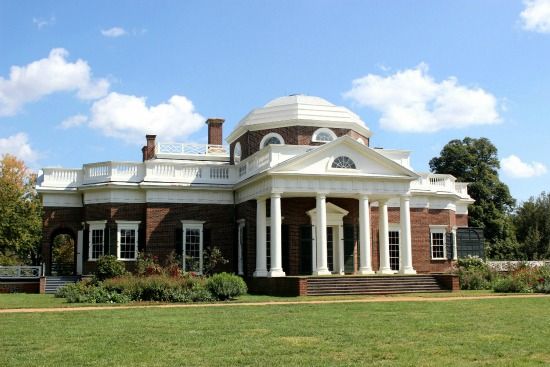 I miss traveling. 🙁
I use to get to travel all of the time when I was younger. I've been to so many wonderful places and sadly none of these trips happened while Big Bear and I were together. 🙁 We've been to Boone, NC for our honeymoon together, we've been to Myrtle Beach for a weekend with his friends, and we've been to Holden Beach, NC once with my family. I need more travel in my life haha. Oh and the two times I got to go to Florida since we've been married, nope he didn't get to come. 🙁 Once he was in Iraq when I went and during the 2nd one (for the Disney Food Blogger Conference) he had to work and couldn't go. He's got back lud with traveling :(. He tells me all the time he's never getting on another plane because "every time I get on a plane it drops me off in the dessert" (Iraq). Oh lord…. 😉
I'm going to have to break him of that. But until we save up the big money to actually be able to afford a plane trip to anywhere, I'll settled for local trips. For now…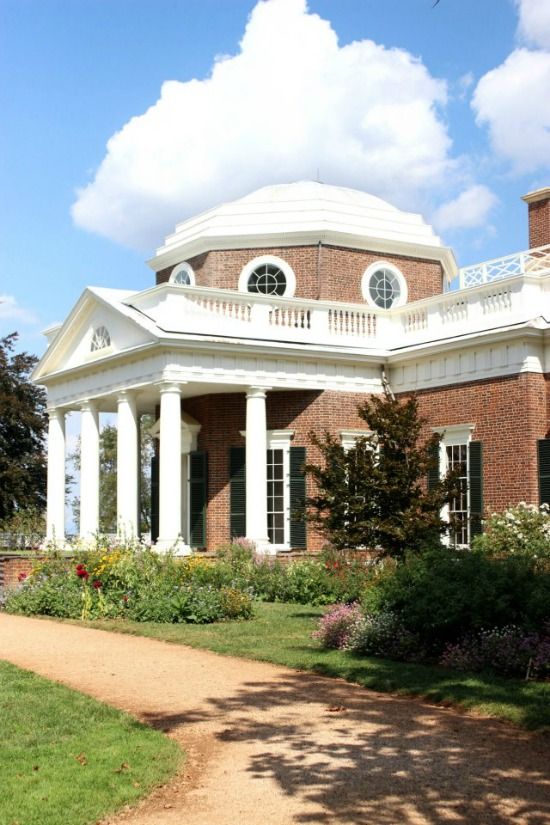 A few weekends ago Big Bear and I were able to go up to Charlottesville, VA ,with my parents. for a day trip to see Thomas Jefferson's Monticello. I'd been before when I was a teenager and he had never been. Thomas Jefferson is also one of Big Bear's favorite presidents and he's big into history like I am. I knew he'd love it. I was right 🙂 10 points for me 🙂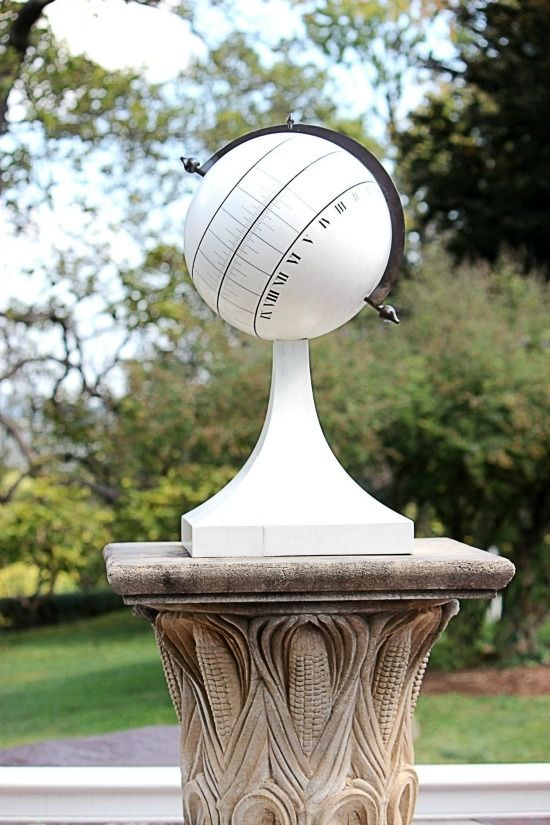 We drove up on Sunday morning and spent the entire day there. The drive to Charlottesville is about 2.5 hours, so not to terribly bad. The tickets were $24.00 per person to get in, but they do sell year passes for $50.00 per person. Two trips there in one year and you've paid for the year ticket anyways and since Big Bear loved it up there (and I did too) we decided to just go ahead and get them.
Monticello is also like a photographers heaven for me, so I'll enjoying getting to go up there during different seasons and holidays to snap pictures.
We toured the house with a tour guide (not allowed to take pictures inside) and then walked around the grounds for a little bit. There are tunnels under the house as well to explore.
You can see the kitchen areas, the wine cellar, the beer room etc.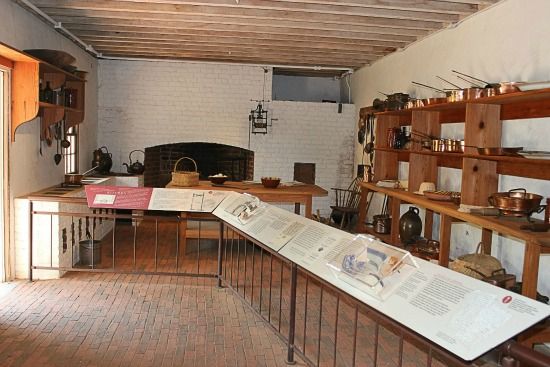 There is a garden tour but we opted out of that and just walked around on our own. I had given my dad my old camera a few months ago, so I enjoyed telling him about the different settings on it as he followed behind us taking pictures of every bumble bee and flower haha.
I fell in love with these flowers and bought a few packets of the Bloodflower Seeds *correction these are Lantana Flowers* to bring home with me. Hopefully I can get them to grow. Normally I'm a flower/plant killer. For example, when we moved into our first house my mom gave us a house plant and said, "Don't worry. You can't kill this thing, we've forgotten about it for days and it still lives"………..yeah……it died.
We decided to take the Slavery Tour. It's included in the same price so why not. They take you around and tell the history of the Slaves that were at Monticello. Very interesting for a history lover.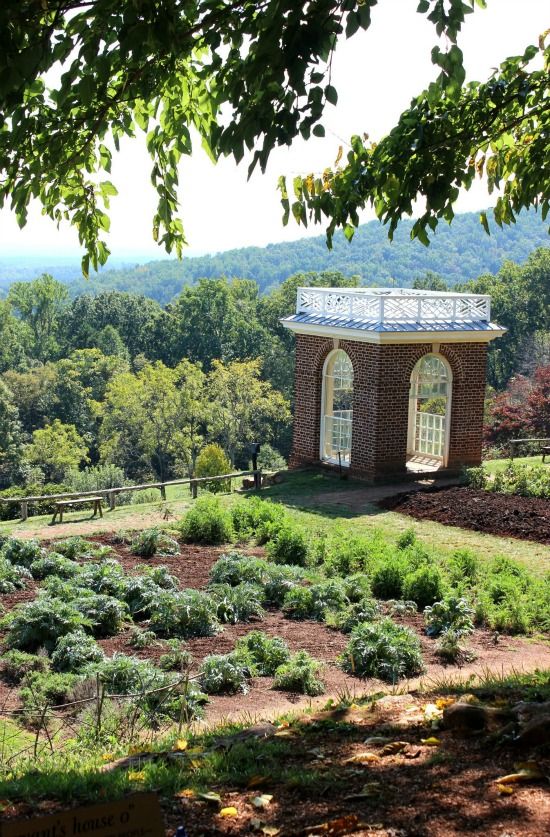 The views from this house are just beautiful.
After the tours, we made our way down to the Jefferson cemetery. There are super old graves there and we even spotted one that was as new as 2006.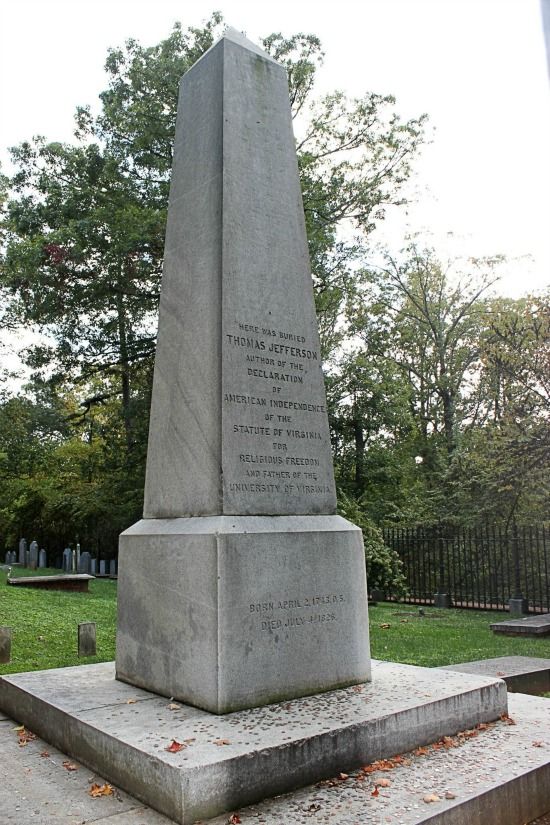 I didn't know that people were still being buried there. It's a beautiful cemetery!
Yes.. I called a cemetery beautiful haha 🙂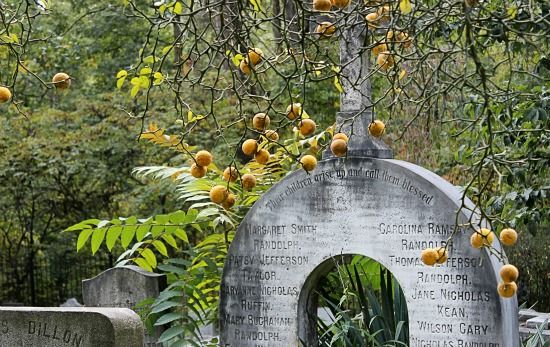 Our day ended with us visiting the downtown mall area of Charlottesville. I tried to convince Big Bear that Charlottesville was the kind of city we needed to live in. I'm pretty sure that I didn't do a good job of convincing him. He's a country boy so I suppose that's where we'll ending up staying. haha.
So many stores and restaurants there! Not to mention most of the restaurants have outside seating right down the middle of the shopping area under these huge old trees. It's so nice.
I wish that I had better pictures to show you from downtown, but I didn't want to carry my big camera around and Big Bear gets irritated if I steal his fancy iPhone to much to take pictures.
So my crap-tastic phone camera will have to do.
We had dinner at
Sal Caffe Italia
. I think I picked this one because the menu was full of pasta! haha.
Hardly any of the restaurants in our city back home, have pasta on the menu and it really irks me.
I love pasta. Anyways, My Dad and Big Bear love Italian so it was a good fit.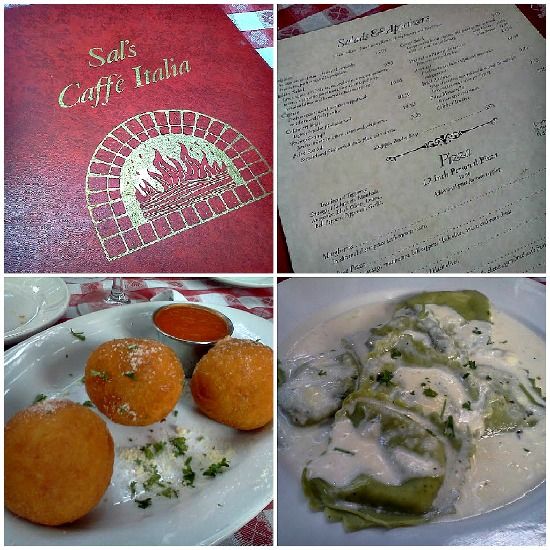 We started with Fried Risotto that was stuffed with green peas and beef. (pictured above on the left)
I am so going to try and make these at home.
For dinner I had the Spinach and Artichoke Ravioli (pictured above on the right) and Big Bear enjoyed the Lobster Stuffed Ravioli.
I'd never had Spinach and Artichoke Ravioli before but let me tell you, it was so good. It pretty much tasted like Spinach and Artichoke dip stuffed into soft pillows of ravioli. Big Bear loved the Lobster Stuffed Ravioli. He said it was the best Lobster Stuffed Ravioli he'd ever had. Most of the time when we get Lobster Stuffed Ravioli it's thick and greasy, so glad that it wasn't like that here.
Big Bear also had a cannoli. They're one of his favorite desserts. 🙂 I really need to learn how to make these too. It's on my cooking "bucket list".
It was an extremely long day, but I loved it! I'm ready to start "traveling" again.
***
Thomas Jefferson Monticello
931 Thomas Jefferson Pkwy
Charlottesville, VA 22902
Sal's Caffe Italia
221 East Main Street
Charlottesville, VA 22902‎