{
Chicken Noodle Stew
}
**
slow cooker
recipe
**
Is it cold where you are? Any Snow?
It's been freezing here one day and hot here the next. I'm pretty sure that mother nature is on drugs. She doesn't know which way is up.
It snowed today, at my house, my sweet sweet husband called me at work to rub it in. Because 30 minutes away, at my office, there was nothing but rain… even though it felt like it was cold enough for snow.
See I think if it's that cold, that we deserve snow. Not a lot. Just enough to make the ground pretty for a little bit.
So, I'm sure that you're not hear to listen to me talk about snow…. or the lack thereof….
You're here for Stew 🙂
Stew that is perfect or snowy day…. or ok… just a cold day in general.
This was originally suppose to be Slow Cooker Chicken Noodle Soup.
My friend Lisa posted about it on her facebook and I immediately asked for the recipe.
I suppose that it was my tweaking of the recipe, or perhaps the amount of chicken and noodles I used compared to what the recipe called for, but mine turned into Chicken Noodle Stew. And it was GOOD. I love to eat stew and rice in the winter. Like Brunswick Stew. I love Brunswick stew.
This was kinda like that , but with chicken. (oh but of course I didn't eat it with rice haha, cause it already has the noodles cooked in)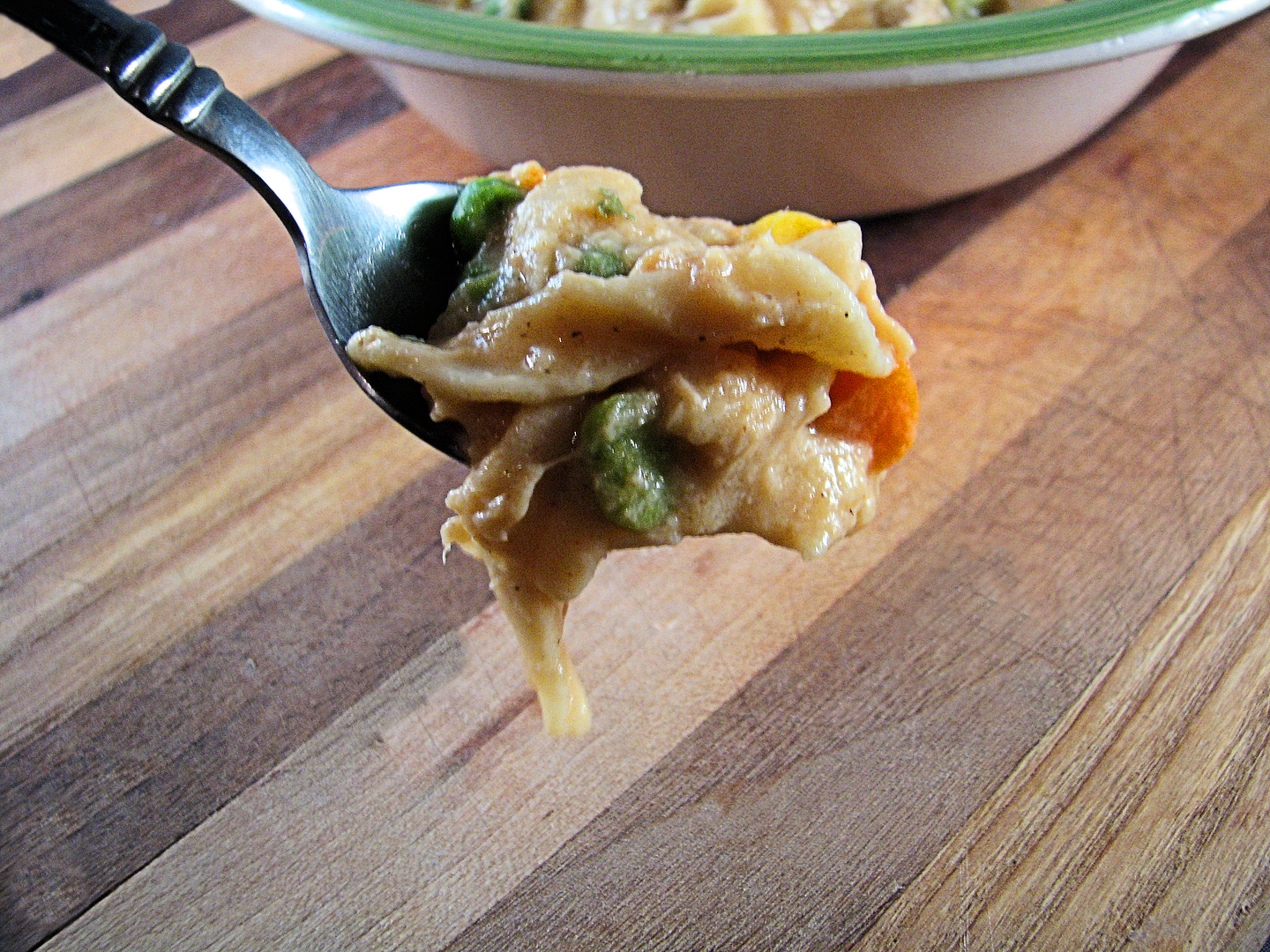 Chicken Noodle Stew
Adapted from a Recipe given to me by my friend Lisa Emerson
What you need:
4 boneless/skinless chicken breats
1 (16oz) can of Chicken Broth
1 teaspoon paprika
1 teaspoon white pepper
pinch of salt
2 cloves garlic, minced
1 teaspoon onion powder
1 bag of egg noodles
1 medium bag of frozen mixed vegetables, thawed
What to do:
Turn the
slow cooker
onto low. Combine everything into a slow cooker, EXCEPT the chicken, noodles and veggies. Mix Well.
Add chicken. Cook on low for 5 hours.
Once chicken had been cooking for 5 hours, remove chicken and shred it.**
** I shredded the cooked chicken using my KitchenAid mixer! Place hot chicken into the bowl of the stand mixer with the paddle attachment. Mix for about 30 seconds. Chicken should be finely shredded**
Return chicken to the slow cooker. (If stew is to thick for your liking, add about 1 cup of water at this point)
Add noodles and veggies and cook for 60 more minutes until noodles are done.