This post and photos may contain Amazon or other affiliate links. As an Amazon Associate I earn from qualifying purchases. If you purchase something through any link, I may receive a small commission at no extra charge to you. All opinions are my own.
Chocolate Buttermilk Pancakes – Guest Post
Hello Lovelys! I have a special treat for you today 🙂 Well……. a special breakfast… that I suppose you could have for dinner…. or dessert…. or… however you see fit 🙂
I'm so glad to have Pam from
From Apples To Zucchini
as a visitor today 🙂 Pam is an amazing blogger who loves remaking recipes into healthier meals for her and her family, and I'm so glad to have found her blog.
So here we go… 🙂
————————————————–
I first "met" Angie as the hostess of my group in the Secret Recipe Club, and was so glad tohave found her and her amazing blog! For those of you who are meeting me for the firsttime, I'd like to invite you to stop by and say hi at
From Apples To Zucchini
. I startedblogging in 2008, and ever since trying to embark on a healthier journey for myself, myhusband and our family, I spend the majority of the year highlighting healthier, made over versions of all kinds of recipes, from breakfast to dessert, as well as trying out existing healthy recipes. Of course, this time of year, the baker in me busts out and candies and cookies by the dozen invade through the end of the year. I don't really mind, because I want my family to have treats from time to time!
Speaking of treats, who says breakfast should be left out of that equation? I wanted to share a recipe that I whipped up just a few days ago, when my four year old decided just before lunch time that he wanted pancakes. When I asked him if he wanted plain pancakes (his actual favorite), or chocolate, he surprised me my telling me that he wanted chocolate ones, so chocolate pancakes I set out to give him.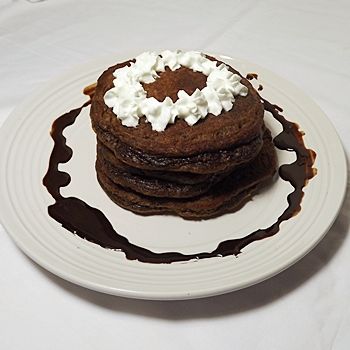 I was so pleasantly surprised by these that I hurried up and scratched down the recipe for fear of forgetting.
The batter is incredibly thick and the smell that wafts up when to ladle itonto a hot griddle is reminiscent of cookies baking. Just amazing.
I was afraid with the thickness of the batter that the pancakes would be heavy, and whilethey have some heft to them, they are moist, fluffy, and just plain good!
The chocolate was not overwhelming. Hubby who tells me all of the time that yes, you can have too much chocolate – can you believe such nonsense? – loved them. They were also not overly sweet, despite the sugar in the batter.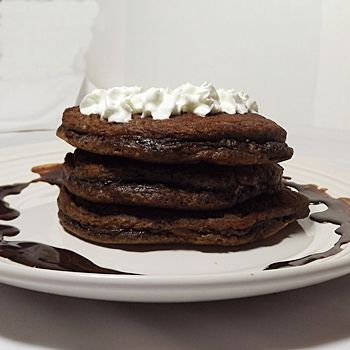 Serve them with whipped cream, a little chocolate syrup, or your favorite pancake syrup.Something that my Mom used to make for me on special mornings was peanut butter syrup -just warm 1/4 cup of your regular syrup and add 2 tablespoons of creamy peanut butter to it and stir until melted and combined. It would be dynamite with these. Maybe whip some up for a special Christmas Morning breakfast – you could add some mint chocolate chips to the batter and make them a real event!
Chocolate Buttermilk Pancakes
2 c flour
1 1/4 c low fat buttermilk
1/2 c sugar
1/4 c cocoa
1 egg
2 tbsp olive or canola oil
1 tsp baking powder
1 tsp baking soda
1/2 tsp salt
1 tsp vanilla
Mix buttermilk, sugar, egg, oil and vanilla together in a bowl
Add dry ingredients and mix until everything is incorporated – batter will appear slightly lumpyand will get a little foamy
Place about 1/3 cup full onto a got oiled griddle or oiled frying pan, spreading out slightly toabout 4 – 5 inches (the batter will spread out slightly while cooking) and cook on mediumhigh until bubbles begin to form throughout the batter (about 5-7 minutes)
Flip the pancake over gently and allow to cook for another 5-7 minutes or until cookedthrough.
Yield: Makes 8-10 six-inch pancakes
—————————————————————
Thank you so much Pam for coming over to visit! I can't wait to try these!