This post and photos may contain Amazon or other affiliate links. As an Amazon Associate I earn from qualifying purchases. If you purchase something through any link, I may receive a small commission at no extra charge to you. All opinions are my own.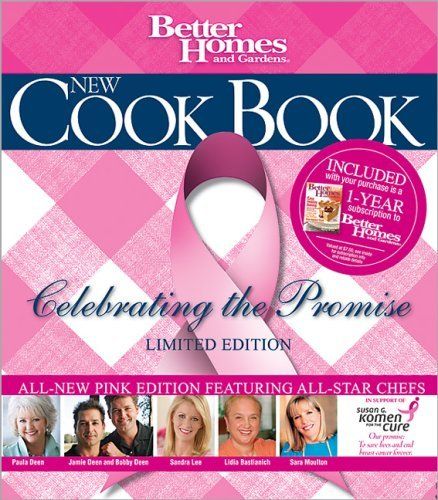 I have a confession. I love to buy cookbooks. I know this is pretty silly, when there are 1,000 Million Billion free recipes online, but I just love to have an actual book in my hands or on my counter. I have a whole bookcase for cookbooks only and I already have it packed to the max. I'm pretty sure that means I should stop buying them. But, have you seen/heard of the amount of food bloggers coming out with cookbooks this year? It's unreal! I'll be investing in a new bookcase just to store those! 🙂
With that being said, I just happened to be browsing the cookbook section of the book store the other day and stumbled across this beauty. It's a "Better Homes and Gardens" – 14th Limited Edition – "Pink Plaid" Cook Book". I've been eyeing the Pink edition for a while now and just never bought it, I'm assuming the price had something to do with it haha. But something took over my brain/wallet and I finally bought myself one….and then I bought another. 🙂
A second one followed me home and I'm giving it away to one of you 🙂 If you've never owned one of these Better Homes and Gardens cookbooks then you're missing out. Well, in my opinion you're missing out.
Not only is this cookbook packed full of recipes, but it also has tons of cooking tips. "Cooking Basics" is a section in this cookbook that gives you information on the perfect kitchen knives, tips on seasoning a skillet, details on cookware and kitchen gadgets, it even has a glossary of cooking terms and techniques.
The sections in this cookbook include: Appetizers & Snacks, Beans/Rice/Grains, Beverages, Breads, Cakes/Frostings, Candies, Canning/Freezing, Cheese & Eggs, Cookies & Bars, Desserts, Fish & Shellfish, Grilling, Meat, Pasta, Poultry Pies and Tarts, Salad & Dressings, Sauces, Soups & Stews, Slow Cooker Recipes, Vegetables & Fruit, and "20 Minute Meals".
Like I said before the sections include great recipes, but also includes lots of information For example in the meat section there is are picture diagrams of "Beef Cuts" and in the pasta section there is a 2 page layout of different types of pastas.
This Limited Edition "Pink Plaid" Cook Book also has about 10 Celebrity Chef Recipes in it as well. Celebrity chefs in this edition: Paula Deen, Jamie and Bobby Deen, Sandra Lee, Lidia Bastianich, Sara Moulton, G. Garvin, Mary Sue Milliken, Susan Feniger, Pam Anderson, Nathalie Dupree and Joanne Weir.
With all that being said I'm giving away 1 (one) brand new, unopened copy of the Better Homes and Gardens 14th Limited Edition "Pink Plaid" Cook Book to 1 (one) lucky reader. Please use the Rafflecopter Widget below.
1st Entry is mandatory and the rest are optional but they'll give you more entries 😉
Better Homes and Gardens DID NOT sponsor this post or giveaway. This prize is 100% provided by Angie from BigBearsWife.com. All options of this cookbook are my own and 100% true 🙂 CookBook Retails at $29.95. Giveaway Open to anyone with a US mailing address. Sticker on front of cookbook does have an offer for a Free Supcription to Better Homes and Garden, but BigBearsWife.com is not in anyway connected or liable for the fulfillment of that offer. Contest will run from Wednesday 11-14-12 until 5pm EST Wednesday 11/21/12. Winner will be randomly selected using Rafflecopter.