If you've been following me on Facebook (or if you actually know me in real life lol) you might have read a few post about a possible new house. We've been looking for a new place for a while now and just can't seem to find anything. Well… we can find houses, that's not the problem, but finding a house that we can rent that will allow our pets and one that we can afford has been the challenge. Most of the places we can afford are in bad parts of town but they allow pets, the houses in the nice parts of town or the country don't allow pets and have sky high rent. Boo Hiss.
I feel like we've looked at and called about 100 house. Some to rent and some to buy with no luck. But I think we may have found a house (with the help of my sister in law hee hee… ok really she found it… we just went and looked at it)!
We moved into our current house after our last landlord sold our house while we were still living there 🙁 We had to rush to find a home to move into and finding a house that allows pets is quite a challenge (*shakes fist at all those irresponsible pet owners*) We ended up moving into the house we're currenly in, and well…. it's well.. it's old. It has no air, no heat… it's just bad. So I think we're moving. Moving soon 🙂 Hummm… not that that really has anything to do with this pasta… other than the fact that I'm trying to use up some of the items in our deep freezer and these lobster tails happen to be in there 🙂
I had bronchitis at the beginning of the month and it's just now starting to go away… even thought I still have this wicked cough! So to be honest, I haven't felt like going to the store or cooking a lot. This pasta just kind of came from one those nights when I was getting pretty tired of pre-made food. Yes… when I'm sick pre-packaged foods and TOGO are my friends. But there is only so much of that stuff that I can handle before I need to get back into the kitchen. Speaking of kitchen… this house we're looking at doesn't have a stove…. I'm going to have a sad first couple of weeks until I can afford a new one. Looks like I'll be cooking over at moms haha.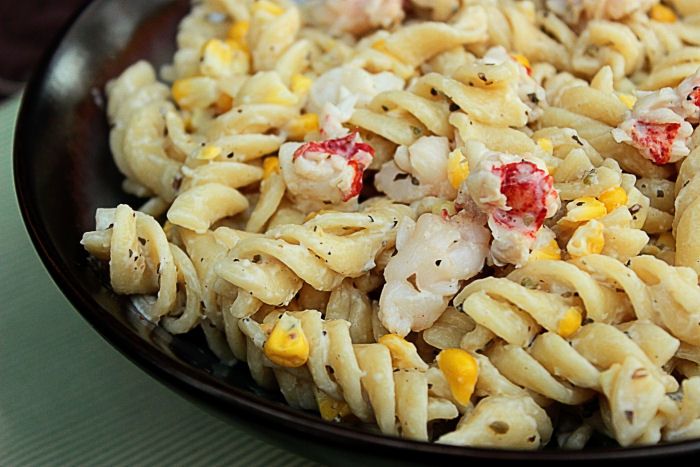 So.. I'm sorry.. back to the topic. This was a "throw together", "what's in the pantry and freezer", "I'm Hungry" kind of meal. Since it turned out pretty well I thought you might want to know about it. I used the "Philly Cooking Creme" as kind of an inspiration for this. I've never used the Philly Cooking Cremes but once I started thinking about them I thought I could try the same concept with things I already had at home. Regular Cream cheese and seasonings made up my "at home" version of the Philly Cooking Creme and I thought it was actually really good. Not a heavy sauce for the pasta, but it coasted it well. I mean if you wanted more creaminess you could always double the creme recipe. BigBear liked it very much as well, I always know I've done good if he give his seal of approval.
(Printable Recipe Here)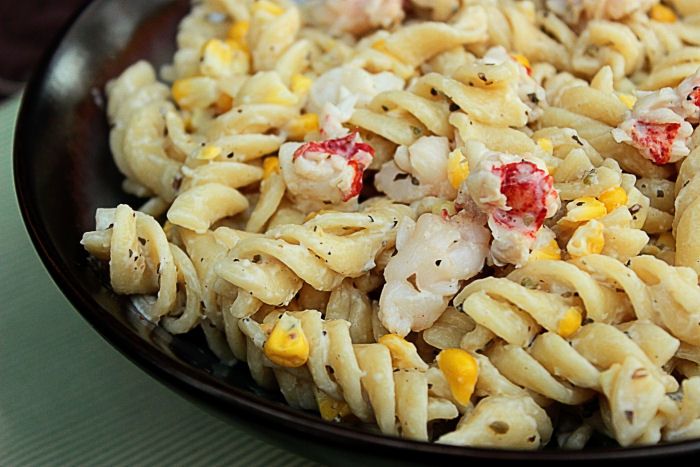 Ingredients
2 lobster tails
1/2 cup sweet corn
8 oz cream cheese, room temperature
1/2 tablespoon oregano
1/2 tablespoon basil
1 teaspoon garlic powder
Pinch of Salt
Pinch of Pepper
16 oz Fusilli pasta
Instructions
Bring a large pot of salted water to a boil. Add pasta and cook for about 12 minutes or until tender. Drain.
While the pasta is cooking, bring another pot of water to a boil for the lobster tails. Add the lobster tails to the boiling water. Simmer, uncovered, for 8 to 12 minutes or until shells turn bright red and the meat is tender. Drain lobster tails, cut lobster open and chop into bite size pieces.
In a medium bowl, whisk together the cream cheese, oregano, basil, garlic power, salt and pepper.
In a sauce pan, melt the cream cheese mixture. Add the corn and lobster and mix well. Heat for 3-4 minutes or until heated throughout. Add to drained pasta and stir to combine.
*If a creamier pasta is wanted, double the cream cheese mixture recipe*
Yields: 4 servings