Ever have one of those recipes, that you save because it looks so good, and you promise yourself that you're going to make it soon, but it just seems to hang out in the back of your mind never to make it into the kitchen? I do that. And you know what, when ever I do it always turns out that I want to kick myself in the kneecap for putting it off. Because those always seem to be some of my favorite recipes. It's almost like my brain says, "Oh you're gonna LOVE that, so I'll tuck it away in your memory and play games with your mind, and then one day I'll let you remember it and I'll let you make it." Really Brain? Stop that! Now!It normally happens like that! The recipes or ideas that I keep putting off, end up being some of my favorites. Why do I do this to myself. Maybe it's because it sounds to good, and I'm afraid that I'll destroy the recipe while I'm cooking and it'll taste like dirt. I don't know.
For example, I waited almost 2 years before making this Jack Daniels Bread Pudding, I thought about these
Lofthouse Style Cookies for about 3 months before making them, ooo and get this, it took me over 6 years to finally break down and attempt a recreation of my favorite pasta, ( Southwest Pasta ) from the restaurant I use to work at when Big Bear and I started dating. I'm even shaking my head at that one.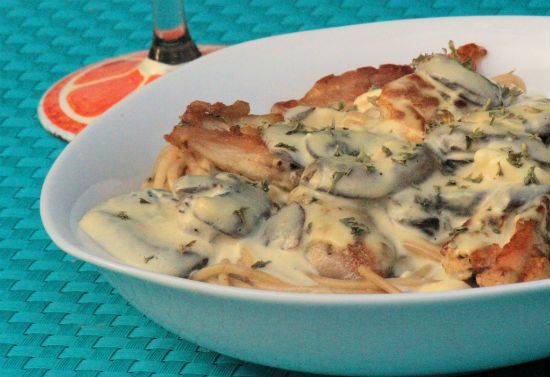 So I'm not even going to tell you that it's been over a year since I saved this recipe, or that is was one of the first things that I pinned on Pinterest, or that it took me a month to gather all of the stuff to make it. (I pinned it before I even knew how to really use Pinterest and ended up only pinning the picture, with no link to the recipe..oops)Oh and one more thing, please, please, please DO NOT, copy and paste an entire recipe with photo onto your blog from another person's blog, and make that your blog post! It's stealing! Really it is. You don't know how many blogs I had to go through to find the original recipe that I used to base this dish around. I mean sure, I could have looked at those other sites, sure I could have just figured most of it out from the picture and title, but I wanted to be-able to link to the recipe/blog that had been taunting me for over a year haha.
This Dijon Chicken Spaghetti was inspired by the Dijon Chicken Linguine with Chanterelle Mushrooms and Toasted Almonds from RockRecipes.ca . I changed it up and bit, but without RockRecipe's recipe, I never would have tried anything like this. I normally wouldn't make anything with mustard, but it looked so good I had to.
The sauce is creamy and coats everything well, and it had three of my favorite foods: Chicken, mushrooms and pasta! Plus I used whole wheat pasta, so I can pretend like it's good for me right? Right? 😉
( Printable Recipe Here )
Ingredients
1 box (13oz) whole wheat spaghetti
2 cups diced chicken, cooked (I used white and dark meat)
1 cup mushrooms, sliced
1 teaspoon granulated garlic
2 tablespoons butter
2 oz white wine or chicken broth
4 oz cream cheese, softened
2 cups heavy whipping cream
4 tablespoons dijon mustard
salt and pepper
Instructions
** I am not including directions on cooking the chicken, because raw chicken scares me to death, and I may overcook my chicken sometimes haha, but for this I boiled the chicken until it was done and then crisped the skins in a skillet with some olive oil on medium heat. There is probably an easier way to do that, I just get a little freaked out over raw chicken, so I have to make sure it was 100% cooked **
Bring a large pot of water to a boil. Salt the water. Cook noodles in boiling water for about 12 minutes. Drain and set aside.
In a medium sauce pan, melt 2 tablespoons of butter over medium heat. Add mushrooms and garlic. Cook mushrooms until tender.Add in white wine.
Cook for about 5 minutes or less, just until the wine has reduced a little. Add in cream cheese and stir until melted.
To the saucepan, add the heavy whipping cream, dijon mustard, stir to combine. Season with salt and pepper. Cook on low heat for 5-7 minutes. Stirring occasionally.
Sauce will not thicken much, but should be thick enough to coat the back of a spoon.
Add cooked chicken to sauce and stir.
Pour the chicken and sauce over the spaghetti or toss with the spaghetti.
Details
Prep time: 10 mins Cook time: 20 mins Total time: 30 mins Yield: 6 servings