{
  BBQ Pulled Pork   
}
Mmmmmm……BBQ Pulled Pork. Well,  Coca-cola BBQ Pulled Pork Sandwich that is.  A few weeks ago I was able to go down to Camp Lejeune to visit family, and while we were down there Crystal made pulled pork BBQ sandwiches for dinner one night. They were so good and I knew I needed to make them at home for Big Bear.  Super simple, and this barely takes any work because the crockpot does it all.
Crystal used KC Masterpiece BBQ sauce for hers and I think she used Dr.Pepper for it. Incredibly good, but since I already had Coca-Cola BBQ sauce in the freezer, that was left over from the 
Baked Drumsticks with Coca Cola Barbecue Sauce
, I decided to go with that for this recipe.  So really all you need is your favorite BBQ sauce, a Pork Butt, and a can of dark soda.  Pork Butt….. why do they have to label it Pork Butt? Why not Pork shoulder. I mean really, who wants to feel like they're eating a pigs butt cheek. Ok yeah.. sorry for that 🙂 .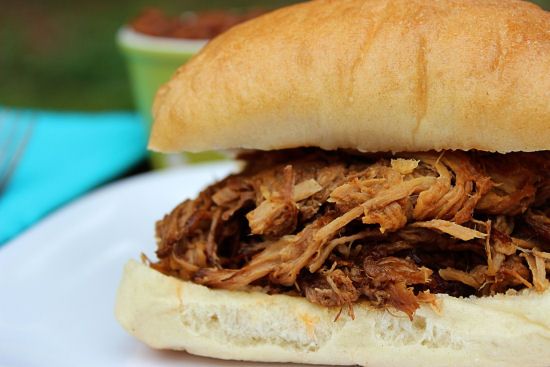 Yesterday I put this into the crockpot around 730am and it cooked all day while we were out and about. Took it out around 530pm, fixed sandwiches and packed them up in a picnic basket and headed to the Drive In to see The Avengers. Haha, best "movie date" food ever!
I've included the recipe for the Coca-Cola BBQ sauce that I used for this recipe.
(Printable Recipe Here)
For BBQ Sauce
4 tablespoons canola oil
2-3 cloves garlic, minced
6 cups ketchup
2 cups orange juice
1 cup molasses
1 cup Coca-Cola
1 cup brown sugar
2 tablespoons liquid smoke
2 teaspoons garlic salt
2 teaspoons paprika
For Pulled Pork:
1 Pork Butt (Pork Shoulder)
1 Can Coca-cola (or any dark soda)
5-6 cups of BBQ sauce (enough to cover the pork in the crock-pot)(Don't forget buns, if you want to have Pulled Pork Sandwiches)
To make Coca-Cola BBQ Sauce:
Heat a pot over medium-high heat and add canola oil and minced garlic.Cook and stir until garlic is starts to brown.
Remove the pan from the heat.
Add ketchup, orange juice, Coca-Cola and molasses.
Mix well.
Add in the brown sugar, liquid smoke, garlic salt, and paprika . Whisk to combine.
For the Pulled Pork:
In a Crock-Pot (slow-cooker), stir together the BBQ sauce and cola. Set the crock-pot onto low. Add Pork. Press down so that the pork is completely covered in the sauce.
Cover and cook on low for 8-10 hours. *test the pork by using a fork to shred some of the pork, if it shreds easily, it's ready* Once the pork is done, remove it from the crock-pot and shred with a fork.
Prep time: 15 mins Cook time: 8-10 hoursTotal time: 10 hours 15 mins
Yield: 5-6 cups of BBQ (depends on the size of the pork butt)