This post and photos may contain Amazon or other affiliate links. As an Amazon Associate I earn from qualifying purchases. If you purchase something through any link, I may receive a small commission at no extra charge to you. All opinions are my own.
Do you know what my favorite color in the whole entire world is? I'll give you a hint… there is a bit of it on the blog. Did you guess? It's ORANGE!! Orange is absolutely my favorite color! I love everything about it and I love everything that is the color orange.
Orange gummy bears (yes I do pick out only the orange ones and give Big Bear the rest), orange skittles, orange jello, orange gobstoppers, oranges, pumpkins, candy corn… well the middle of the candy corn. I do not how ever like orange soda….well not unless it's baked into oh let's say Orange cupcakes!. 🙂 Then yes, yes I do like it.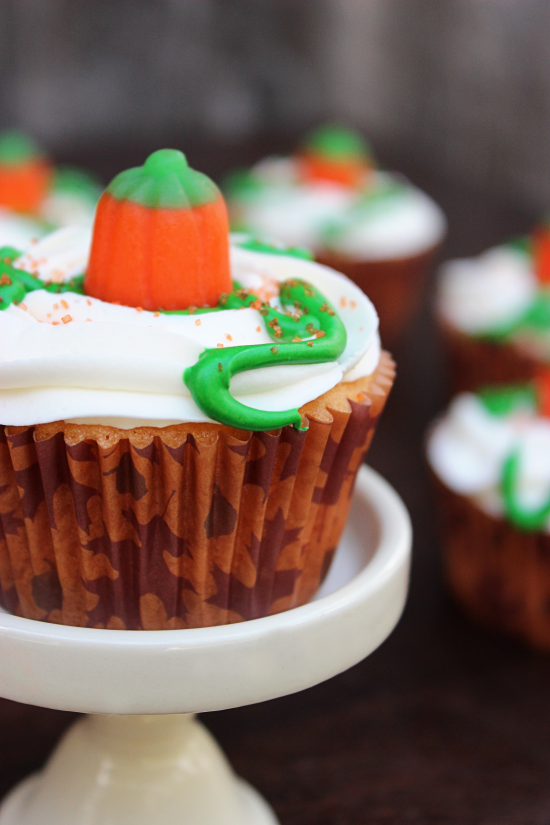 These cupakes are so fluffy and turn out to be a pretty pastel/pale orange. I just love them. Plus they only require 3 ingredients. Cake Mix, Orange Soda and Egg Whites.
Now I know some people don't like to use boxed cake mix, but I am perfectly ok with using it. If you don't like boxed cake mix, your favorite white homemade cake mix will work 🙂
These ended up being the perfect "Orange" food for my #SundaySupper post for this week. Not only did they work out perfectly for that they also will be heading to a bake sale today. My friend Nicole is hosting a bake sale today to raise money for Alzheimer's Awareness and I'm donating these to the bake sale.
*fingers crossed* that they do well!
Since I sending them off to a bake sale, I had to package them up. My mom and I have been packing cupcakes in little punch cups for bake sales for probably the past 6 or so years and now I see the idea all over Pinterest haha.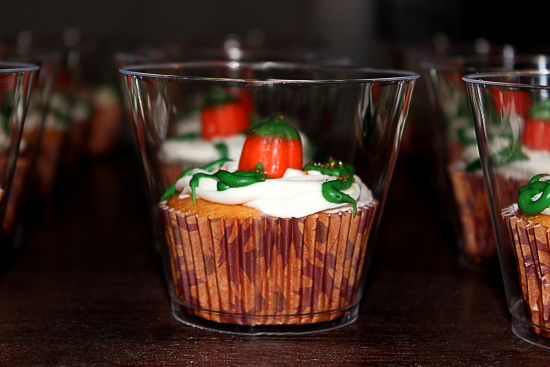 But it is a good way to store them and sell them. I normally include a spoon or fork in the bag, so that whoever buys it doesn't even have to take it out of the cup to eat it.
(Printable Recipe Here)
Orange Soda Pumpkin Patch Cupcakes
2 boxes French Vanilla Cake Mix
24 oz Orange Soda
4 egg whites
For Cupcake Icing: (Or you can use store bought)
1 cup butter
8 cups powdered sugar
2 teaspoons vanilla
8 oz Cream cheese
4 tablespoons heavy cream
For Toppers:
Orange Candy Pumpkins
Green tinted icing
Orange sanding sugar (optional)
Green icing (green food coloring mixed with icing)
Instructions
For Cupcakes:Pre-heat oven to 325F.In a large bowl, mix together cake mix, orange soda and egg whites.Line a muffin/cupcake tin with paper liners. Fill each cupcake liner 3/4 full of batter. This batter doesn't rise very much so you may be able to fill them a little more. Bake at 325F for 20 minutes. Remove from oven and cool.
For Cupcake Icing:Cream butter in the bowl of a mixer. Add cream cheese and mix well. Slowly add powdered sugar while mixing. Add vanilla and heavy cream and mix until combined.For my cupcake icing, I used a piping bag, fitted with a 2D Drop Flower Decorating Tip and swirled.
For Cupcake Toppers:Make a little bit of green icing with green food coloring and some of the icing mixed together. Pipe a tiny circle of green icing onto the center of the frosted cupcake.Place candy pumpkin on the circle. Pipe green vines onto the cupcake. Sprinkle with orange sanding sugars.

Details
Yield: 24 Orange Soda Pumpkin Patch Cupcakes
Join us this week Around the Family Table for #SundaySupper! That fun starts at 3pm EST with these fabulous recipes being showcased and ends with our #SundaySupper live chat at 7pm EST.
Our theme this week is "All Things Orange"
Host by Pam from
The Melt Aways
Sunrise (Breakfast and Brunch)
High Noon (Soups, Salads and Sandwiches)
Sunset (Dinner and Main Dishes)
By The Bonfire (Sweets, Snacks and Sips)
That's fifty nine awesome dishes this week!
Please be sure you join us on Twitter throughout the day during #SundaySupper. We'll be meeting up at 7:00 pm
(Eastern)
for our weekly #SundaySupper live chat where we'll talk about our favorite apple recipes! All you have to do is follow the
#SundaySupper hashtag
, or you can follow us through TweetChat! We'd also love to feature your apple recipes on our
#SundaySupper Pinterest board
and share them with all of our followers!