Pasta Salad
I don't really get to make pasta salad at home… mainly because I'm the only one that will eat it, and hubby has a VERY strong HATE of mayo lol. So its kinda pointless to make.
But my mom on the other hand it all ways trying out new Pasta Salads, Broccoli Salad, etc. So she brought in a Pasta Salad for me to try today at work, and I thought it was pretty darn good 🙂 So I wanted to share the recipe with you all
Sorry about the crappy picture. Its from my phone, as I didn't bring my big camera to work because I wasn't expecting free yummy homemade food lol.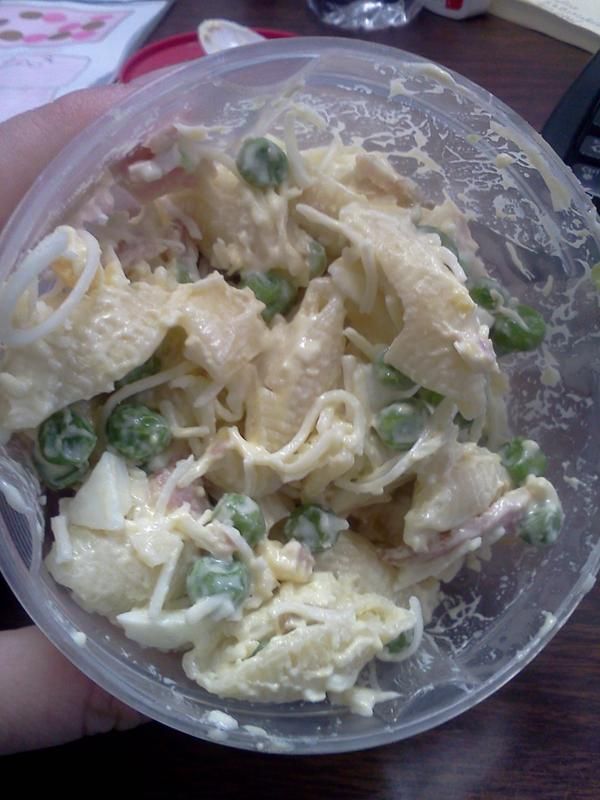 Pasta Salad
From AllRecipes.com
Made by my mom 🙂
What you need:
1 (8 ounce) package small seashell pasta
2 eggs
2 ounces cooked ham, cut into thin strips
1 (10 ounce) package frozen English peas, thawed
1 cup shredded Swiss cheese
1/2 cup mayonnaise
1/4 cup sour cream
green onions, chopped
1 teaspoon prepared mustard
1 teaspoon hot pepper sauce
1 teaspoon paprika
What to do:
Bring a large pot of lightly salted water to a boil. Add pasta and cook for 8 to 10 minutes, or until al dente. Rinse under cold water, drain, and set aside.
Meanwhile, place eggs in a saucepan and cover with cold water. Over medium heat, bring water to a full boil. Lower heat and simmer for 10 to 15 minutes. Immediately plunge eggs into cold water. Let cool completely, then peel and slice.
In a large serving bowl, toss together the pasta, egg, ham, peas, and Swiss cheese. In a separate bowl, mix together the mayonnaise, sour cream, green onion, mustard, mustard, and hot pepper sauce. Stir until well blended.
Pour 3/4 of the dressing over the pasta, and toss to coat thoroughly. Spread the remaining dressing evenly over the top of the pasta salad, all the way to the edge of the bowl. Sprinkle with paprika, cover tightly, and chill 4 hours, or overnight for best flavor.
Get Grillin' with Family Fresh Cooking and Cookin' Canuck, sponsored by Ile de France Cheese, Rösle, Emile Henry, Rouxbe and ManPans."