"If I knew the last time that I held you was the last time….
I'd have held you, and never let go"
Tomorrow is not promised, Right now is the only guarantee you have.
A statement that is so easily forgotten.
Tomorrow is taken for granted. Something we just expect to be there.
Last week the blogging community was shaken by news from Jennie Perillo of
In Jennies Kitchen
; her husband Mikey died from a sudden heart-attack. Leaving Jennie and their two daughters behind.
In A Day, Her Twitter Feed went from :
"13 days until vacation. Lots of canning to be done before then. Today's project is marinara sauce."
to
"He's gone. Any my heart is shattered in a million pieces"
My heart also broke for Jennie, a woman I've never met, a woman that doesn't live near me, a woman I havn't talked to other than a few back and forth comments on twitter……….all in the same… my heart broke for her, and her daughters.
Losing my husband is something that I don't know if I could handle.
He is my best friend, My Rock in this life. Without him I'd crumble.
When he was in the Military, it was something they prepared us for when he deployed.
The Worst question I've ever been asked in my life:
(asked by hubby)
"I'm filling out paperwork for the deployment, I need to know, if something happens to me, If I'm not coming home, how do you want to be notified, do you want a Chaplin here when they give you the news, who should they call after they notify you?"
What a question….
I am thankful I didn't have to use my answer. I am thankful that my husband came home safely, even though I heard news often of the husbands that were not.
I knew it was true… the statement… "Tomorrow is Not Promised"…the military drilled that into my head, but hearing Jennie's news brought it fresh into my mind.
So when Jennie wrote on her blog after Mikey's death; she made a comment on what we could do for her:
"For those asking what they can do to help my healing process, make a peanut butter pie this Friday and share it with someone you love. Then hug them like there's no tomorrow because today is the only guarantee we can count on."
Jennie said it was Mikey's Favorite.
So today, that's what I did. I stopped the world for just a few hours, took extra time to laugh, kiss, hug and dance with hubby and made a Peanut Butter Pie in Mikey's Memory to share with someone special in my life. My Husband.
I thought of Jennie and her daughters as I made the pie today. I wondered how they were doing and I prayed for them.
Just remember Today is a gift….Tomorrow's a Chance.
Let the people you love, know that you love them. Hug them just a little bit longer, and remember to say "I love you". You never know if that will be the last time they get to hear it.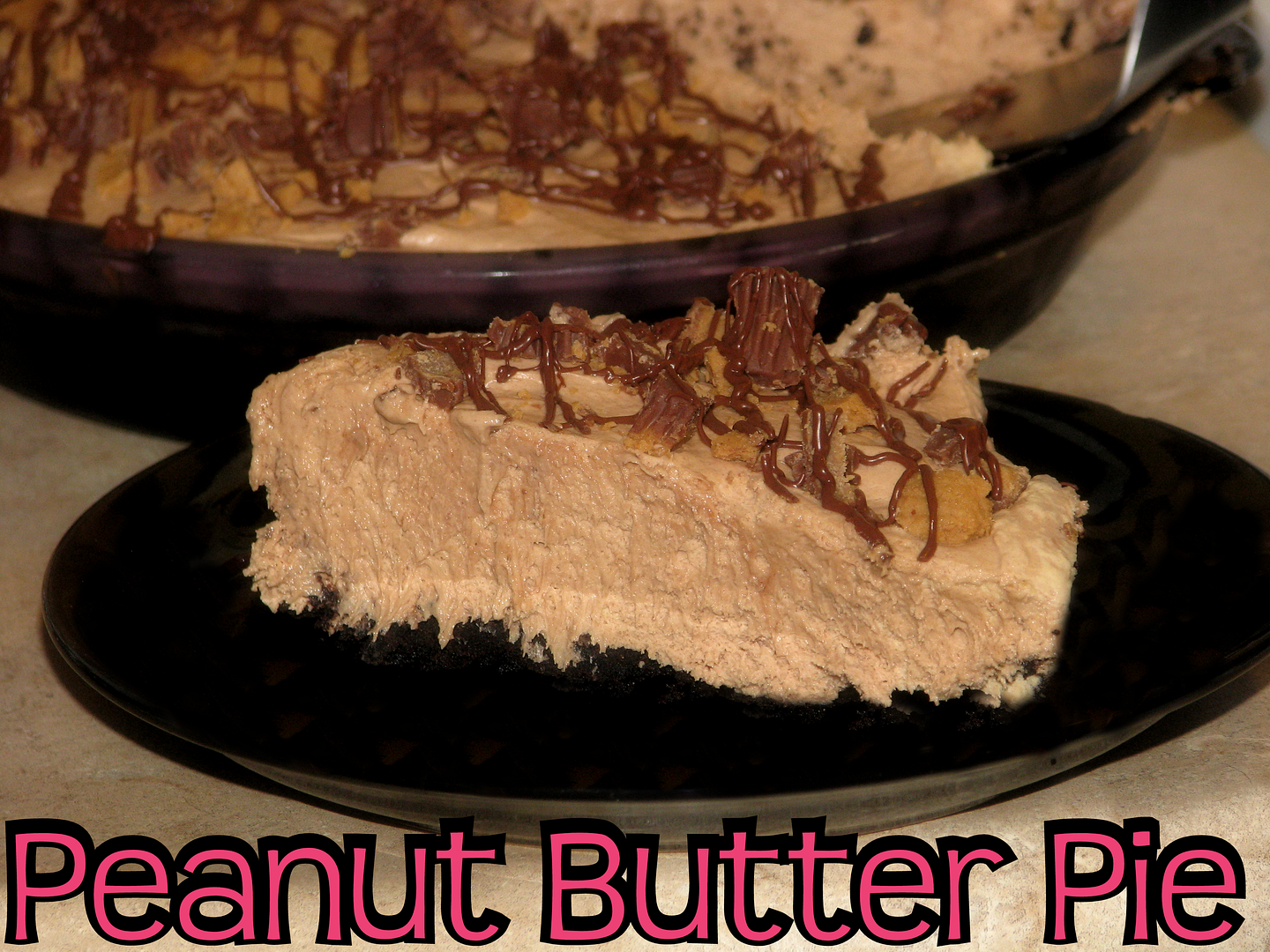 Peanut Butter Pie for Mikey and Jennie
(this pie is super super rich, a small piece was plenty for me)
What you need:
30 Oreos
4 tablespoons butter, melted
1 cup creamy peanut butter
1 (8 oz) package cream cheese
1 1/4 cups powdered sugar
1 tub of Cool Whip, thawed
1/4 cup Nutella plus 4 tablespoons
Chopped Mini Reese Cups (amount depends on how many you want on top of the pie. 🙂
What to do:
To make the crust:
Preheat oven to 350F. Place all of the oreos into a large sealable bag. Crush the Oreos using a rolling pin until they are fine crumbs.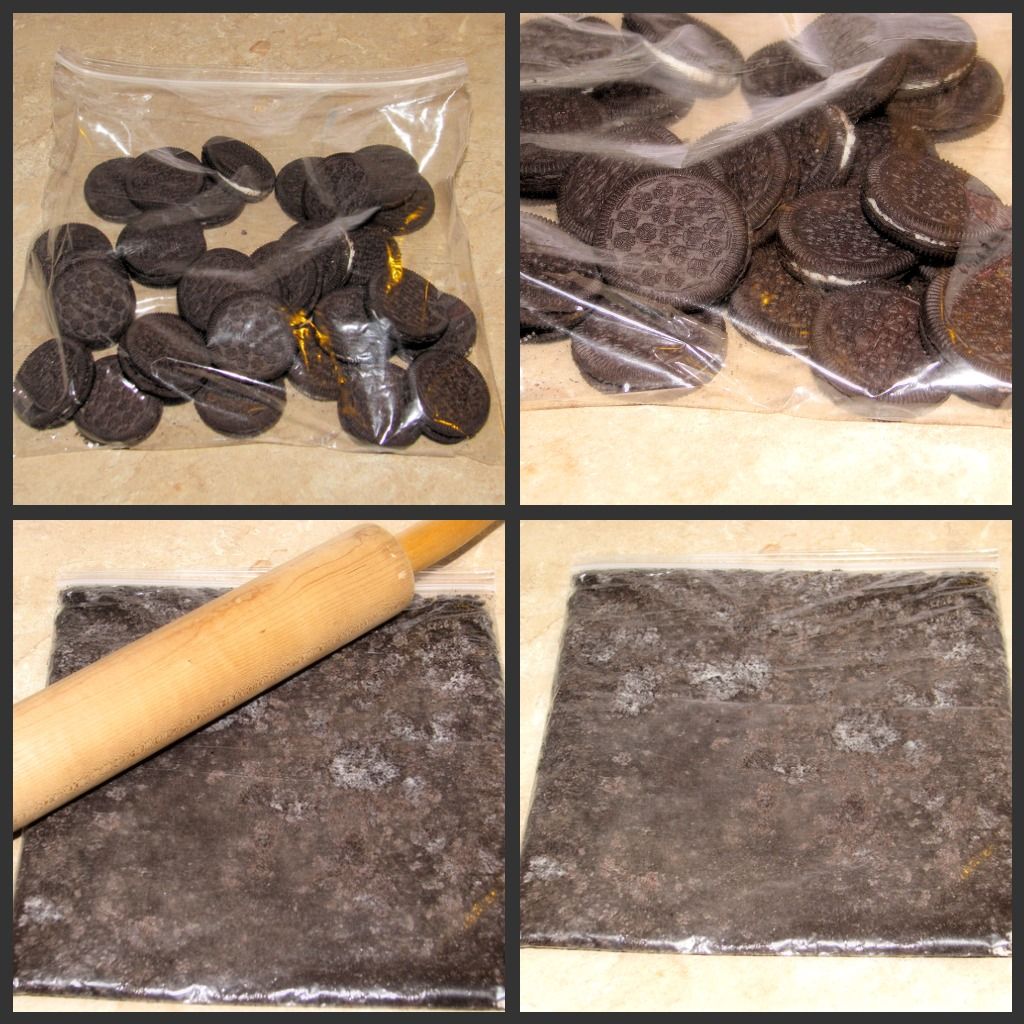 Pour Oreo crumbs into a large bowl.
Melt the butter. Pour the melted butter over the Oreo crumbs and stir to combine.
Press into pie pan and bake at 350F for about 15 mminutes.
Once done, remove from oven.
Chop 7-8 mini resses cups and sprinkle over the bottom of the pie crust, while the crust is still super hot. Let them sit for about 30 seconds, and then take the back of a spoon and smooth them out onto the crust.
Let them cool.
To Make the Pie Filling:
In a stand mixer, (or using a hand mixer and a large bowl) mix 1 cup of peanut butter with the 8 oz of cream cheese until smooth.
Add 1 1/4 cups of powdered sugar. Mix Well.
Add in the thawed Cool Whip and mix until smooth.
Mix in 1/4 cup Nutella. Mix for about 1 minute, until everything is well incorporated.
Pour filling into crust, use a spatula to smooth out the top.
Chop More Reese cups and sprinkle them over the top of the pie.
Take the 4 tablespoons of Nutella and melt in the microwave for about 30 seconds.
Pour the melted Nutella into a ziplock bag, snip off one end of the bag, and drizzle the Nutella over the top of the pie.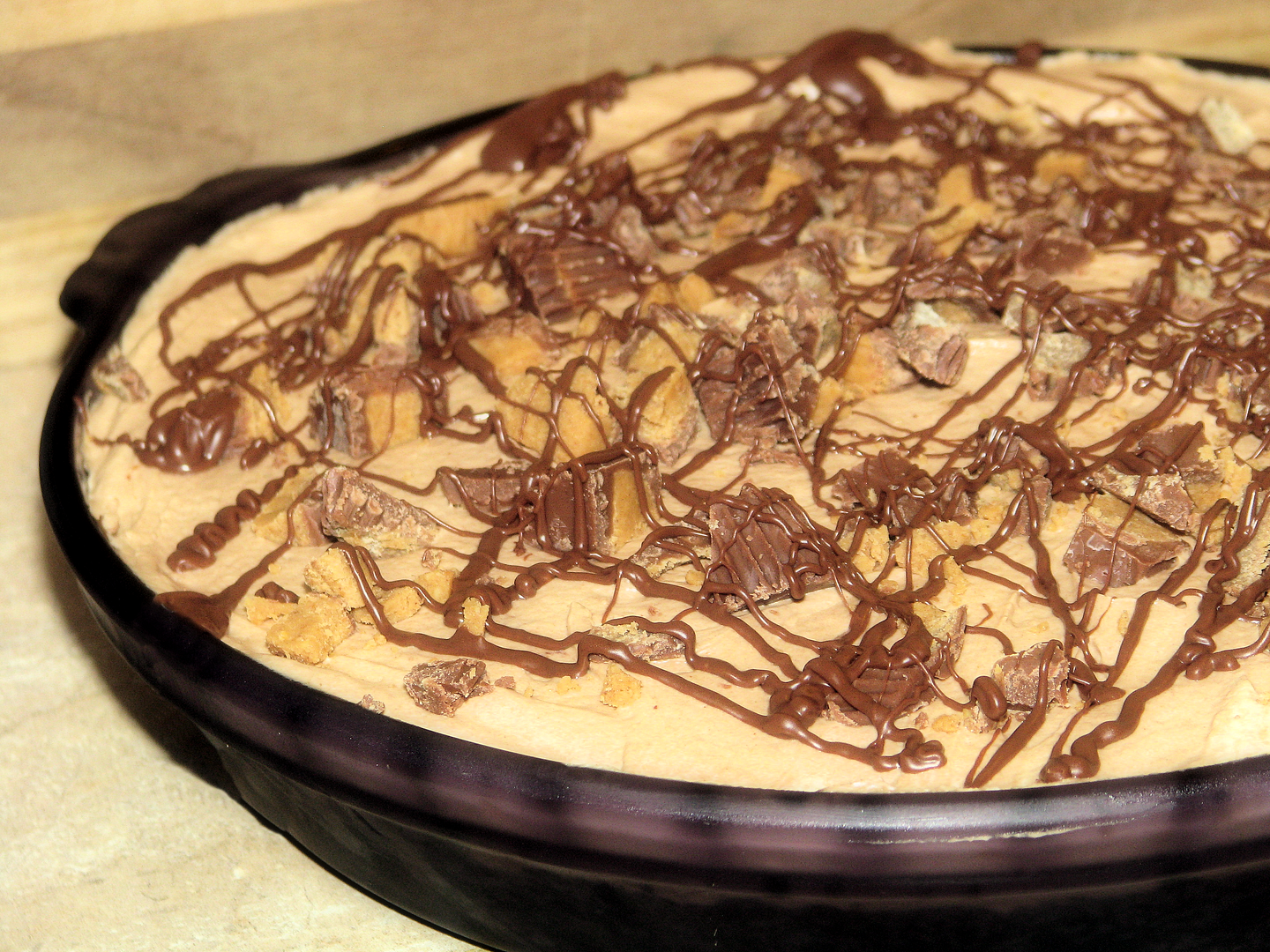 Stick the pie into the fridge and let chill for about 3-4 hours.