Peanut Butter Truffle Cheesecake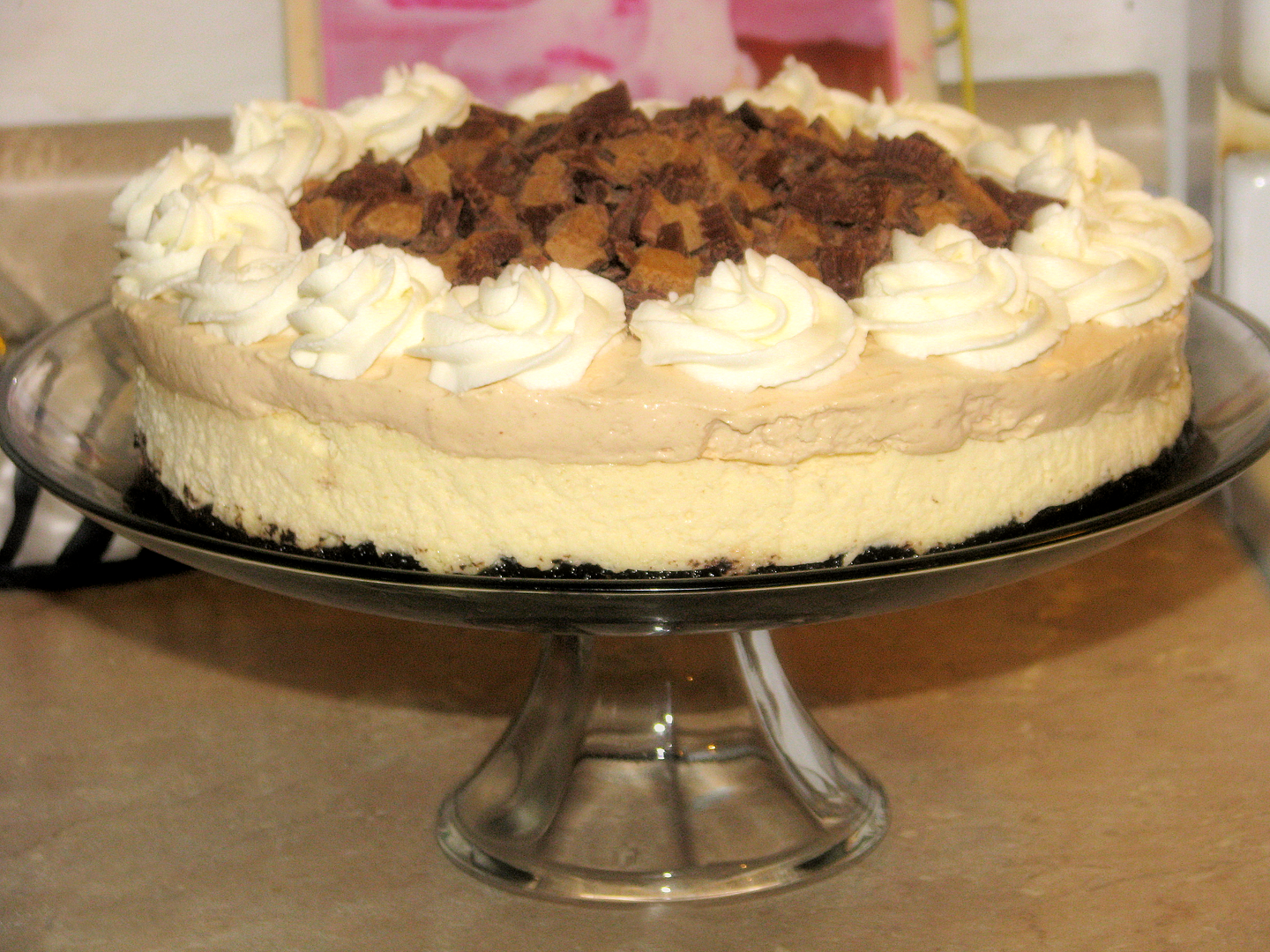 Tuesday we celebrated my husband's 27th birthday!!!
(oops, don't tell him I told you that he's 27… he's on this "I'm an old man now" kick 🙂 even though he's not old at all!)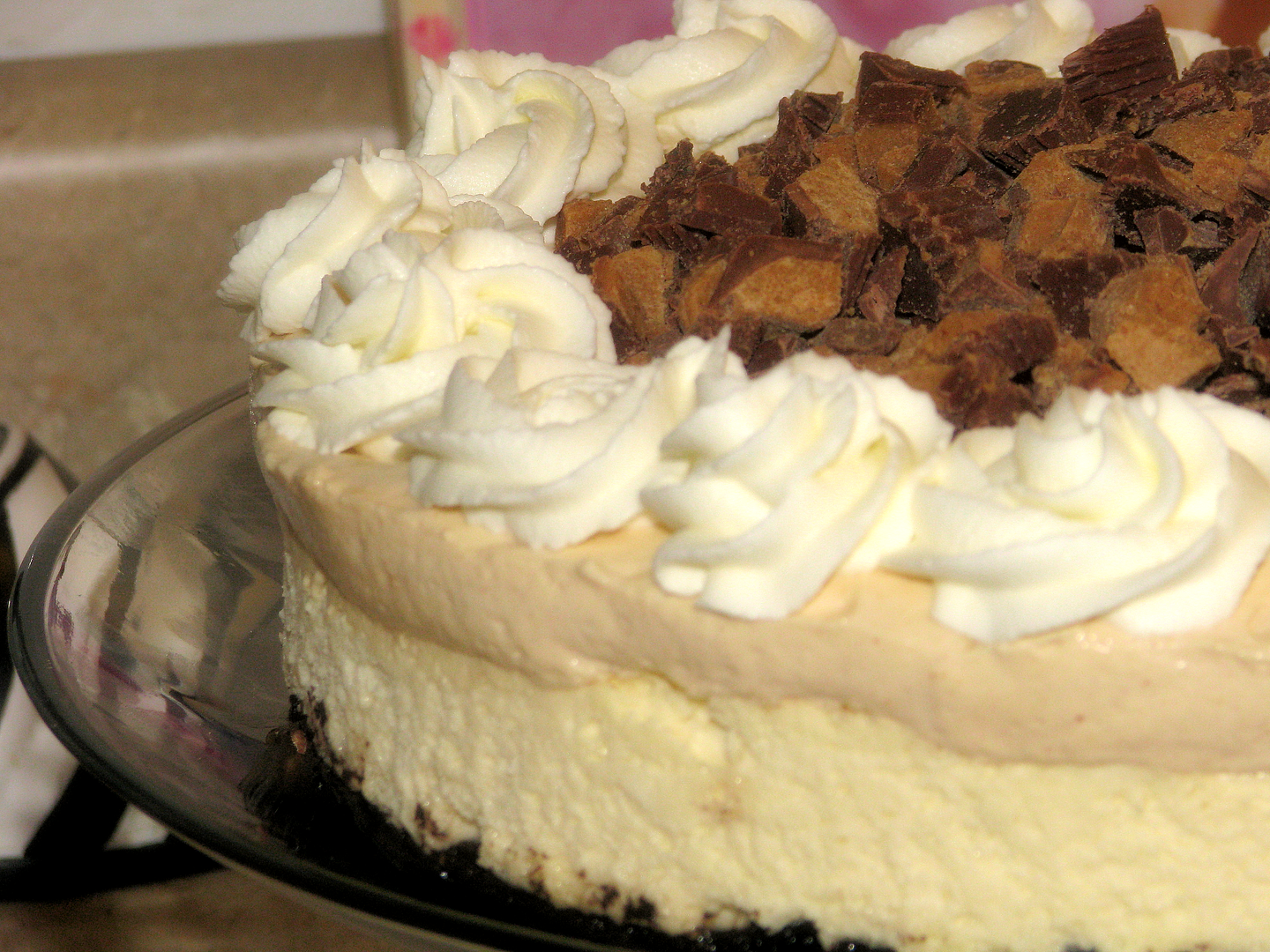 So Even though I told you on your Birthday Sweetie,
HAPPY BIRTHDAY I LOVE YOU!
So if you know me, you know that I usually start planning birthdays and holidays months in advance…. I don't normally start working on anything until the night before…. but hey… the intention to not procrastinate was there.
That has to count for something! Right?!
Well as I'm looking for some ideas for hubby, I just happened to be reading Katrina's amazing blog,
In Katrina's Kitchen
, when I spotted it.
Peanut Butter Truffle Mousse Cheesecake with Warm Peanut Butter Glaze……….wait… do what?!?!
All of hubby's Favorites in one dessert!
Peanut Butter!
Cheesecake!
Oreos!
Reese's Cups!
ooo but it looked soo professional… I just knew attempting it would end in tears.. my tears, when my perfect amazing cheesecake was a flop.
I don't know why I was intimidated by said cheesecake… maybe I was having a weak moment when I found it?!? I dunno.
So I pinned it in my
Pinterest
account and left it alone.
A few weeks later I was searching my
Pinterest
account for a idea for hubby's birthday. While doing so I asked him,
Me: "Hun, what would you like for me to make for your birthday this year?"
BigBear: "Remember that deer camo hoodie, I want that."
Me: "um… I can not make that" *insert sad face*
BigBear: "oo….Make… I dunno."
And again went back to whatever he was doing.
boo hiss… *point taken, hubby is not good with helping me make up my mind*
I wanted him to be like "Chocolate Cake" or "Ice Cream Sandwiches" or "Steak and Tater" you know… something direct haha so I wouldn't have to guess. But no…
So back to looking I go… and there is was again…Peanut Butter Truffle Mousse Cheesecake with Warm Peanut Butter Glaze…
Taunting me….oooo ok! You twisted my arm enough!
So after reading Katrina's post over and over , watching a vlog/video she posted from
My Baking Addiction
and some very encouraging words from Katrina
(thank you!!!)
….I decided that I could do this and make it perfect!
And perfect it was! Perfect to where my husband feel in love with it, I watched his friends drool over it, and perfect enough for my younger brother to go on and on and on (to the point where I wanted to stick his face in this perfect cheesecake so I could think for a minute) about how I should open my own bakery.
Everyone loved it! And I stood back and smiled at my perfect cheesecake 🙂
So I suppose You may want to know how to make this perfect cheesecake as well? Of course you do 🙂
Peanut Butter Truffle Cheesecake
Slightly Adapted from "In Katrina's Kitchen"
What you need:
1 pack of Oreos
1/4 cup butter, melted
5 (8oz) sticks of cream cheese
1 1/4 cup granulated sugar
4 eggs
3/4 cup heavy cream
1 tablespoon vanilla extract
2/3 cup peanut butter
1 tablespoon milk
2 cups powdered sugar
1 large tub of Cool Whip
1/2 bag of Chopped Reese's Cups
1 cup heavy whipping cream (for whipped cream)
1/4 cup of powdered sugar (for whipped cream)
What to do:
Place the bag of Reese's Cups in the freezer 🙂 This will come in handy later 🙂
Preheat your oven to 350 degrees F.
Take a spring form pan and remove the bottom from the outside ring. Wrap the bottom circle in aluminum foil . And then re-assemble your spring form pan.
Pour your Oreos into a gallon size Ziploc bag. Using a rolling pin or whatever you have on hand, smash the Oreos into crumbs.
In a large bowl, mix by hand the crushed Oreos and melted butter together. Press into the bottom of your pan and up the sides.
Bake in your 350F oven for 10 minutes. Once baked for 10 minutes, remove from oven and cool on a wire rack.
Once your Oreo Crust is cooled, begin making your cheesecake.
In the bowl of your stand mixer fitted with the paddle attachment, combine 1 1/4 cup granulated sugar and 4 stick of the cream cheese. Cream together for a few minutes until smooth.
Add the eggs, one at a time. Scrape down the bowl in between each egg.
Add heavy cream and vanilla.
Mix Well. (should look very smooth)
Pour cheesecake batter into prepared Oreo crust.
Now here is where the "water bath" comes in
Wrap the side and bottom of the spring form pan in aluminum foil. I tried to make a covering around the pan so that water couldn't seep into the pan from the bottom.
Place the spring form pan into a larger pan. (I used a roasting pan)
Pour boiling water into the larger pan around the spring form pan until halfway up the side of the spring form pan.
Bake for 1 hour until the edges appear to be set.
Shake the cheesecake just a little, you should see that the sides are set but that the center will still have some jiggle to it.
Close the oven door, turn the oven off, and let the cheesecake rest in the cooling oven for 1 hour.
After 1 hour, remove the cheesecake from the water bath and place on a cooling rack to cool completely.
Once the cheesecake is completely cooled, chill for at least 5 hours (I chilled mine overnight)
The next day or after the cheesecake has chilled for about 5 hours, its time to make the Peanut Butter Mousse!!
In the bowl of your stand mixer combine 1 (8oz) stick of cream cheese, the peanut butter and milk until smooth.
Slowly beat in powdered sugar 1 cup.
Fold in the Cool Whip with a spatula.
Spoon the mousse over the cheesecake then chill at least 3 hours.
Remove your peanut butter cups from the freezer, unwrap and coarsely chop. Place into a bowl and back into the freezer.
To make the homemade whipped cream:
1 Cup Heavy Whipping Cream
1/4 Cup powdered Sugar
What to do:
Chill your bowl and whisk in the freezer for about 15 mins.
Pour the heavy whipping cream into your cold medium mixing bowl. Add the powdered Sugar and start to whisk. (If you have a metal handle on your whisk and its to cold for you after removing from the freezer, wrap the whisk handle in a paper towel.)
NOW… WHISK…. and WHISK….and WHISK
I hand whisk it between 5-6 minutes.
The Whipped Cream will start to thicken. Once it thickens to the point of being able to pull the whisk up with peeks of whipped cream forming on the end of the whisk you know you're done 🙂
Once your Whipped Cream is made, spoon it into a piping back fitted with your favorite piping tip.
Remove your cheesecake from the pan, and place onto a serving plate or cake stand.
Pour your chopped peanut butter cups into the center of your cheesecake and decorate with your homemade whipped cream!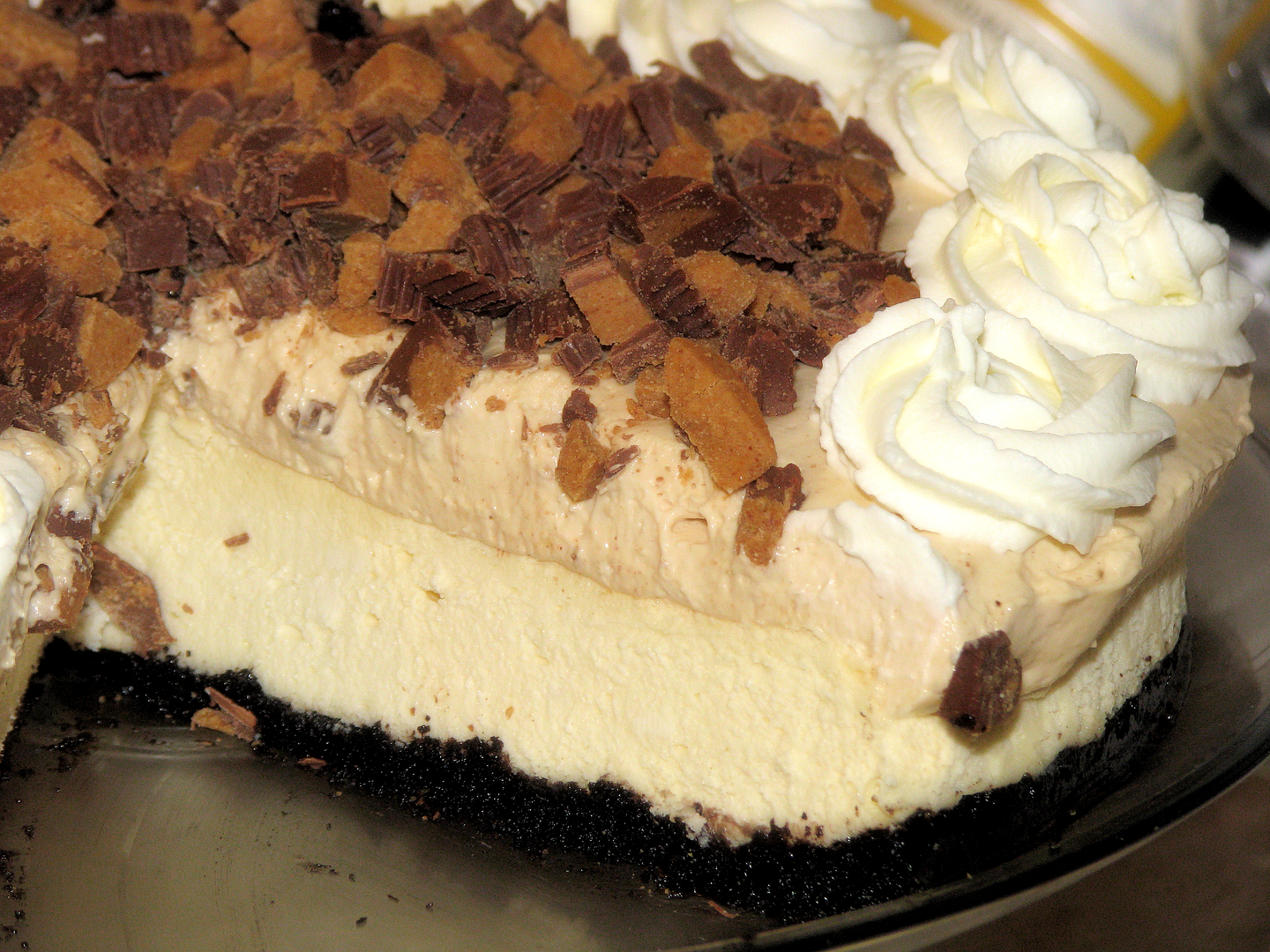 Now cut a slice… Eat.. fall in love… and watch others drool 😉