The past couple of days have been cold and rainy here in southern Virginia. While I did embrace summer this year, I am kind of glad that it's starting to cool off. While rain isn't normally my weather of choice I think I'll take a few days of rain to help me unwind and relax.
We've had a rough couple of days around here and we all just need some time to stay in our PJs, curl up on the couch, binge watch TV and indulge in comfort foods like this Slow Cooker Loaded Potato and Shrimp Chowder.
My slow cooker has been
getting a workout lately and I don't see it getting a break anytime soon. I try to use my slow cooker year round but I have to admit that I use it a lot more during the cooler months. The slow cooker on the counter with dinner simmering away always warms up the evening.
The taste is amazing but we also love them because Simply Potatoes are:
– Fresh, never frozen- Located in the refrigerated dairy section
– Easy to prepare and have on hand – no peeling/shredding required
– Made with real ingredients
Thomas and I have been buying Simply Potatoes for a while now. Normally we just cook them and serve them alongside of breakfast or brunch. I love the STEAKHOUSE Seasoned Diced Potatoes and Thomas is normally a huge fan of the hashbrowns.
But today we're going to change it up a bit. I'm going to use these STEAKHOUSE Seasoned Diced Potatoes for a homemade Slow Cooker Loaded Potato and Shrimp Chowder.
This is a pretty easy slow cooker meal and it would be perfect for lunch or dinner. It hardly takes anytime to throw this chowder together and it's always a hit!
I added some tiny salad shrimp to this chowder because I personally love shrimp and it's a great bit of protein added to the chowder.
If you don't like shrimp just leave it out. I promise that I won't tell.
What to win your very own Crock-Pot SCCPVL610-S Programmable Cook and Carry Oval Slow Cooker? Look below the recipe for a chance to win one!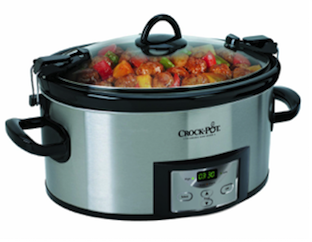 Follow Simply Potatoes on Pinterest and check out even more delicious Simply Potatoes Recipes
Loaded Potato and Shrimp Chowder
By: Angie Barrett – BigBearsWife.com
09/27/15
Makes 8-10 servings
Ingredients
2 (20 oz each) bags Simply Potatoes Steak House Seasoned Diced Potatoes
4 cups chicken broth
2 tablespoons granulated garlic
2 teaspoon Greek Seasoning (or no salt seasoning salt)
4 tablespoons butter
4 tablespoons flour
2 cups milk
1 cup plain yogurt (or plain greek yogurt)
2 cups shredded cheddar cheese
2 cups real bacon bits (homemade or store bought)
4 (3.5 oz each) bags of mini, peeled, cooked salad shrimp
Directions
Pour the Simply Potatoes Steak House Seasoned Diced Potatoes into the bottom of a slow cooker.Add in the chicken broth, garlic and Greek Seasoning (or no salt seasoning salt). Stir. Cover and cook on high for 4 hours.After the 4 hours is up, melt the butter in a small sauce pan. Whisk in the flour and cook until a medium brown color. Add in the milk and yogurt. Whisk together. Heat milk until right before it simmers.
Pour into slow cooker. Stir everything together.
Stir in the cheese and bacon.
Stir until cheese is melted.
Add in shrimp. Let cook for just a minute or two until shrimp is warm.
Serve hot/warm.
a Rafflecopter giveaway