I've had the beach on my mind a lot lately. I've literally been trying to talk BigBear into moving there for the past few years. I took it for granted when we lived at Camp Lejeune back when we first got married and while I knew I was happy there, I didn't know just how happy I was there until we moved back to Virginia.
Carolina Beach, I need you in my life. haha. Well I need you in my life more than you already are. haha.
My best friend and I use to have our own little Etsy shop and I'm was so excited about it. Within two days of being open, we had already got our first two sales under our belt. (Thank you!!)

Our little shop was called "Seaside Tides" and it's was going to be filled with all types of beach themed items. We're both 100% in love with Carolina Beach and we both hope to live there one day!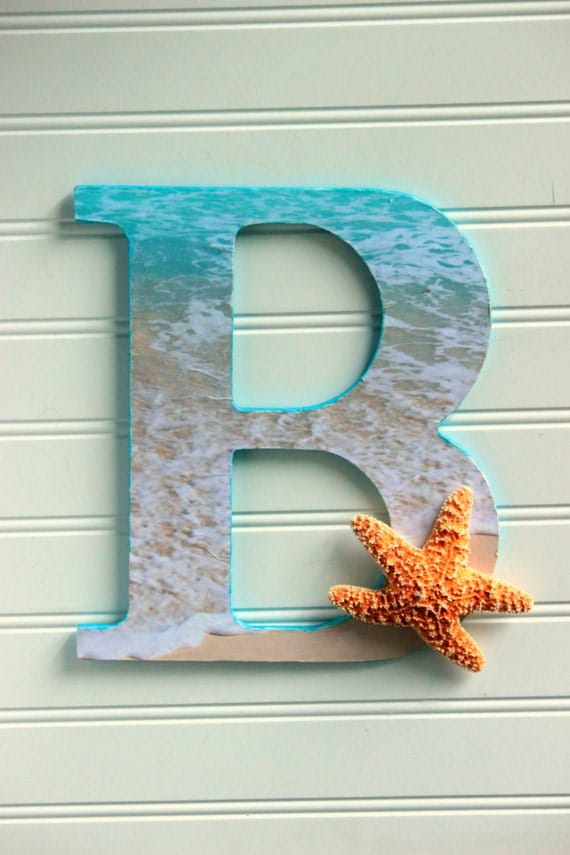 This is one of the items we use to sell.
One day it'll hang in my beach house. 🙂
Beach themed items, dreaming of beach houses, starfish and sea shells!
Oh sea shells!
How about stuffed shells?!?!?
What a perfect time to share these Spinach and Mushroom Stuffed Shells with y'all!
Ok, so I'm not 100% on board with turning on the oven all the time during the summer but I'll totally turn it on for a dish that's this easy to make. It's easy to throw together and bakes in about 30 minutes.
My love for pasta doesn't stop just because it gets hot outside. I'll just crank up my air for a bit and pop these stuffed shells into the oven for dinner any night!
All you've got to do it cook the shells, quickly make the sauce, stuff the shells and bake them in the oven! Perfect, easy week night meal!
So are you ok with turning the oven on during the summer or have you sworn it off until perhaps September? haha
.
Spinach and Mushroom Stuffed Shells
By: Angie Barrett – BigBearsWife.com
Makes 21 jumbo shells. Serves 4-6

Ingredients
21 jumbo pasta shells (12oz box of shells)
2 teaspoons olive oil
8 oz chopped mushrooms
2 cloves garlic, minced
2 cans crushed tomatoes (14.5 oz each)
3 cups fresh spinach
1 cup ricotta
1/2 shredded mozzarella cheese + 1/4 cup for topping
1 egg, lightly beaten
salt and pepper to taste
Directions
Preheat the oven to 375F. Spray a 9×13 baking pan with cooking spray or line with foil. Set Aside.
In a large stock pot of salted water, cook the shells according to the package directions (normally about 10 minutes). Once done, drain and set aside.
While the shells are cooking, heat the olive oil in a large skillet. Add the mushrooms and saute until tender. Add in the garlic and cook for a few minutes or until fragrant.
Add in the tomatoes and season with salt and pepper to taste. Stir.
Reduce heat to low and simmer for 10 minutes.
In a large bowl, mix together the ricotta, 1/2 cup mozzarella cheese, egg and the fresh spinach. Mix well.
Spread half of the tomato sauce into the baking dish.
Stuff each shell with 2 tablespoons of the filling and place into the baking dish.
Once all of the shells are stuffed and placed into the baking dish, cover them with the rest of the sauce.
Cover with foil and bake for 30 minutes.
Remove foil and top with 1/4 cup mozzarella cheese.
Put it back into the oven for about 5 minutes or until the cheese is melted and bubbly.
Remove from oven and let rest for about 10 minutes before serving.
Slightly Adapted from Trisha Yearwood's Spinach Stuffed Shells
Love this? You might also like: