Tomato Basil Soup with A Pepperoni Cheese Sandwich
"It's a Souper Day!!"
OK…
I totally stole that from the chalkboard sign at a local coffee shop…. sorry lol, but I couldn't resist. Yeah… It was kinda corny… but that's OK 😉
But this weather lately has been absolutely perfect for soups. It has been rainy, windy and a little chilly here. The kind of weather that makes you want to curl up under a blanket and stay there for a while. ……mmmm
Earlier this week my friend Dana came into town for business, and sent me a text asking if I would be available for a late lunch. I of course was thrilled, said yes, she met me at the office and we headed to a local coffee shop to have lunch.
Of course since we are surrounded by Fall/Sweater/Soup weather, I was glad to see some soup options on the menu.
We both had the "Souper Day" Special, which was the Tomato Basil Soup with a Pepperoni and Cheese Sandwich, and it was so delicious.
Not to mention the second I tasted this simple sandwich, BigBear was on my mind, I knew this would be one of those "must have" sandwiches for him.
Moving on to yesterday……
Again Rain… Wind…. well again it was a "Souper Day!" haha
BigBear worked with his uncle doing a little construction yesterday(yes.. in the nasty weather), he called on their way home (he was like 2 hours away at the job site), and asked about dinner.
The "Souper Day Special" from the coffee shop popped into my head. Perfect 🙂
(Same Day Dad kept telling me how much he loved Tomato Basil Soup, so of course I had to bring him some today 😉 )
I went off to the store to grab a few of the ingredients, and this is what we had:
(I love simple foods that I can recreate at home)
Tomato Basil Soup with A Pepperoni Cheese Sandwich
For the Tomato Basil Soup:
(Adapted from Here)
Make 4-5 servings, depending on how much you like it 😉
What you need:
4 tablespoons of Olive Oil
4 cloves of garlic, either minced finely or presses in a garlic press
28 ounce can of crushed tomatoes
14 oz. can of diced tomatoes
2 cups of chicken broth
1 1/2 (1.5) teaspoons of dried basil
1 tsp of salt
1 tsp of pepper
1 tsp of sugar
1 dried bay leaf
1/2 cup of heavy cream
What to do:
In a large stock or soup pot, heat the olive oil on medium heat. Add the garlic to the pot, letting it cook in the oil for about 2 minutes until you can really start to smell the garlic.
Continue to stir the garlic every so often while it cooks.
Add in the can of crushed tomatoes and the can of diced tomatoes. Stir.
Add in the chicken stock, salt, pepper, sugar and dried basil. Stir to combine everything.
Place 1 dried bay leaf on top of the soup. Stir the dried bay leaf around in the soup slowly, but make sure not to loose it in the soup (you'll want to remove this before serving the soup).
Bring the soup to a low boil. Stir the soup for little bit (maybe stir it about 6 times, slowly, to make sure everything is combined)
Lower it down to low simmer, and simmer the soup for 10 to 15 minutes.
After the soup has simmered for about 10 minutes (or 15 which ever you prefer), cut the heat off.
Remove the dried bay leaf.
Slowly pour in the heavy cream while stirring the soup.
Soups Ready 😉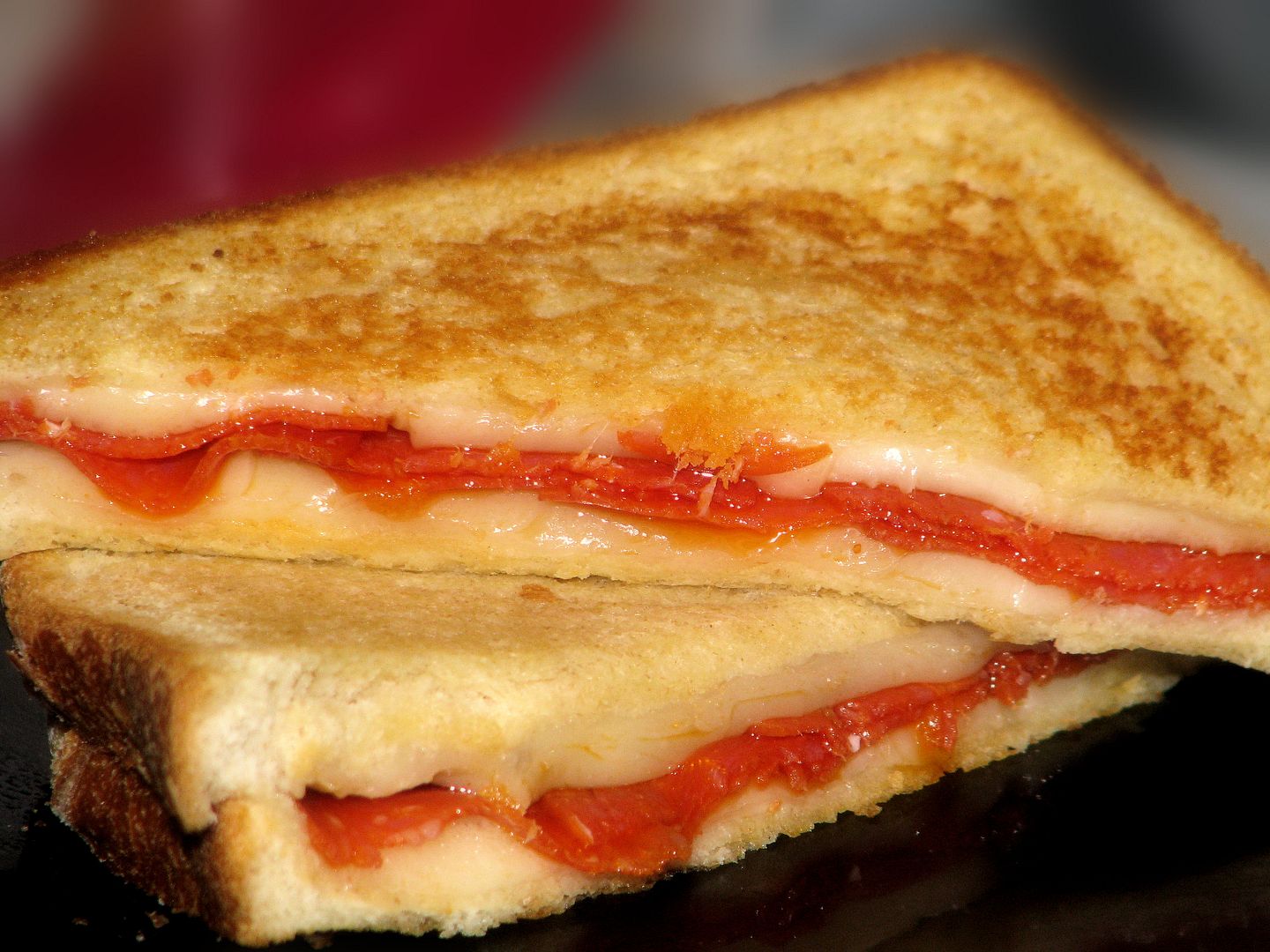 For the Pepperoni Cheese Sandwich
(makes 1 sandwich)
What you need:
2 slices of sough dough bread
2 slices of Swiss Cheese
10 Pepperonis
2 slices of Provolone cheese
1/2 tablespoon of butter (optional it's for the bread if you're using a sandwich press)
What to do:
This is how we assembled ours:
Layer 1= Bread
Layer 2= Swiss Cheese
Layer 3 = Pepperonis
Layer 4 = Provolone Cheese
Layer 5 = Bread
I then buttered the two bread sides and pressed and heated the sandwiches in our Griddle Grill Press. But I'm sure they are just as good un-pressed, but I do recommend heating them… maybe in a skillet, to melt the cheese.