Wizard of Oz Cupcakes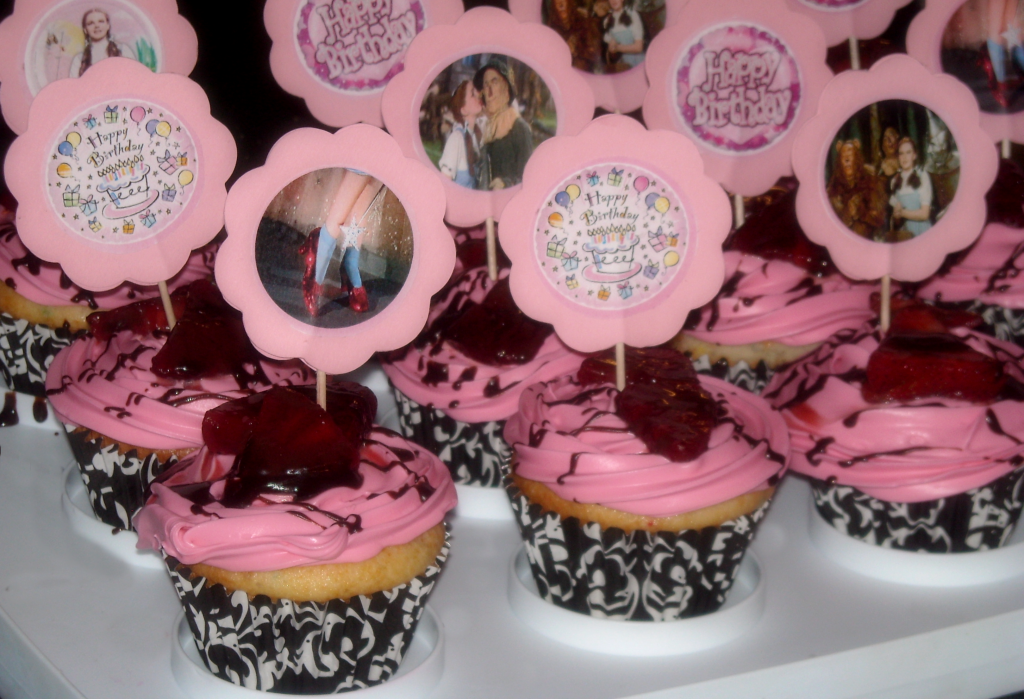 Follow the yellow brick road, tra la!
Follow the yellow brick road, tra la!
Follow! Follow!
Follow! Follow!
Follow the yellow brick road
Follow the yellow brick road
Follow the yellow brick, follow the yellow brick
Follow the yellow brick road!
If ever a wonderful Wiz there was
The Wizard of Oz is one because
Because because because because
Because of the wonderful things he does!
Oh, you're off to see the Wizard,
The wonderful Wizard of Oz!
You'll find he is a whiz of a Wiz
If ever a Wiz there was.
………… Its my Sister-In-Laws favorite movie of all time. She and her husband were even Dorothy and the Scarecrow for Halloween….see….
Aren't they cute!!
SO when her birthday came around this year…………..of course Wizard of Oz Cupcakes…….ok well those were not my first choice… we were actually going to have a Harry Potter themed dinner lol, but the movie came out on her birthday and her were celebration a few days before. So no Movie… No themed Dinner. So I was in a bind… what kinda cute dessert can I bring to the party.
Well she wanted Confetti Cake and Strawberry Butter Cream! Well that was easy…. but how to decorate??!?!… Oh trusty homemade cupcake toppers! You never Fail me!
So instead of a recipe today, it is more or less steps, for these cute Wizard of Oz Cupcakes. 😉
I bought the confetti boxed cupcake mix and strawberry butter cream icing (this was a quick after work.. gotta be there in like an hour kinda dessert LOL)
Mixed and Baked the cupcakes according to the box directions.
I iced them with the strawberry buttercream using the M1 piping Tip. Using the rose technique.
If you want to see lots of pretty pictures on how to do them, head on over Amanda's site at I.am.baker, and she'll show you how to make them 🙂
I then decorated the top with sliced strawberries. I melted a few tablespoons of fudge icing in the microwave and drizzled it on to the tops of the cupcakes.
I then Topped them with the cute Wizard of Oz and Happy Birthday Cupcake toppers that I made :).
For the cupcake toppers I copied Wizard of Oz images from Google into Word and Turned them into circles. Then I printed them.
I used my Cricut to cut out the flower shapes from colored card stock and glued the Wizard of Oz Graphics onto the cut out cardstock.
Then I just sandwiched toothpicks between the cutouts to make cupcakes toppers! Super Simple and Easy! Plus You can make any theme you need!!